How are you staying warm this season, lovers of love? Whether it's with a heartwarming, local fairytale or a delicate long sleeved wedding gown, we hope you're cozy as all heck.
We, your wedding-obsessed pros in New Mexico and Colorado, are enjoying the fireplace in our house-turned-headquarters, but that's not the only thing turning up the heat! Today, we're thinking about dancing — specifically, working up a sweat on the dance floor at a wedding.
Is there anything better than breaking a move surrounded by dear friends, celebrating life and love? We think not.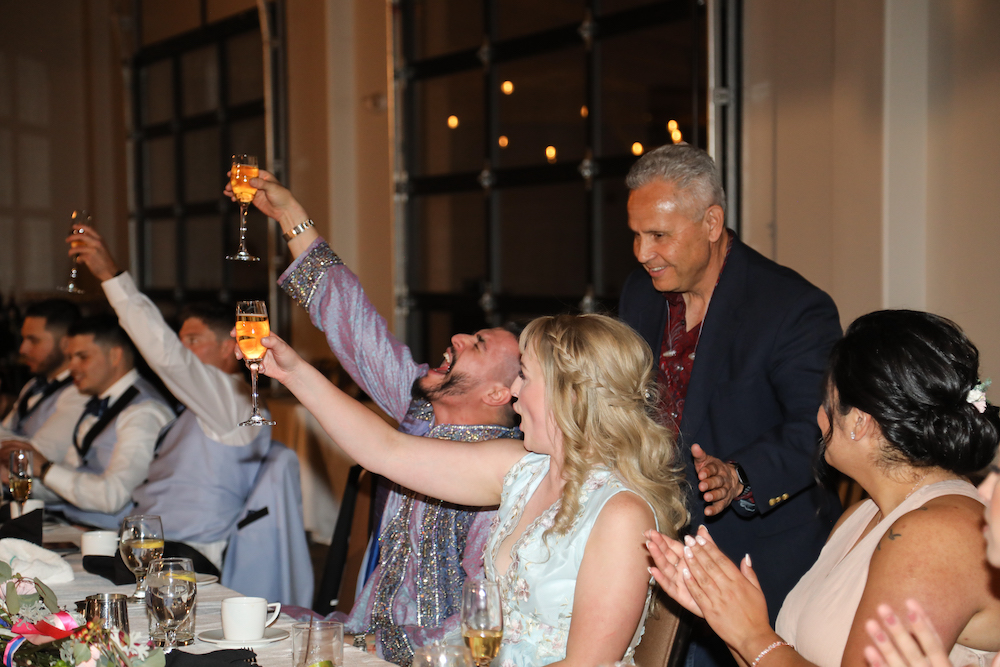 That's why choosing the perfect wedding DJ for your soiree is absolutely imperative.
Sure, you need a wedding photographer and venue, too, but they'll both go to waste without an experienced, energetic personality on the mic. Plus, your wedding DJ controls the flow and pace of your wedding reception. To avoid awkward moments or first dance mishaps, you'll want an emcee who can have impeccable timing and a thorough plan, while still being fun.
Keep scrolling to meet the 5 most loved wedding DJs in New Mexico — the ones who are certain to get everyone on the floor and having a blast. Yes, even your in-laws!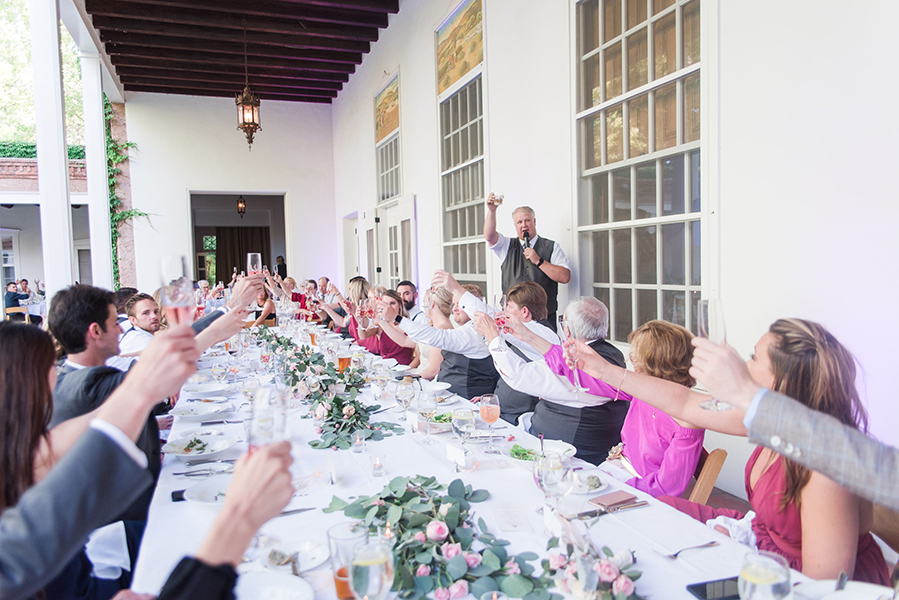 If you've yet to experience the magic that is a Diamond Dash Wedding Show — you're missing out on a lot. Free wedding gowns, diamond jewelry, signature cocktails, and Brad from King Mobile Music.
For as long as we can remember, Brad and his team have been the life of the party at the Diamond Dash. Whether they're emceeing a crowd of hundreds or invigorating intimate gatherings, King Mobile Music brings endless fun to any event.
Don't just take our word for it!
Look no further – this is your DJ.

I was a best man in a wedding on Friday, 11/11/2022. It was my fourth time being a best man. I've also been a groom so I know a thing or two about how weddings go. I'm not bragging (much) but I want to set the tone. This DJ was the best one I've ever seen and it's for this reason – we've all been to the weddings where the DJ is hitting the tunes and no one is on the floor.

Brad (or Brrad with the rolling R), also known as Boomer, was out on the floor dancing with all of us and teaching us the dances we didn't know. When I say this is your DJ, I'm saying this because you won't find a better, more integrated DJ in the business. If you're paying for entertainment, you should be getting an entertainer and this guy is it.

Book him now and don't look back.

Jeremy H., 5 Stars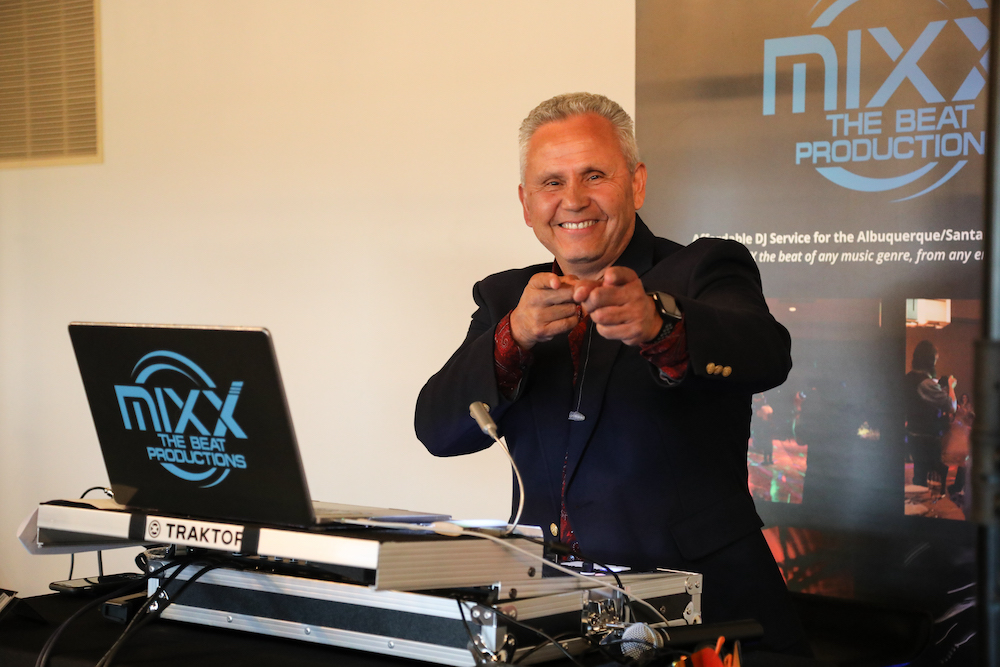 We weren't joking about DJs being the ringleaders of your wedding reception. From your grand entrance to your last dance, every moment is timed and coordinated by your entertainment professional.
Or it is if you work with a highly experienced team, like the party animals at Mixx The Beat! With ultra customizable packages and planning meetings 6 weeks before your wedding, couples who work with Mixx The Beat have the wedding receptions that are unforgettable.
Frank was the best DJ!

He was very responsive when I contacted him and inquired about our wedding day. We were able to book with him that same day. Frank helped me create a timeline for the evening, which helped me so much because I had no idea what the best way to do all the dances and cake cutting!

Frank was very professional with his suggestions, and his expertise was much appreciated. On the day of the wedding, he exceeded our expectations completely.

When our mariachis did not show up for cocktail hour, he stepped in and played music for our guests. This was a kindness that we greatly appreciated; no one even noticed that there had been an issue with the mariachis! His timeline was very efficient. He played great music that everyone was dancing to all night long! We could not have chosen a better DJ! Thank you, Frank!

Caroline S., 5 Stars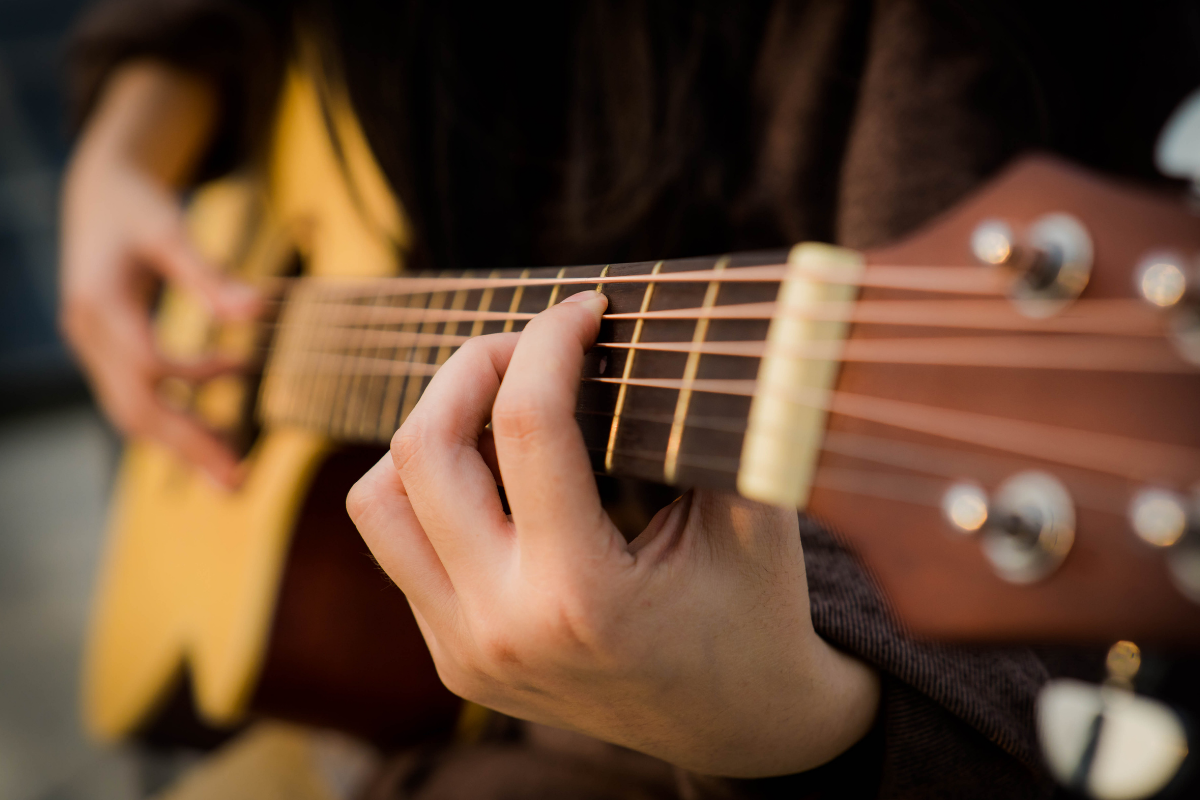 Want to class up your wedding experience without sacrificing your beloved playlist? John, the musical savant behind the name Guitarist Extraordinaire, is your first and last call.
John's first performance was at just 10 years old, and he has a degree in Classical Guitar Performance. What makes his presence so special though, besides the ambiance-enhancing melodies he brings with him, is his wid range of musical genres. From Bach to rock, and everything in between!
Our Santa Fe destination wedding

We worked with John Martinez who did the music for our wedding and it was everything I dreamed of. The music still plays in the background of my mind and hope it does for the a lifetime.

It made the walk down the aisle an amazingly special time a moment I will treasure always.

Rosella and Stephen, 5 Stars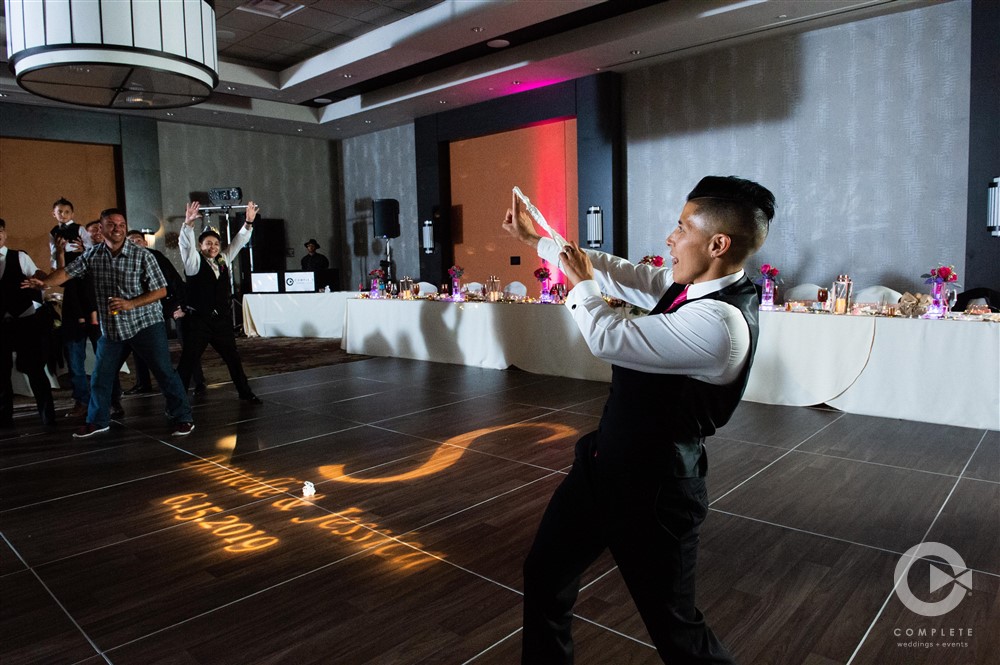 Want to spend less time looking for different wedding vendors, and get all your wedding reception needs met by one, highly trained crew of professionals? COMPLETE weddings + events is your dream team.
COMPLETE's all-encompassing event services include lighting and setup, DJing and entertainment, photography and videography, and photo booths too! Don't need it all? That's okay, too – you can mix and match your reception features to craft the perfect party.
WOW!!

We went with COMPLETE for our wedding, and I am so glad we did!! We had Justin and Josh DJ our wedding. Max, the owner, was willing to work with our budget, and we got a great price for a 6-hour long event. Our ceremony music was perfect.

They continually checked on myself and my husband to make sure things were up to par. They helped to make sure everything ran on time. They also got all my guests up and dancing all night long. These guys are amazing!!!

Vanessa, 5 Stars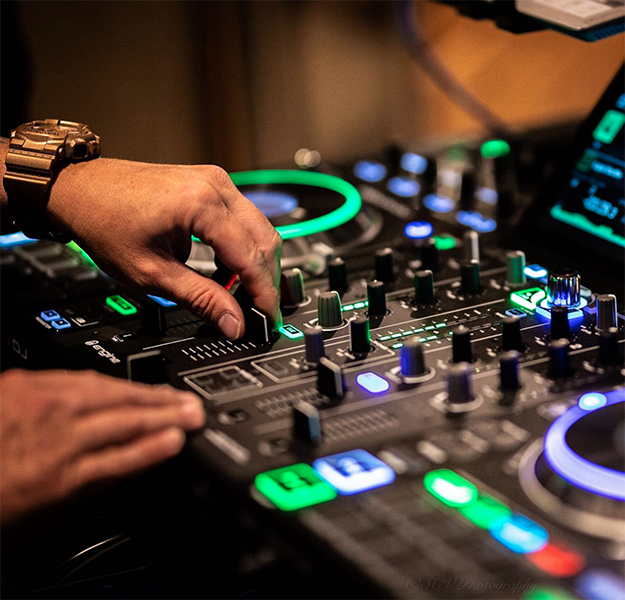 Last but in no way least, PartyTime DJ and Event Services was founded by a lifelong lover of fun, DJ Thomas! With over 23 years of event coordination experience, DJ Thomas and his team keep wedding receptions fun, smooth, and on schedule. Known for their exquisite attention to detail and timing, the Partytime DJs never miss a beat – pun partially intended!
Top notch lighting and sound equipment are an integral part of the PartyTime experience and, when paired with a vivacious DJ, guarantee nonstop merrymaking at your wedding reception. Stress less about your wedding guests having fun, and spend more time having fun yourself when you book PartyTime DJ and Event services.
Incredible Sound | Right On Point

It was such a wonderful experience working with DJ Thomas! From beginning to end, Thomas made sure to communicate all sound equipment months before the wedding, which made the day of the wedding go very smoothly. Not only did he provide great communication before and during the wedding, he also made sure to run a full sound check before the wedding creating excellence in the ceremony.

Throughout our sound check he did an incredible job making sure my violin was perfectly balanced with my music for the wedding which made me feel very comfortable and fully confident to play my best during the wedding. Everything he set up was very neat and such a clean sound to bring out the best in my acoustics and performance. His system automatically created an unforgettable ambiance!

5 Stars for communication, Sound Quality, Organization, and Presentation!

Rachel K., 5 Stars