Spring has sprung and love is in the air! 
And yes, you're right, love is always in the air here at Wedding Collective New Mexico, but something about the eager daffodil blooms has us feeling all the feels today.
Speaking of eagerness, it's pretty safe to say that after the last two years of pandemic life, we're all pretty eager to get out there, spend some time in the sun, and restore a little bit of normalcy in our communities!
But before we dive right back into what our old normal looked like, let's remember that there were a lot of things we were trying to change, even pre-COVID! One of those things being the level of environmental responsibility couples bring into their wedding planning process — zero waste ring a bell?
With that in mind, there really is no better time or place to discuss the delicacies of wedding florals than right here, right now. Before you know it, these fresh spring mornings will give way to sweltering summer days, so let's dive into some of our favorite, updated tips for choosing eco-friendly floral options!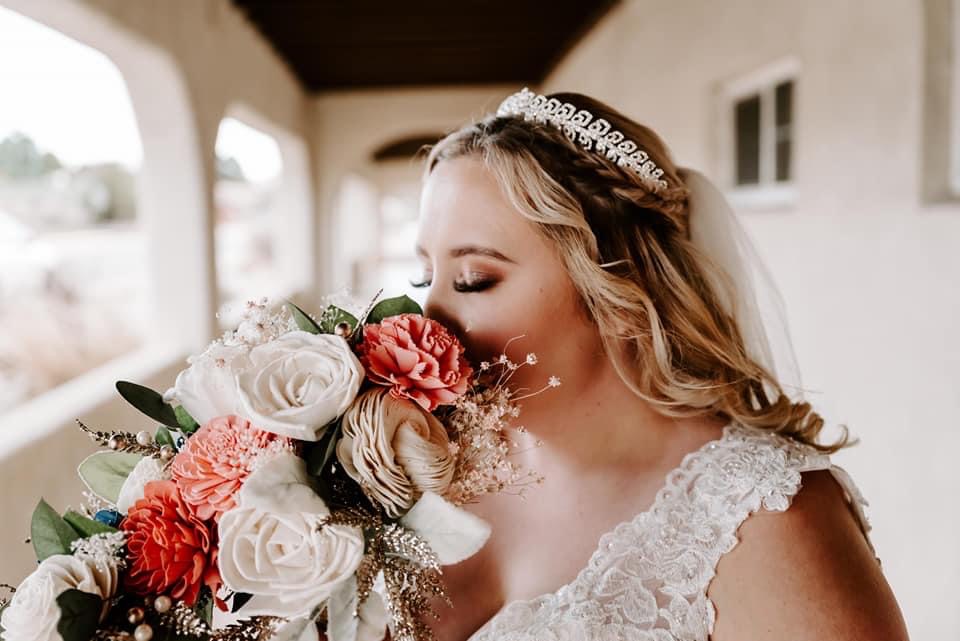 1. Choose wood!
Did you notice that the photo above is showcasing handmade sola wood flowers? No? That's okay, we didn't at first either! 
Thanks to Addison, the creative force behind Forever Floral Designs, engaged couples in New Mexico can now opt to have floral designs that are sustainably grown, totally customizable, and they last forever. 
Sola wood is one of the lightest woods in the world, so it's airy nature lends well to the hand-rolling process that Addison employs for each one of her eternal blooms. 
Plus, if the sustainability and eco-friendly aspects of these unbelievably soft and colorful bouquets, might we remind you that they are also hypoallergenic, affordable, and make fantastic wedding gifts? 
Addison was absolutely wonderful to work with! She made everything super simple and stress free for me. She was great to communicate with and really made my ideas come to life!

Her work was impeccable and absolutely gorgeous. Our guests and wedding party loved the flowers, especially my bouquet. Addison is consistent, dependable, and amazing at what she does. I definitely recommend!

Tricia G. 03/19/2022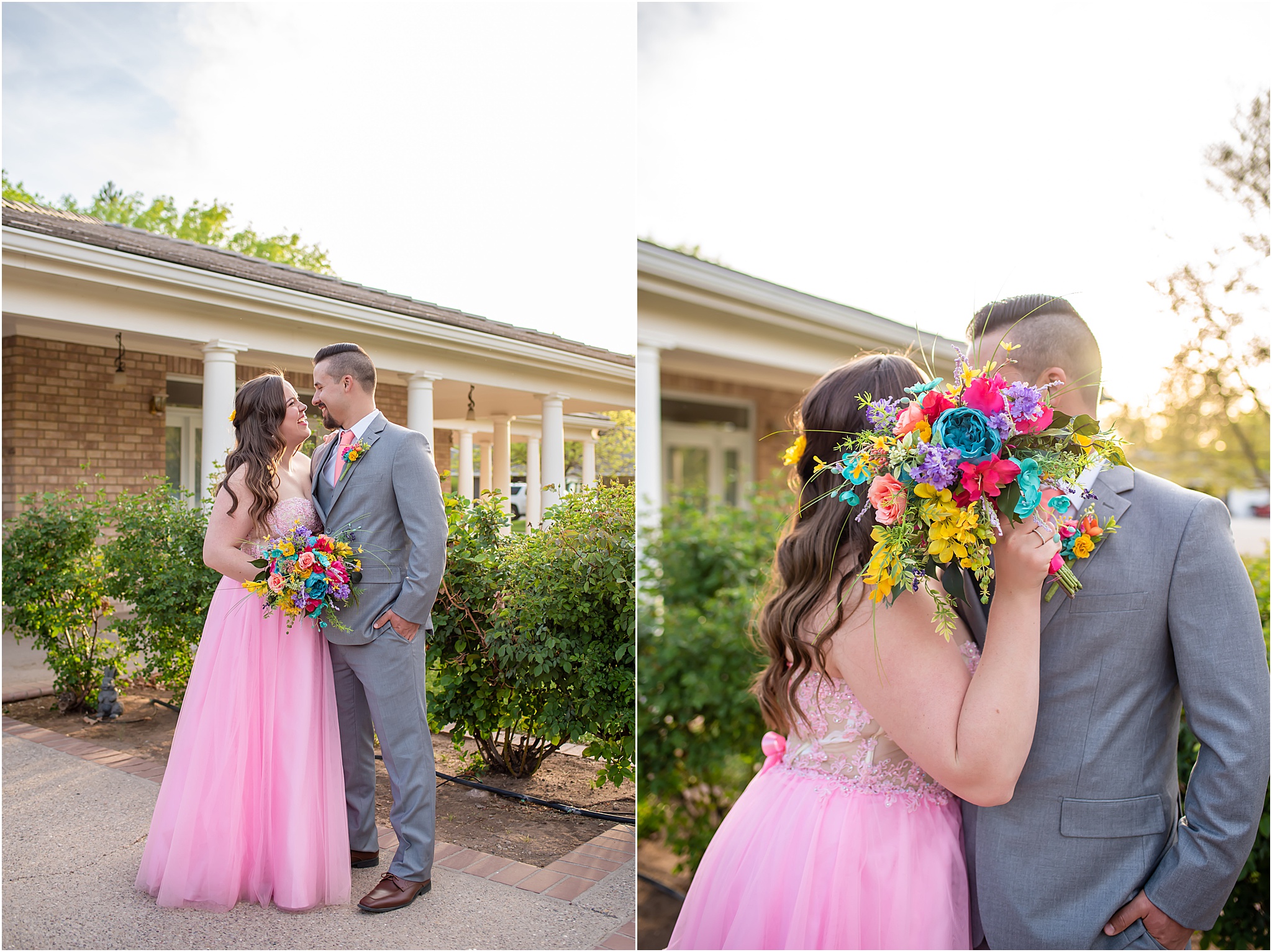 2. Or, choose silk!
Are you wise to our tricks now, dear reader? Did you notice the floral arrangement above was handcrafted in silk, rather than grown? 
It's true! Luckily for us lovers-of-love in New Mexico, Charlotte of Charlotte's Flowers puts her 20+ years of wedding experience, and the kindness she radiates constantly, into each delicate bloom. 
The word delicate in that context refers more to the of intricate quality of each petal — these silk bouquets are hardy and can last a lifetime! And, in the off chance that your puppy gets ahold of your lifelong keepsake, Charlotte has been known to repair and restore even the most disheveled of petals.
So, especially if you're having a wedding in the warmer months, you're going to want to start thinking about your reusable options like silk or sola wood for your flowers — or you will if you don't want your bouquets wilting and limp at your reception!
Charlotte's Flower's was one of the best decisions that we made for our wedding! She was so kind and is truly amazing at what she does. We received so many compliments on our flowers and they looked so real.

It was also a huge peace of mind to not have to worry about flowers wilting in the heat. 10/10 would recommend. My sister will be using her services this December!

Miquela G. 08/15/2019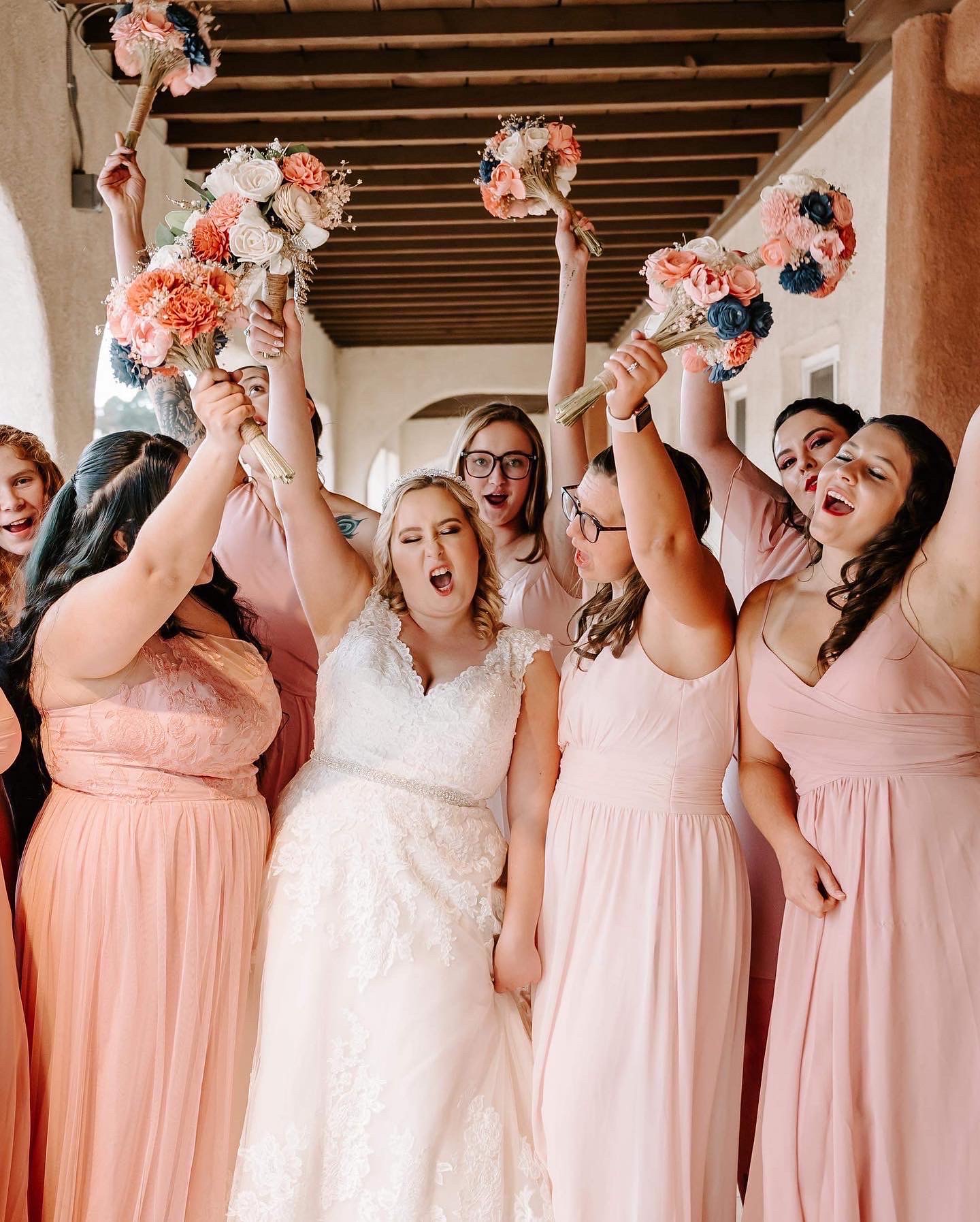 3. Speaking of receptions…
Whether you choose traditional grown and dyed flowers, a sola wood bouquet, or silk florals, you can still take your sustainability a step further!
As relatively well rounded wedding experts here in New Mexico, we can tell you this pretty confidently: you and your bridal party will not want to carry around your bouquets after the ceremony. You just won't! 
Live floral bouquets are heavier than you'd expect, first of all, and even with the benefit of sola and silk being so lightweight, there will be dancing to do. And cake to eat, laughs to share, photos to cheese for, etc..
So rather than doubling the number of floral arrangements your wedding boasts, you can actually reuse your ceremony bouquets for decor, table pieces, and, of course, wedding favors! 
Boom, carbon footprint shrank yet again.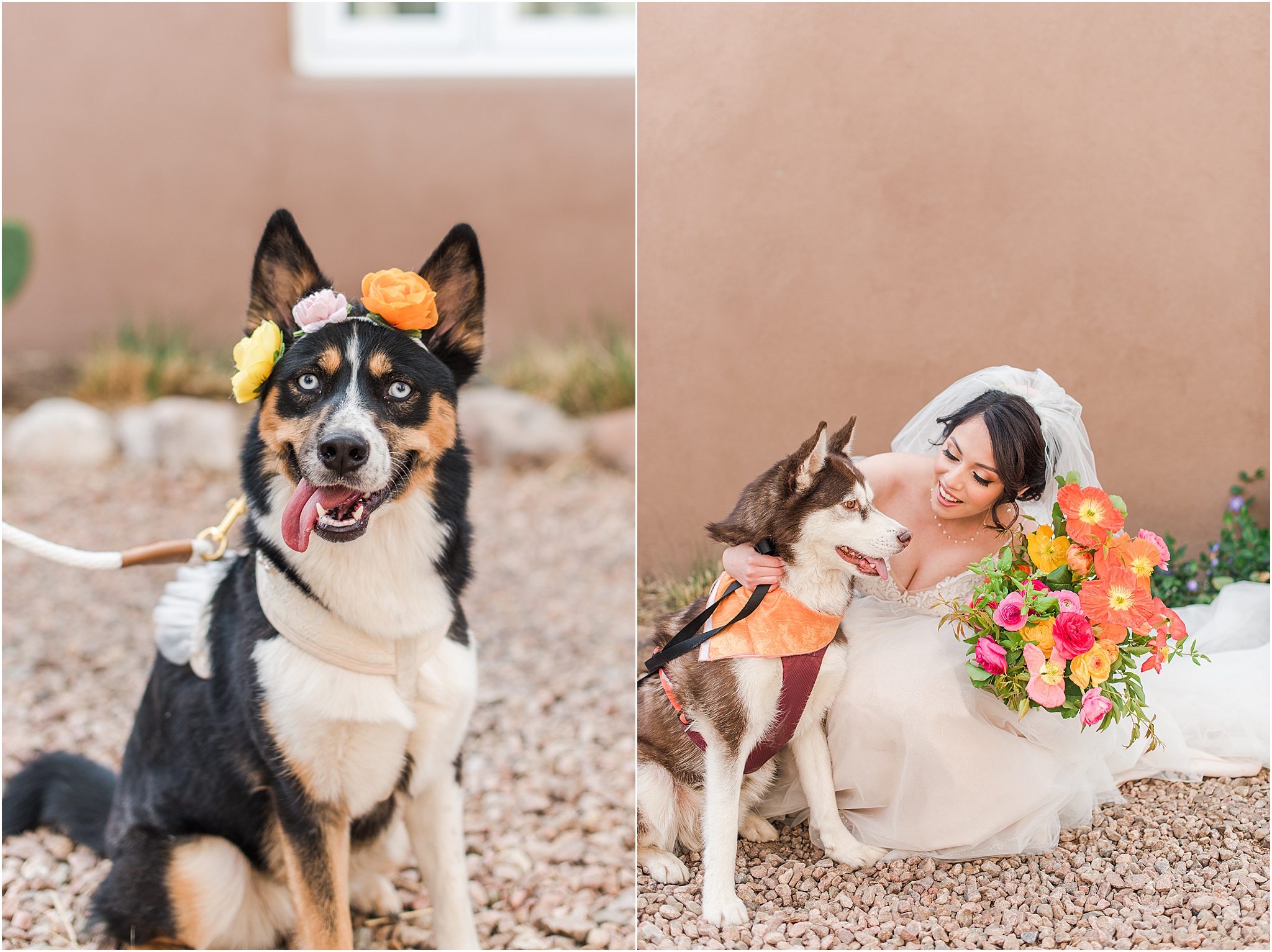 4. Go organic ~
If you are dead-set on having a fresh bouquet of living florals for your wedding, have no fear! 
Aside from reusing your ceremony florals for the wedding reception to avoid unnecessary waste, you can also opt for having organic flowers at your wedding which will make a huge difference. 
Non-organic florals are dyed, grown with pesticides, and have preservatives included as well so their blooms last as long as possible. (Though never as long as silk or sola!) 
So, while you might think it's quick and easy to compost your wedding flowers, they'll actually have to go to the landfill so the preservatives and dyes don't end up in your garden's groundwater and soil. 
Thankfully, we have a few amazing organic farmers here in New Mexico — one of our favorites for weddings being Europa, of course!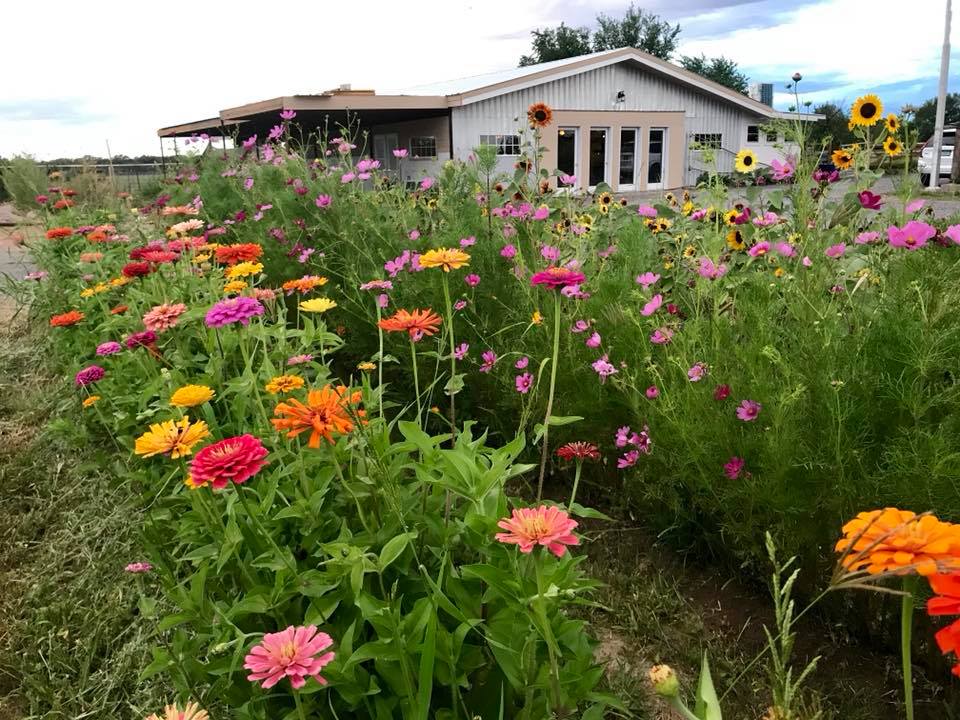 Europa's organic flower fields are not only the most idyllic backdrop for an intimate, outdoor wedding, but they can also grace your spouses tux, your table lays, and more.
Their team also offers farm-to-table catering, so for those committed to having the highest quality, lowest environmental damage wedding possible, Europa is pretty much a one-stop dream shop!
Whether you choose to minimize your impact on the environment by choosing gorgeous sustainable options from Charlotte's Flowers or Forever Floral Designs, or even just reusing your bouquets, our natural landscape thanks you. 
And we thank you! When we care for the environment we share, we are also caring for each other, and we love you for that.