There have been plenty of changes made in the wedding world lately, from couples finding new ways to have COVID-19 compliant weddings to zoom call wedding planning sessions becoming the new norm. The local wedding community certainly found a way to make lemonade when life handed them a big ole bucket of lemons.
Thanks to the creative genius of so many wedding experts out there, couples are given the opportunity to still host small weddings without having to postpone or elope. Although postponing or eloping may sound appealing to a number of couples, there are still those that couldn't wait to begin the next chapter of their love story together – and we don't blame you! Even in the most challenging of times, love persists. Love truly is our light in the darkness, so let it shine bright and party on (6 feet apart, that is).
Our favorite new trends are micro-weddings + minimoons. What is this micro, mini, wedding thing? Take your wedding and honeymoon and condense them in size, but keep all of your favorite parts like florals, photography, food, & decor, and you've pretty much got it. If you're feeling upset over the lack of guests and the ability to Cupid Shuffle shoulder to shoulder with grandma, local couples have been suggesting to save your reception for safer days, or perhaps your 1 year anniversary.
When it comes to creating the perfect small wedding, you will need the perfect venue. These 4 New Mexico wedding experts know how to help you have a safe + beautiful wedding:
Casa Perea Art Space
---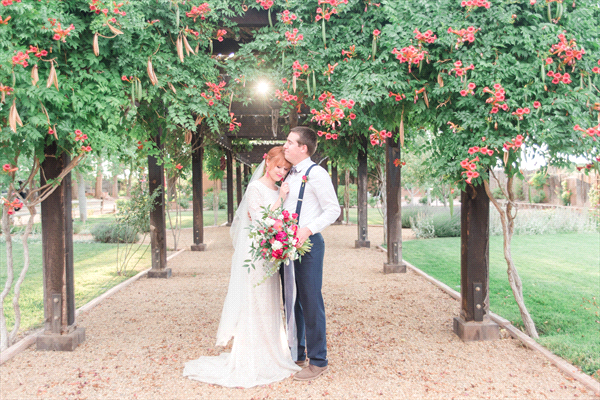 Located on a picturesque acre in the heart of Corrales, New Mexico. Our beautifully refurbished adobe and its scenic gardens are available as a special venue for weddings, celebrations, concerts, dances, art events and corporate meetings. A small vineyard and wooden gateway lead to a 100-foot-long pergola supporting wisteria, climbing roses, and flowering trumpet vines. The garden is abundant with fruit trees, flowers, aromatic herbs, and lawns. A bubbling fountain at the Casa's front entrance welcomes you through wrought-iron gates into the Grand Sala. We have furnished Casa Perea's interior and exterior spaces with authentic New Mexican and Spanish Colonial antiques that evoke historic New Mexico architecture and style. The stunning Grand Sala offers a 62 x 14-foot-long wooden dance floor that once hosted elegant social gatherings and festive parties.
Europa
---
Location Break away from tradition and treat your guests to a wedding experience they will never forget, as they gather with you in Europa's contemporary event space. Europa is located in Los Lunas, NM which is just a short 20-minute drive south from downtown Albuquerque. You'll find yourself transported to the charming southwest countryside. Striking views of open fields and organic crops create a charming backdrop for your special occasion. We offer three different indoor and outdoor spaces that are all unique and have a different charm of their own. Our two indoor spaces offer two different themes to fit your wedding vision; one offers a modern feel, while the other offers a rustic feel. Europa is the perfect place to hold both small and large events, whether it be an intimate bridal shower or rehearsal dinner, or your full wedding ceremony and reception for up to 200 of your closest friends and family. Food Europa offers many different catering options including our organic beef, chickens, ducks, geese, and pigs. We will work with you to create a delectable menu for your event. You also have the option to work with one of our bakers to create your perfect wedding cake. Everything is done in house, promoting ease and coordination with your planning. Decorations We will help create bouquets and other flower arrangements for you with our fresh-cut flowers from our organic flower gardens. Accommodations Lastly, if you have out of town guests, or want to spend your wedding night on the farm, we have multiple Airbnb options to choose from. You will wake up the next morning to a delicious organic breakfast.
The Desert Compass
---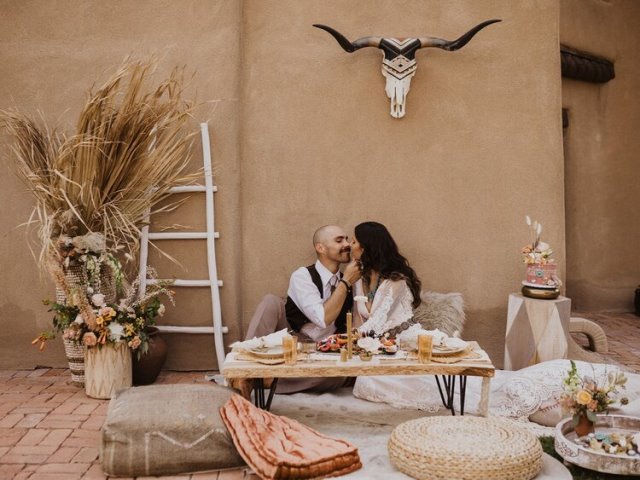 The Desert Compass is a boutique vacation rental property in Old Town Albuquerque with 6 unique guest suites. It is the perfect place to gather, relax, and celebrate with friends and family. Our property features lush gardens, adobe architecture, a modern desert backdrop, and a blank canvas where you can design an event, retreat, or gathering that is as unique as you are.If you desire an intimate and memorable place to celebrate your love and commitment with your closest family and friends, The Desert Compass features a lush garden area that can host intimate outdoor weddings and elopements, as well as bridal showers, rehearsal dinners, baby showers, and honeymoons. Family members or bridal parties can conveniently stay at the property, which hosts up to 20 overnight guests in our 6 suites. With a property buyout of The Desert Compass, you have private access to the property for small weddings or private events of up to 30 guests (including overnight guests). Looking for something even more simple, intimate, and budget-conscious? We offer elopement packages for up to 10 guests that include a 2-night stay in our dreamy honeymoon suite.
The Venue at 912 6th Street
---
Are you looking for a space to hold a small intimate gathering? This charming 1928 location is available for rent for just such an occasion. Use the beautiful small outdoor patio to exchange wedding vows with the love of your life!
Header image by Sarah Lotus Photography
* venues have been categorized in alphabetical order