Couples from all around the world are jumping on the latest trend: Micro-Weddings, or as some may call them, new-age elopements. With everyone experiencing the effects of the global shutdowns, lovebirds are finding new ways to make their weddings happen without having to postpone their "I Dos" – and we are here for it.
The Wedding Collective team has always admired the fierce determination of our local wedding vendors, but it wasn't until we were all forced to come together as a community working toward a greater cause that their true strength was unveiled. Truly, wedding vendors and couples alike know how to put their best foot forward when it comes to love! This determination and talent have been especially apparent in the micro-weddings that have been happening all around the state despite the roadblocks. As the saying goes, the show must go on.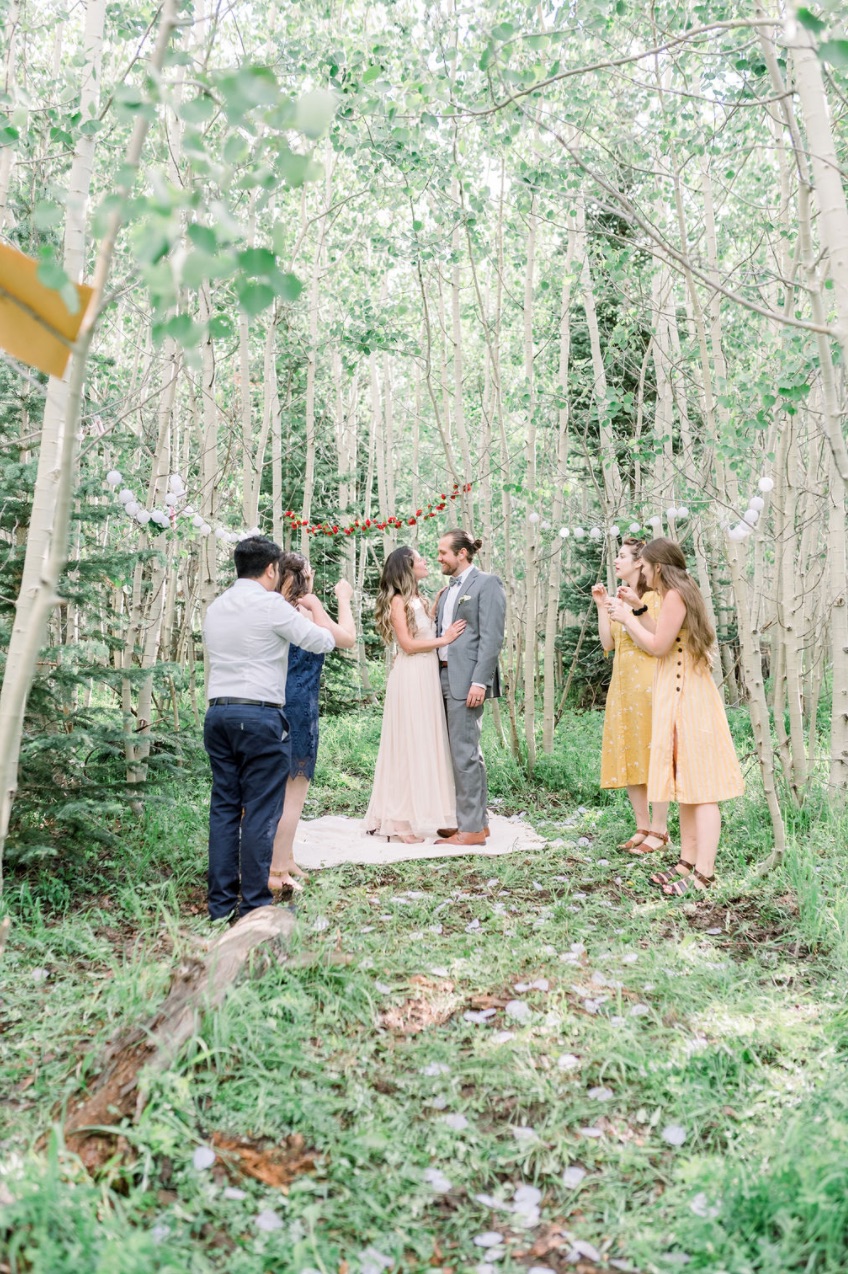 So, What are "micro-weddings" Exactly?
Micro-weddings, or elopements, are smaller weddings with a much lower guest count, often just a few family members and a few friends. When it comes to everything else, micro-weddings look a lot like regular weddings – there's still a ceremony, cake, food, dancing, etc. To put it simply, it's a small gathering rather than a large one. By having a micro-wedding, you can focus your attention on the little things without the overwhelm of guests to take care of. If you're into a more intimate wedding (that is also great for social distancing), this is the direction you should be heading in.
Why Micro-Weddings are Actually Awesome
There are many benefits to having a smaller wedding, like more time to focus on the important things as we mentioned above. However, there are a handful of additional benefits that are worth noting.
1. You can spend more time with your guests individually. On your wedding day, you will be so overwhelmed with butterflies, love, and people. As much as you'll want to greet all of your guests, it can be hard to break away and talk to each and every person. For some couples, this is not a concern, but if you're the type that wants to make sure that you get a few moments with your besties and your aunties, a micro-wedding will ensure that you get to have that quality time on your big day.
2. You can focus your energy (and money) on the details. When you have fewer guests, you can choose higher quality guest arrangements. For example, if you were spreading yourself thin on a caterer for 200 people, now you can find a high-quality meal for your 20 guests without the stress. This can also apply to wedding favors that you would have had to supply for a great number of people. With a smaller guest list, you can take a more personalized + intimate approach.
3. You can find a unique ceremony and reception venue. Micro-weddings and elopements are notorious for their unconventional locations. For many adventurous couples, finding a spot in the remote landscapes of New Mexico make for the most original + memorable weddings. If you're not into that sort of thing, your own backyard can be transformed into the magical venue you've always dreamed of.
Remember, each and every person is different. You get to celebrate your love story how you see fit. You may opt to postpone your big wedding for safer days, and that's perfectly alright.
No matter which wedding path you choose to take, your wedding vendors are in business ready to make your dreams come true. From florists to planners, they have got your back. Even in the hardest of times.