August is officially underway, but let's not get ahead of ourselves! While it may seem like summer is winding to a close, this sun-kissed season is still painting the world in vibrant hues. 
So before we start dusting off our cozy sweaters and gearing up for fall, let's take a moment to bask in the radiance of one exceedingly joyful love story. 
Because, well, is there any better way to commemorate such a glorious time of year? We think not. 
And, luckily for all of us, each glimmering moment of Cody and Sam's wedding day was captured by the illustrious Crystal Cousin Photo. We have her to thank for the uplifting and inspiring feels waiting down below. 
Grab your iced coffee and settle in! We're escaping into a tale of true love in the heart of downtown Albuquerque — complete with fine art, romance, and unexpected, yet gentle, rainfall.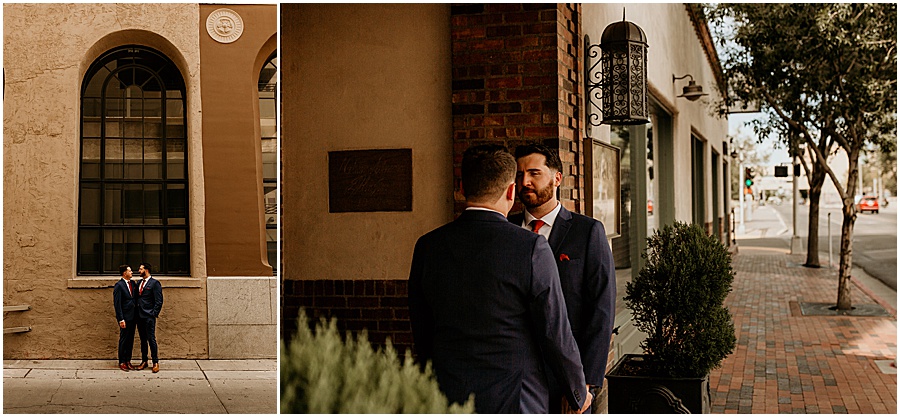 Cody and Sam's new life began, like all the best stories, in an untraditional but uniquely sweet way. When the couple first reached out to Crystal, the creative force behind Crystal Cousin Photo, for an engagement session — they weren't actually engaged yet.  
They had each already bought a ring and were planning to do a mutual proposal when the time was right. The right time came one day at the Bosque.

Cody said that it was on a whim and they both agreed that, "Today feels like a good day to get engaged!"

-Crystal, Crystal Cousin Photography
Isn't that the dearest and most delightful proposal story you've ever heard?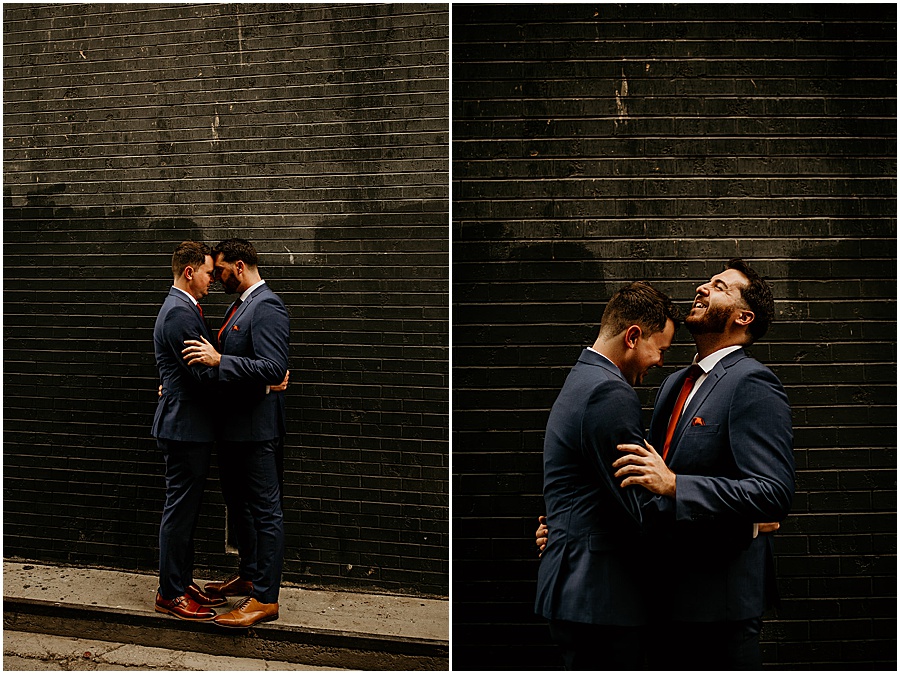 Then the couple and their loved ones gathered at the esteemed Hotel Andaluz to seal the deal on their whimsical proposal. Surrounded by works of art that reflect their ever-evolving romance, Cody and Sam began their forever together.
Right before the ceremony, Cody and Sam exchanged private vows.

For their ceremony, they had 2 of their friends lead it for them which was really special. After that they had a short private cocktail hour with their wedding party and then danced the night away at their reception.

-Crystal, Crystal Cousin Photography
But wait, there's more to the story! Before the couple's sacred moment in the historic ceremony venue, there was good, ol' galavanting to do.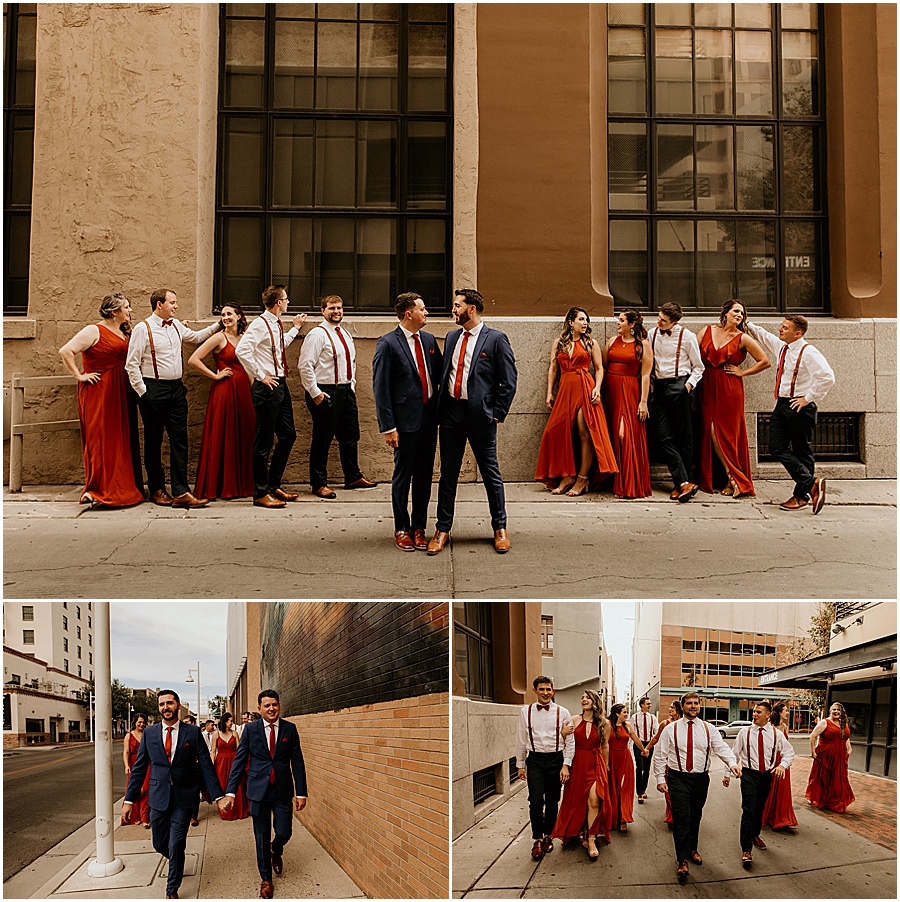 We decided to do couple and wedding party photos before the ceremony so they could get to the reception sooner after the ceremony. This ended up being perfect because it started raining during the ceremony and all night after!

Luckily we had already finished up everything we needed outside.

-Crystal, Crystal Cousin Photography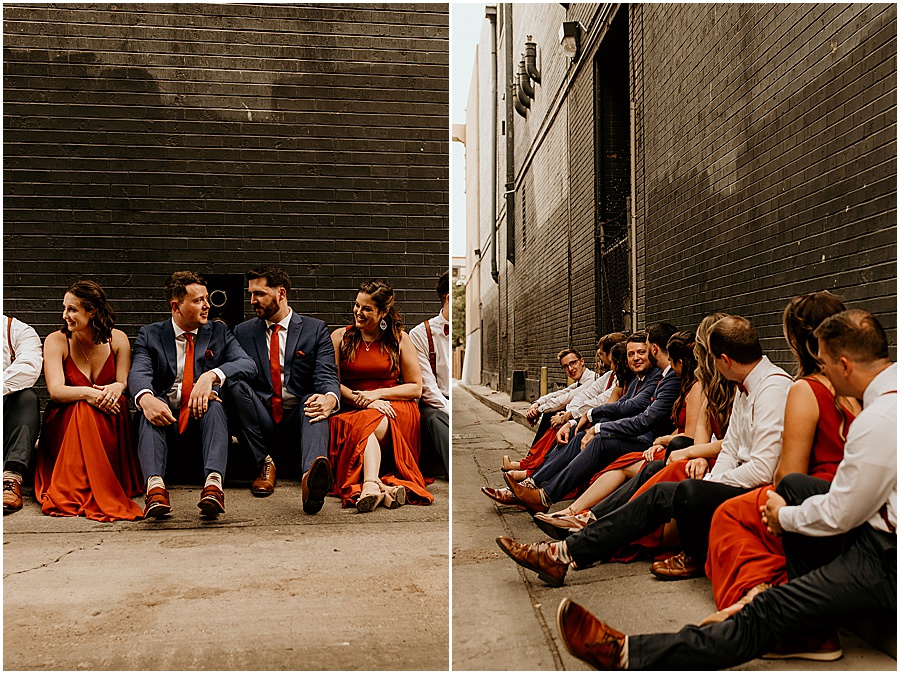 We took photos with murals around the streets near the hotel and even stumbled upon an artist in the middle of a new mural down one alley.

He let us take pictures with his art and signed a spray paint can to give to the grooms.

-Crystal, Crystal Cousin Photography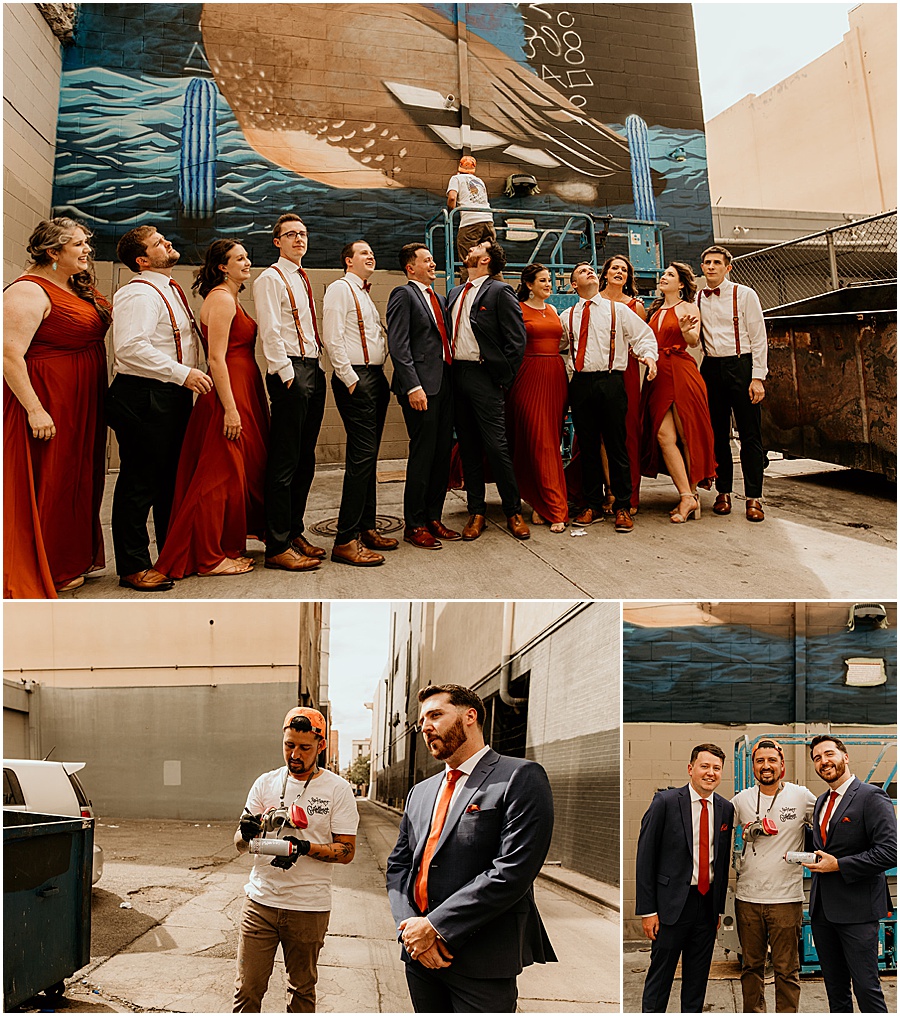 Thank you, Crystal, for documenting each cherished moment and letting us revel in the afterglow of Cody and Sam's soiree. What a gift!
And to the newlyweds, may your love story continue to unfold in unique, special, and heartwarming ways each day as it did on your wedding day.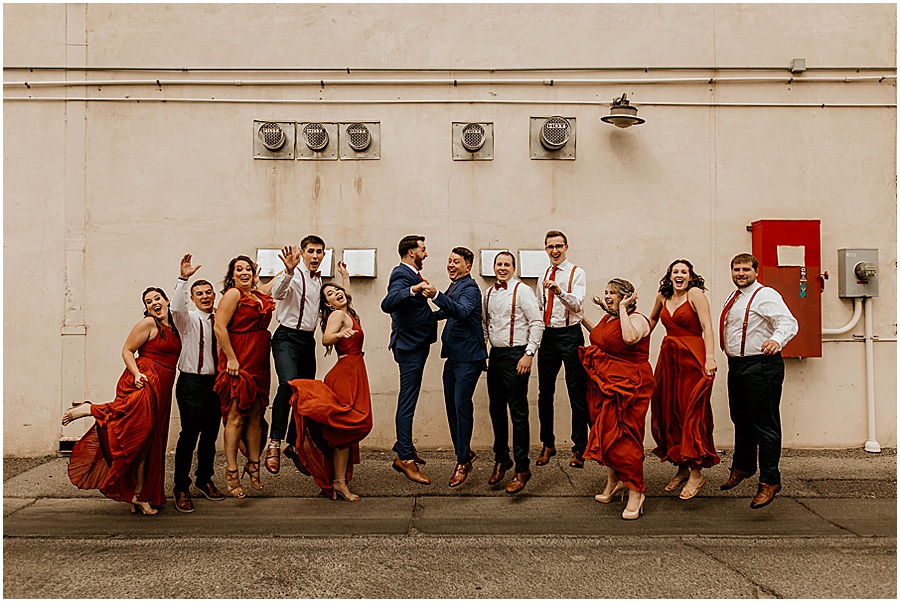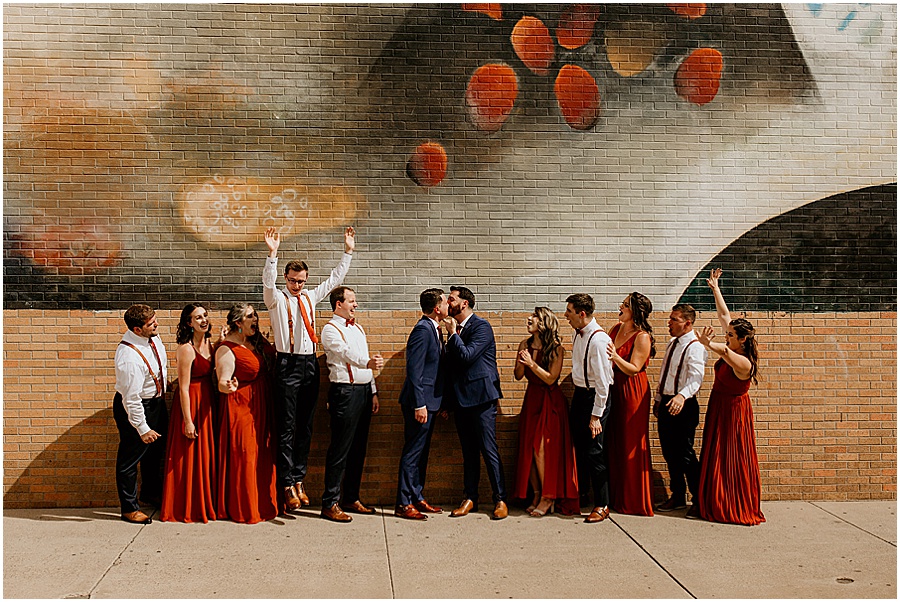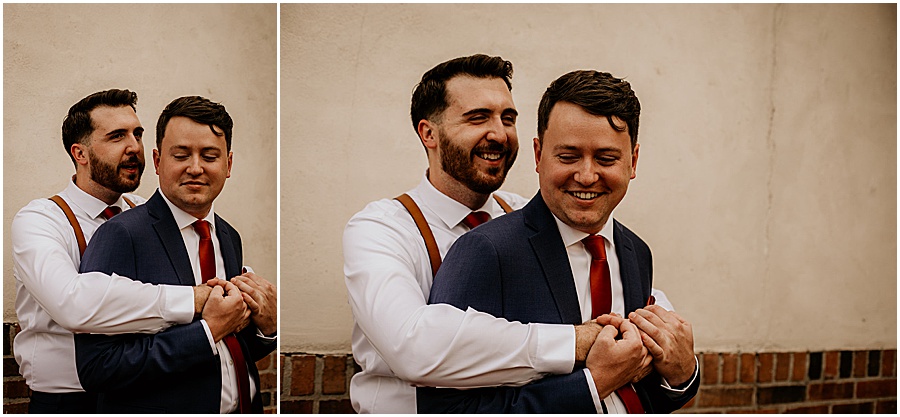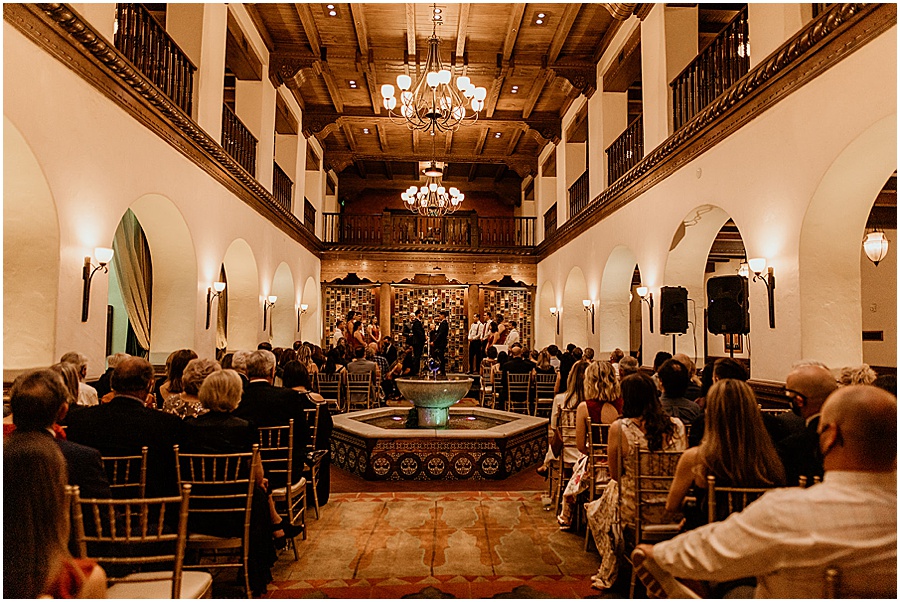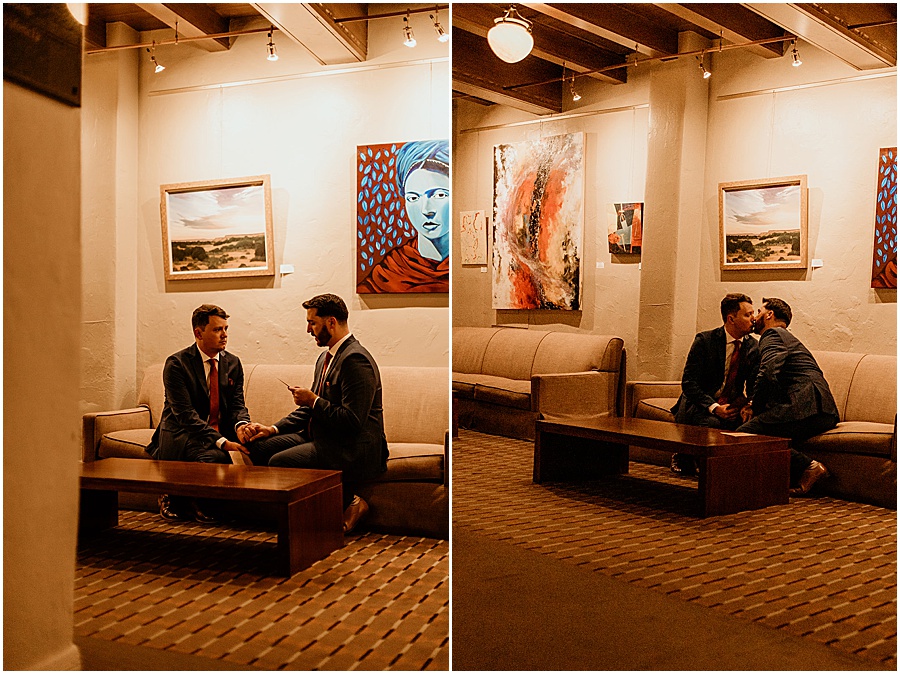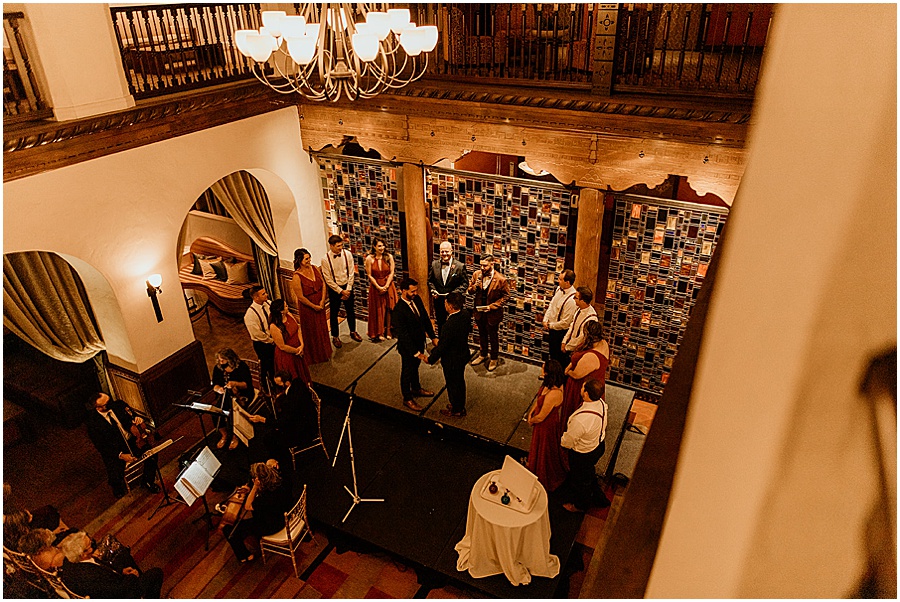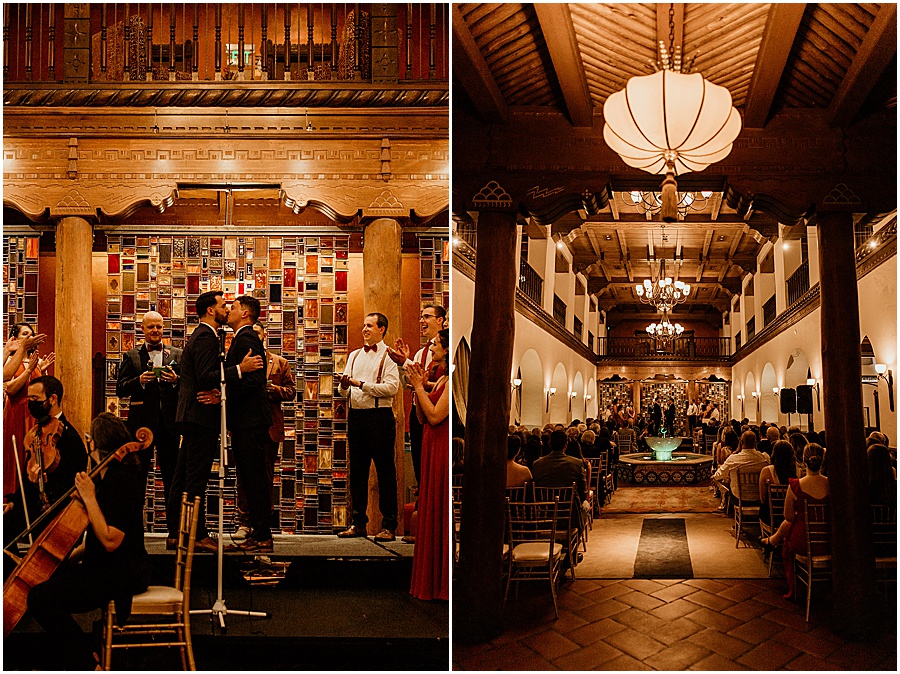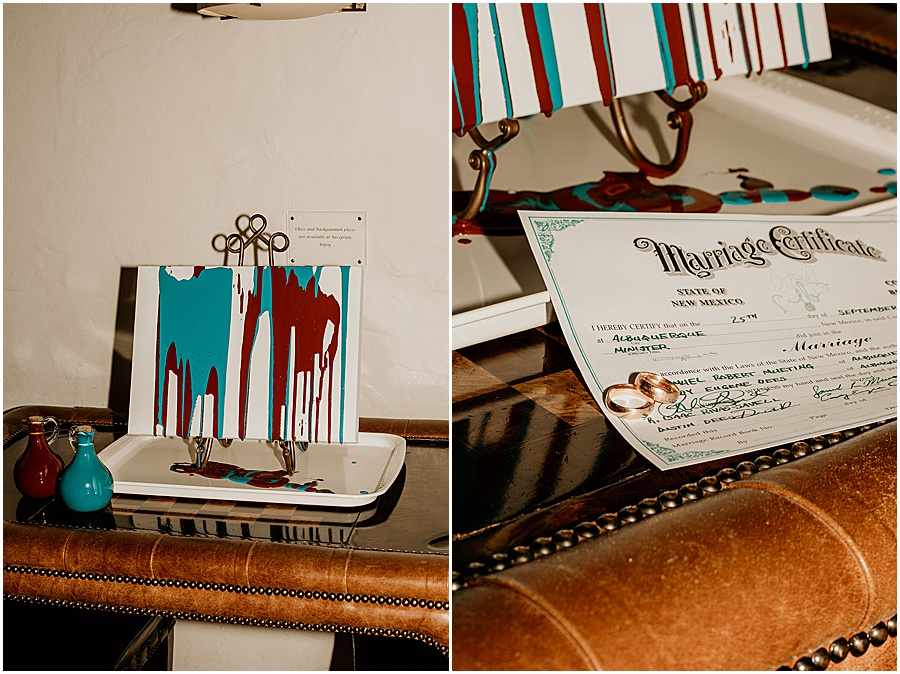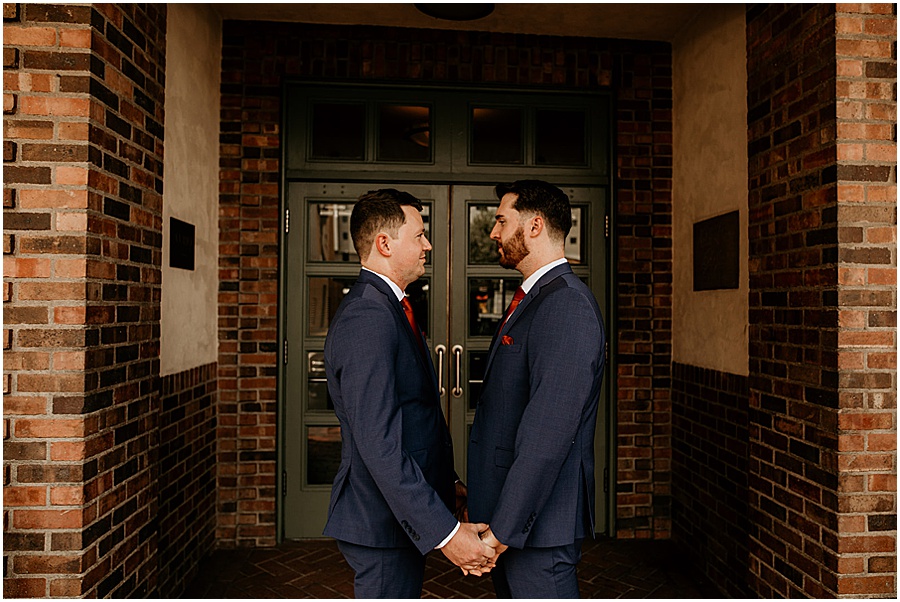 Grooms Suits | Calvin Klein
Wedding Party Dresses | Azazie