Last week, we perused the fantastical world of complementary wedding resources we have on deck here, for your convenience, at the Wedding Collective. Oh, yes. Our love-loving collective offers an entire library of free, downloadable worksheets that will make planning your wedding budget, honey moon, and all the meticulous details of your wedding a total breeze.
PLUS — we have an elaborate, state-of-the-art archive of Colorado's top wedding professionals that are here to meet your every wedding need and then some. Think we're exaggerating? Check it out for yourself!
Wait a minute… what's that I smell? Is it love in the air, or the sweet and timeless fragrance of La Luna Floral's bouquets of wedding goodness?!?!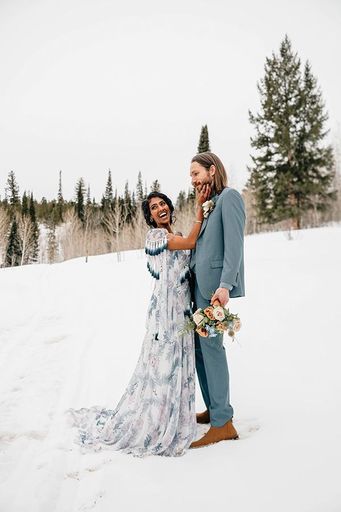 Must be a combination of both. This week, we are taking a closer look at the seriously breathtaking styled wedding showcasing La Luna Florals' beautiful floral masterpieces. Supported by Amber from Rita Rose Event Design, this romantic western-styled elopement shoot is enough to bring you to tears and make you want to get married even if you're single.
Nicole, visionary and owner of La Luna Florals, effortlessly created modern, one-of-a-kind floral installments and bouquets for this special, western-styled elopement. The color palette incorporated a simple ivory-beige, a rustic orange, and a subtle blue-ish grey. Each color really came together to eloquently encompass a rustic outdoor wedding design and an overall timeless vibe.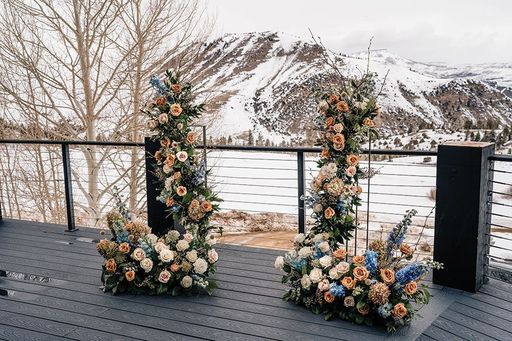 La Luna Floral took these colors and ran, designing alluring bouquets, table centerpieces, and altar installments that set the entire tone of the wedding. They used roses, other flowers, and accent greenery to seamlessly tie everything together.
Latina owned and operating out of Denver, Colorado, La Luna Florals believes that every couple deserves wedding flowers that are as unique as they are. They not only execute timeless pieces for every single occasion, they do is sustainably. If this styled elopement shoot says anything, its that La Luna Florals is NEXT LEVEL at creating floral masterpieces that you'll remember for the rest of your life.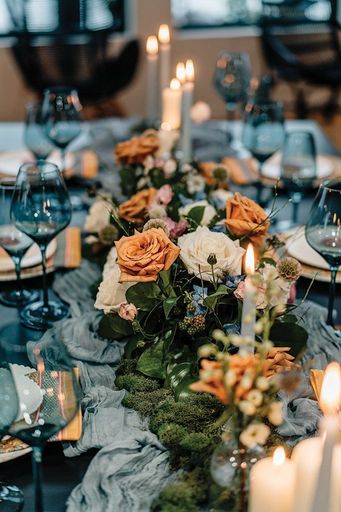 "Colorado has opened so many doors for us to create new ideas with cool new wedding trends. Amber with Rita Rose Event Design came to me with a romantic western elopement idea to show future couples the range of themes and styles we can explore for their special day." – Nicole, owner of La Luna Florals
Whether you are planning an indoor or outdoor, theme or no theme, big or small wedding, La Luna Florals has a reputation to create the floral design you've been dreaming of.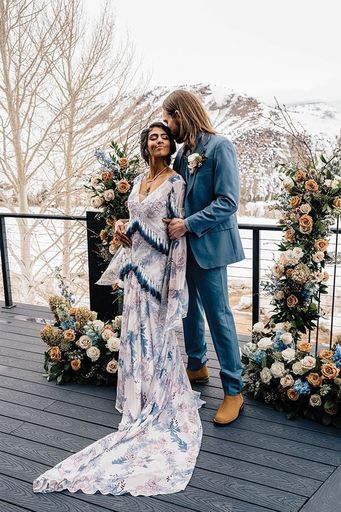 "We used a new altar design as well as trending arrangements that can be customized for every couple with a new take on a blue and neutral color scheme."  – Nicole, owner of La Luna Florals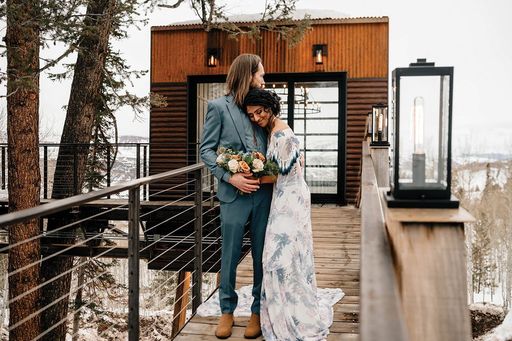 Florals | La Luna Florals
Photography | Kelly Miller Studios
Design | Rita Rose Event Design
Venue | Tundra Springs Colorado
Cake | Cāk The Bakery
Cookies | Cloud 9 Cookies
Paper Goods | Kels and Co Studio
Dress Rental | The Wild Love Collective
Suit Rental | Suit Shop
Rentals | Colorado Party Rentals
Hair + Makeup Artist | CRŪ