If you haven't had the pleasure of reading through some of the guest posts we have on this little love-blog, – written by business owners, newlyweds, and folks from our community – you've been missing out!
But have no fear: this week, Casea Quednow, a local writer, artist, and lover-of-love here is sharing her refreshing expertise on intentionality and its intersection with wedding florals. So, without further ado… 
---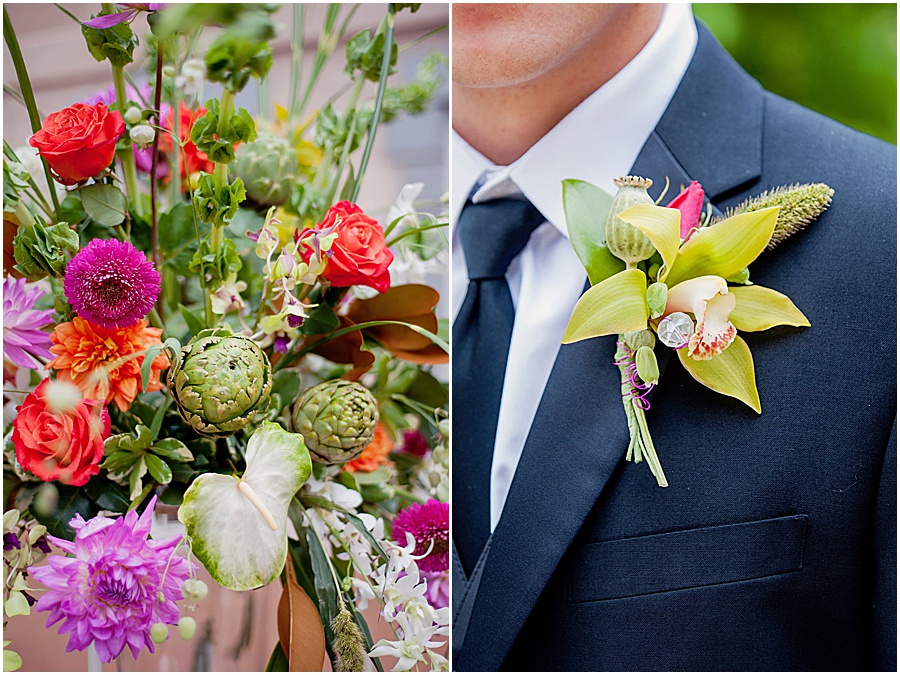 Personalizing your wedding can be overwhelming and take loads of time and effort. Don't worry! We are here to engage you in slowing down, and bring some floral fun to your planning process. You could choose your wedding flowers based solely on color and style, but what fun is that?!
The ceremony of marriage has the power to impact the rest of your life, so why not carve out a little time to cultivate intention into the finer details?
Whether it be your centerpieces or your bouquets, there are truly an endless number of ways to breathe meaning and significance into your big day through the power of flora.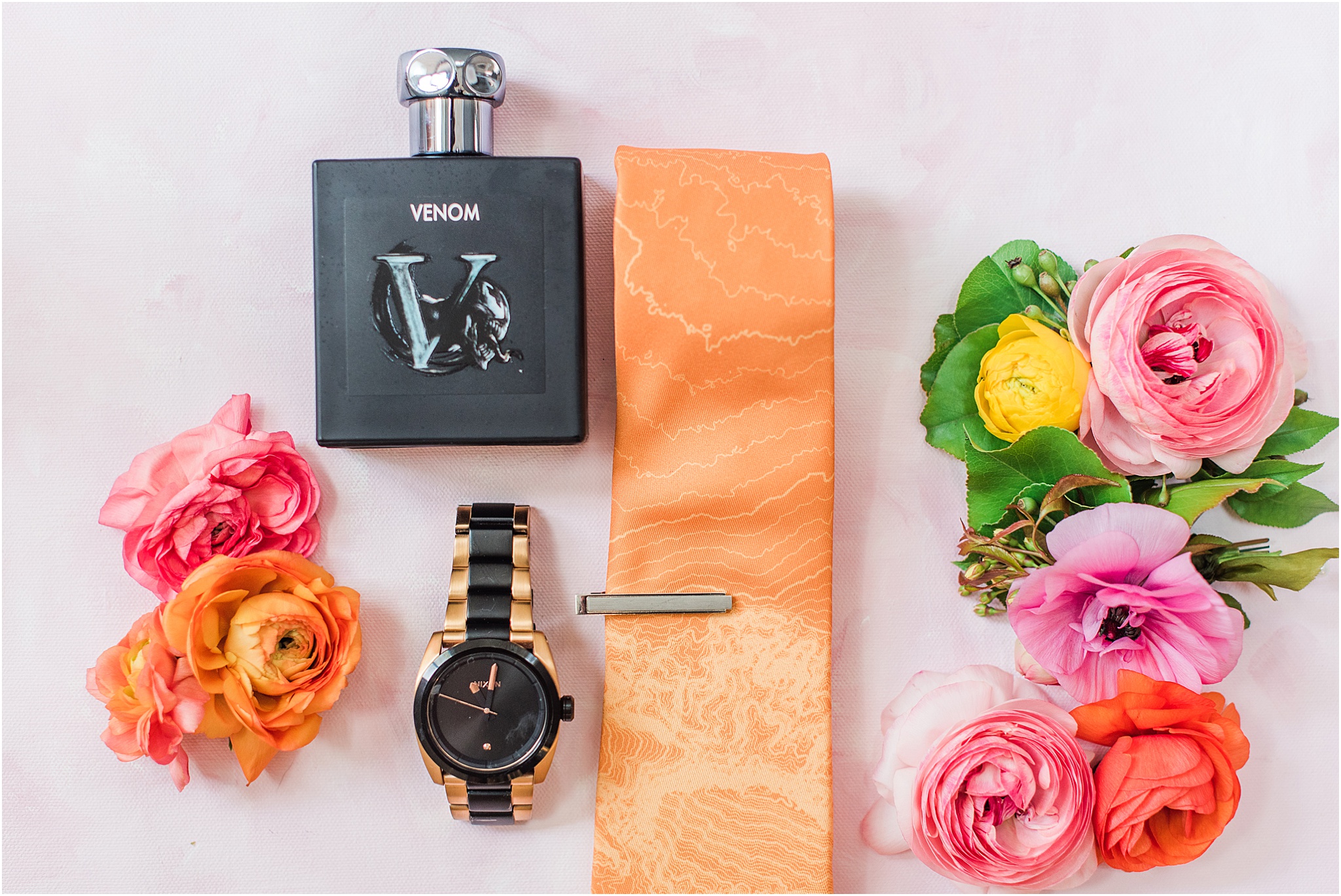 Since Victorian times, flowers have been used to express the unspoken and unseen emotions we experience. Lovers are quick to offer bouquets when they are trying to communicate what words fail to. While all flowers are unique in sight and fragrance, they are also special in the meanings they communicate based on their color and variation.
Take red roses for an example: a CLASSIC symbol of love and romance. White roses? Young and eternal love. But there are so many other flowers of various hues to choose from that have just as powerful meanings.
We've comprised a list of precious floral friends along with their significance, so you can plan your wedding AND your future with purpose.
---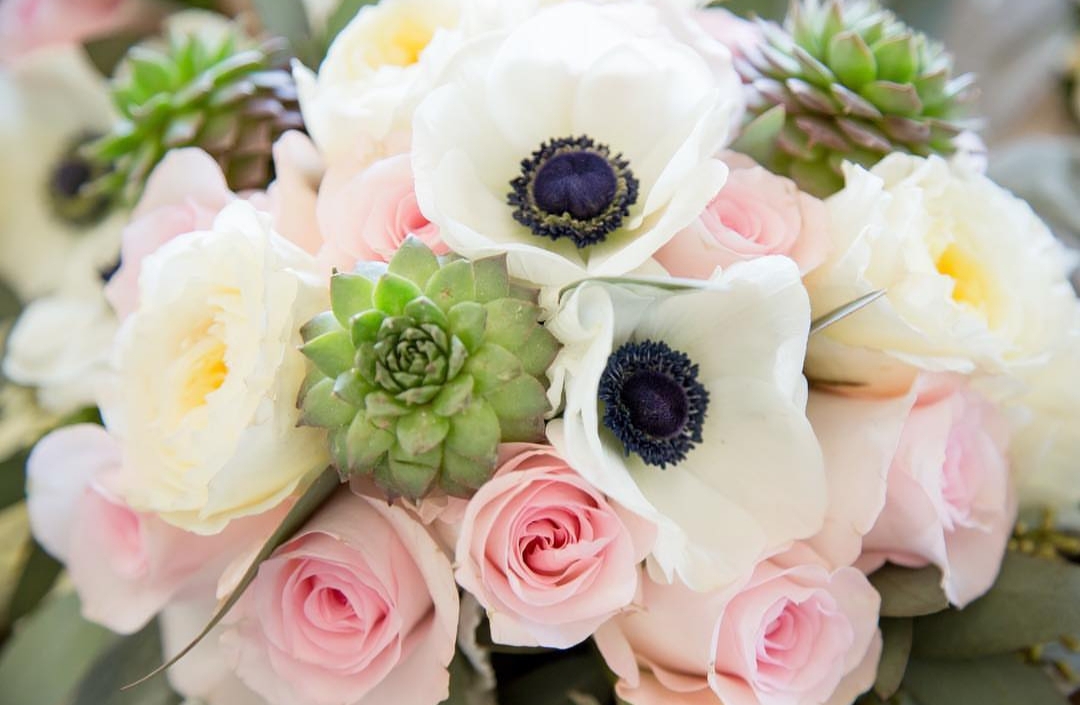 Anemone
The white anemone with a black center is equal parts piercing to the eye and mesmerizing to the soul. Greek for "windflower," these flowers symbolize excitement for love and affection, and sweet anticipation of the future. Anemones offer a clean, minimal look, while also telling a story of enduring love.
---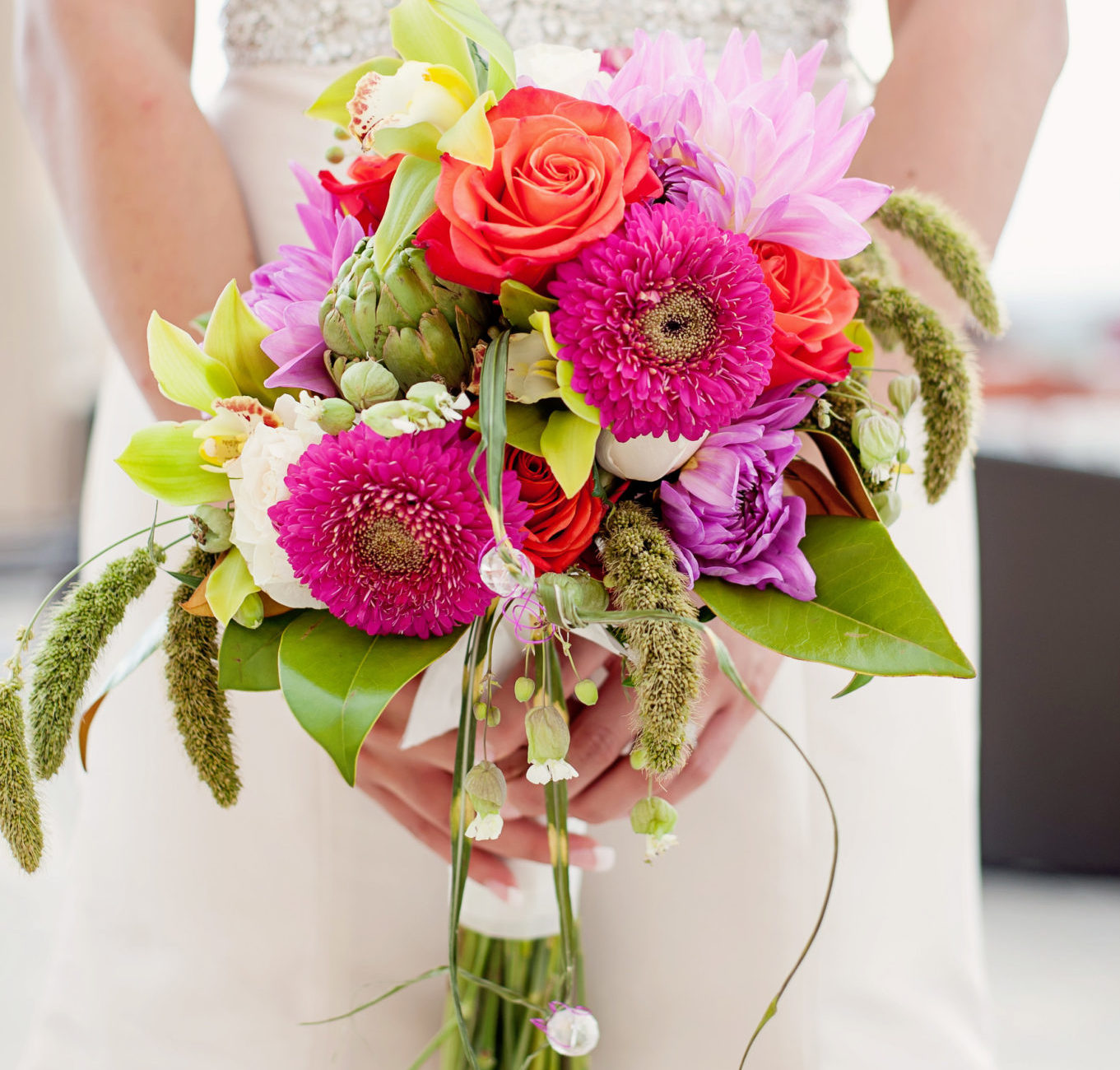 Chrysanthemum
Desiring to bring more joy into your life and future marriage? Look no further! Chrysanthemums have long been recognized as a symbol for joy and celebration.
They also come in a variety of colors, so personalizing your arrangements will be easy and accessible. (Like the magenta chrysanthemums in the gorgeous bouquet by Albuquerque Florist above!)
---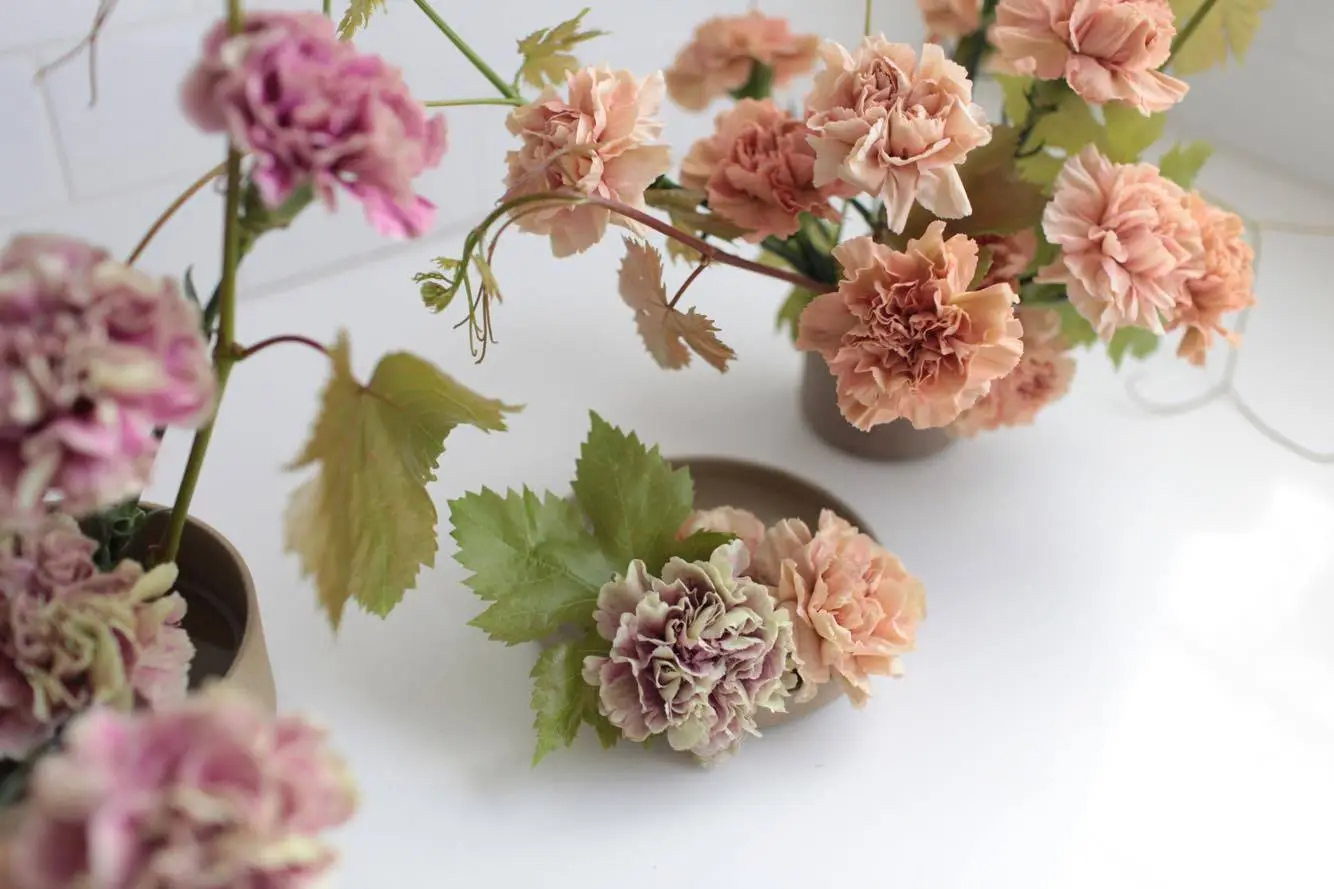 Carnation
Carnations represent a fascination of love. However, its meanings vary based on the hue. Pink carnations communicate gratitude, while white carnations symbolize purity. Unsurprisingly, dark red carnations express affection and love.
Not only are carnations cute, they are also affordable! But be sure to avoid the striped carnations – these cuties signify refusal (no thank you!).
---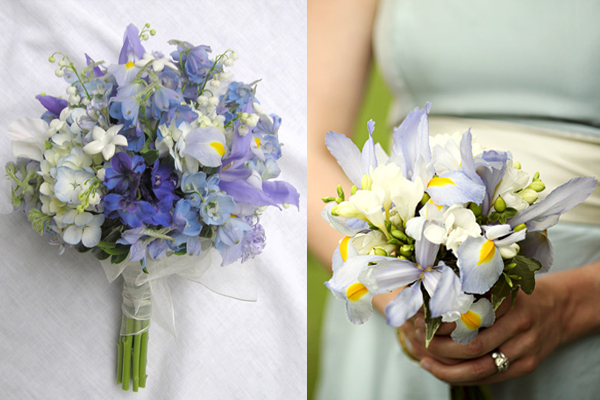 Iris
Perfect for centerpieces, irises are among the most sweet and precious of flowers. Small in size, but massive in meaning, they represent wisdom, faith, and valor.
---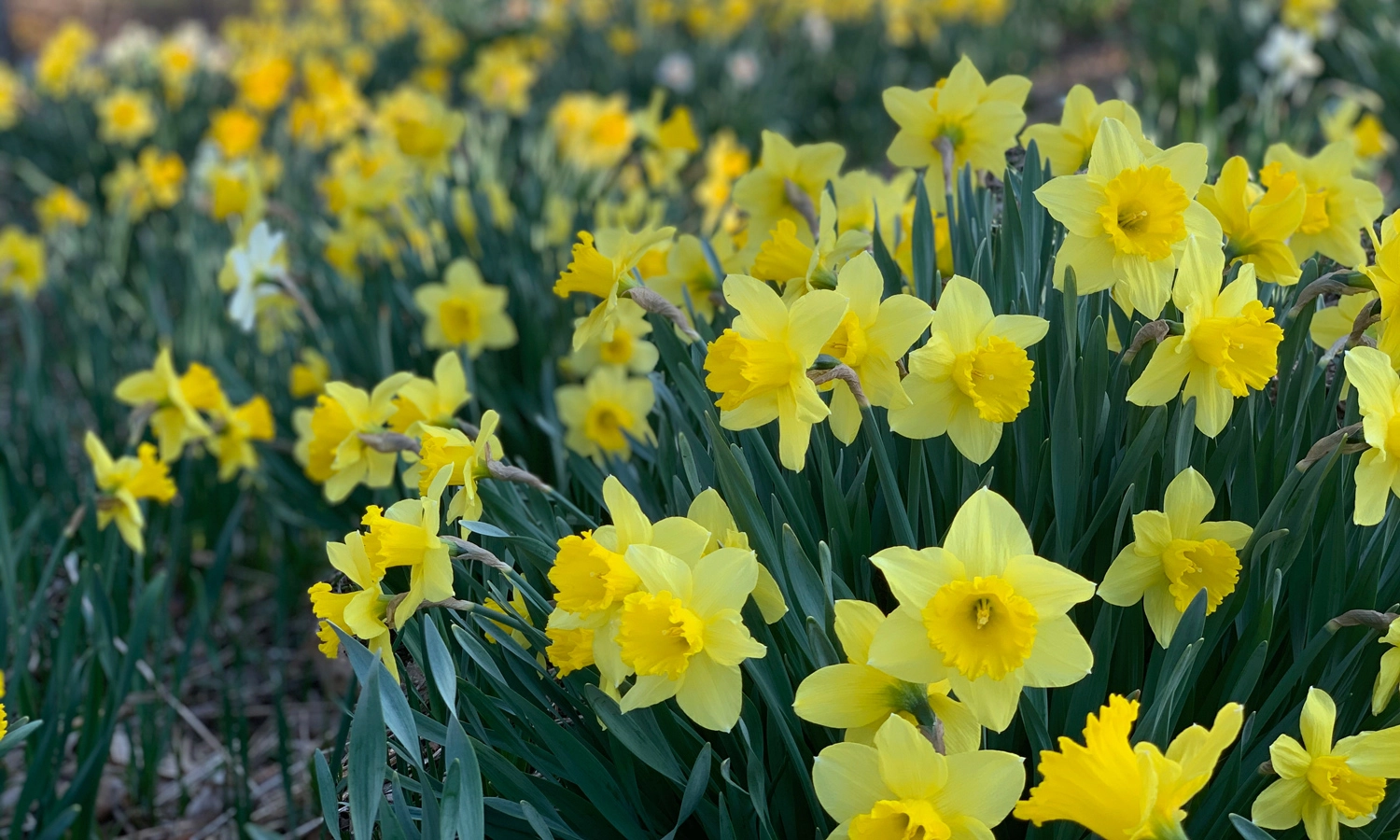 Daffodil
Just like springtime, daffodils represent new beginnings and are perfect if you'd like to set intentions for what's to come. Planning to start a family? Embarking on a travel journey together? Moving into a new home? Consider adorning your arrangements with these yellow, sunshiney flowers!
---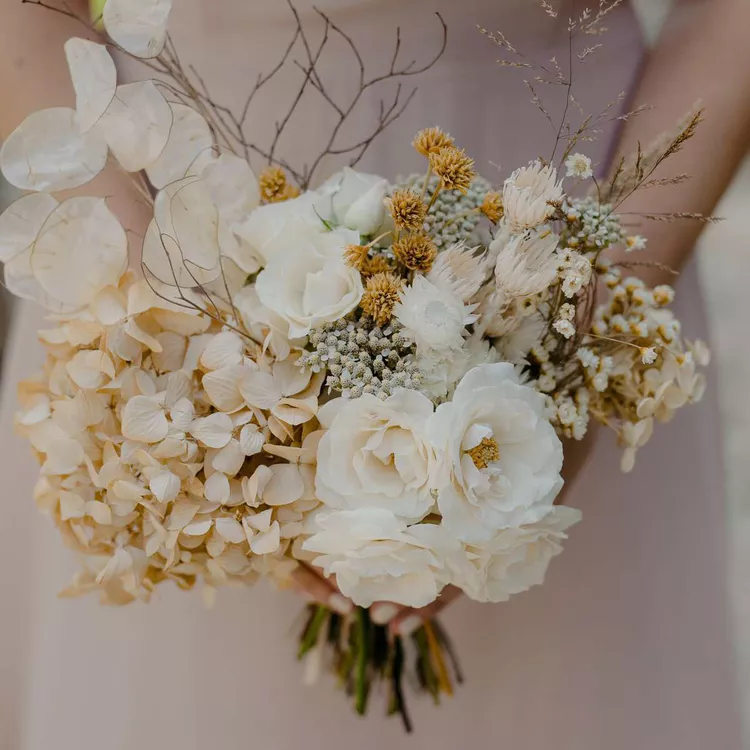 Hydrangea
Hydrangeas are a crowd favorite, and there's no surprise why. These full-bodied flowers come in all shapes, sizes, and colors, and symbolize heart centered emotions. It also expresses perseverance – a quality surely valued in all marriages.
---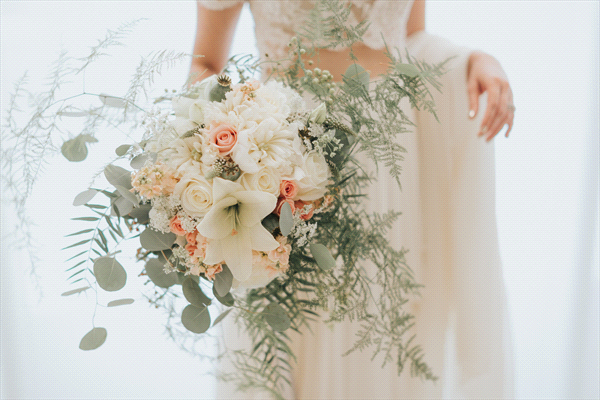 Lily
Who doesn't love lilies?! The white variety of the lily symbolizes virginity and modesty, and is perfect for giving your wedding a ceremonial touch.
If you're looking to ignite some passion into your marriage, consider the orange lily.
---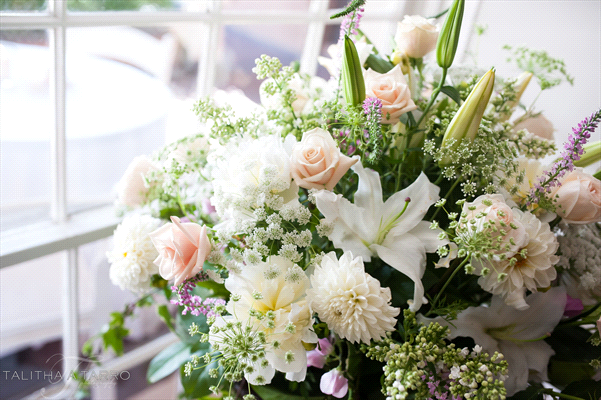 Lavender
Believe me, we know these flowers are appealing in scent, but they are so much more than that. Lavender represents two powerful qualities: virtue and devotion. They pair great with hydrangeas or roses, too!
(The arrangement from Albuquerque Florist above contains three of the flowers from this list – can you spot them all?)
---