Esther's caring attitude helped keep me calm and relaxed throughout the busy day. She made me feel special and loved by being so supportive. She coordinated our entire ceremony with grace and style. We are so thankful she was a part of our big day.

Erin K., 05/17/2020
Fellow lovers of love, can you believe February is only just a few days away? It feels like we were just fawning over all the gorgeous holiday season engagements and now we've blinked and suddenly Valentine's Day is right around the corner!
Although, if we're being honest, we have love on the brain pretty much every day of the year — if you've been hanging out here with us Wedding Collective New Mexico ladies for awhile, you already know that.
But! Since love is on the brain for most people this time of year, and not just those who spend their days connecting local engaged couples with the wedding pros who make dreams come true, now is the perfect time to dive deep with one of our very favorite wedding magic-makers here in New Mexico.
Enter: the locally beloved officiant, Esther, of Duke City Ceremonies!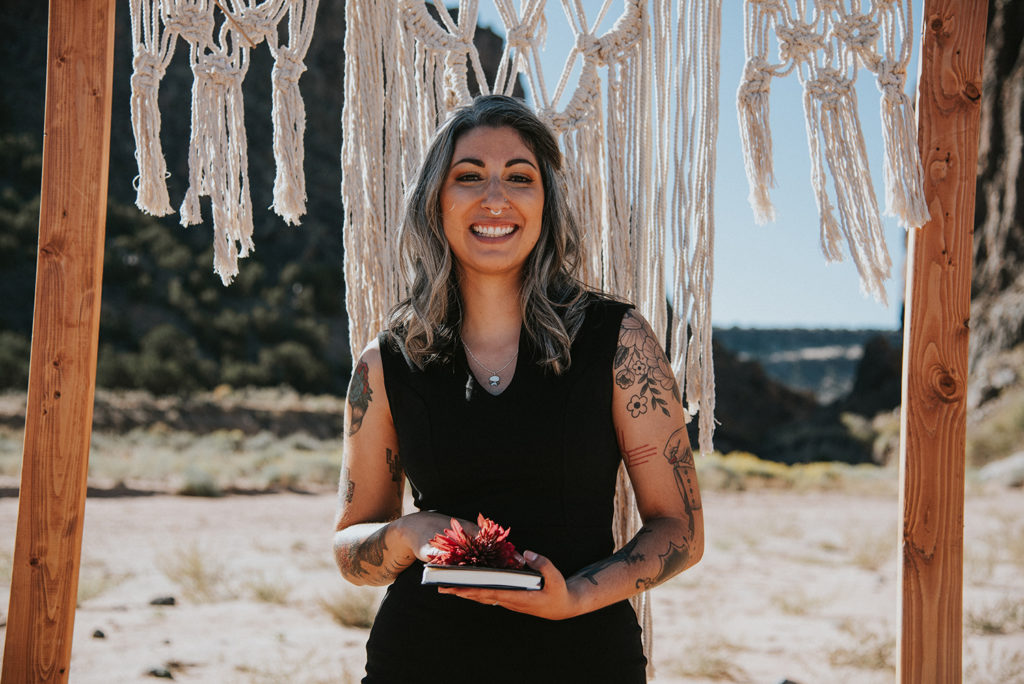 You might recognize her warm and welcoming smile from our Warrior Women feature on local, women-lead wedding businesses. We loved what Esther shared of her story with us and our local community, and honestly, we couldn't get enough.
Luckily for us, Esther agreed to jump on Instagram with us for a one-on-one Q&A session so local engaged couples could get a sneak peek into her experience, her expertise, and her ceremony execution process. Keep scrolling for her honest, informed opinion on some highly important matters for wedding planning – and since she has far more interesting things to say on the matter, let's go ahead and dive right in!
(Psst – want to see these Q&As and more fun things first? You can follow along right here.)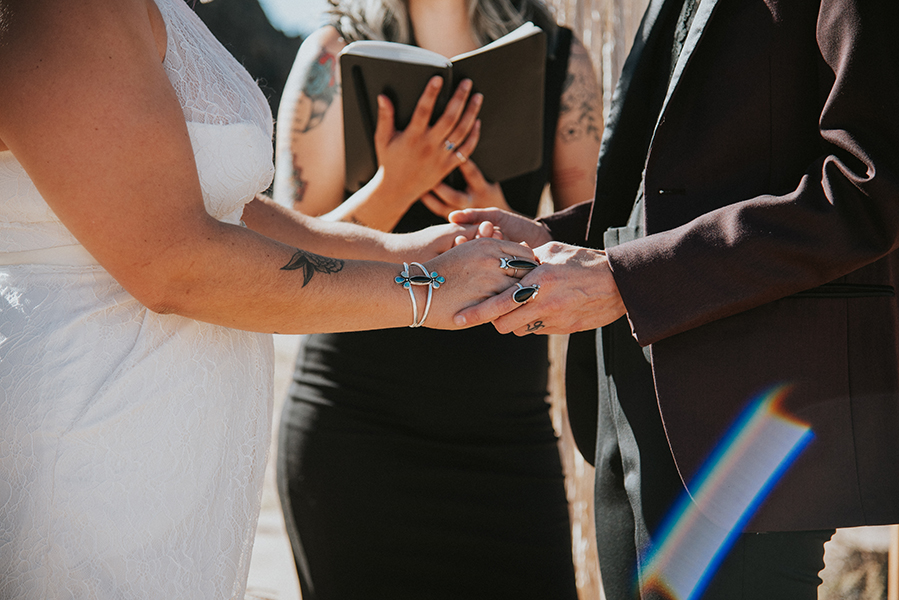 WHAT IS YOUR "IDEAL COUPLE" TO MARRY?
That's hard to answer! My ideal couple to marry would be someone who has similar values to me. What I, at Duke City Ceremonies, stand for is equity and equality for all, for all types of love. I don't discriminate – I'm happy to do any nondenominational weddings of all kinds, and ceremonies that integrate some religious elements too.
My ideal couple, then, would be someone who shares those types of values!
---
HOW MANY "PRE" WEDDING MEETINGS WILL COUPLES HAVE WITH YOU?
At Duke City Ceremonies, we offer a lot of different wedding packages. Some of the add-ons you can include are pre-wedding sessions, depending on what you need. We might meet if you need a little extra time to go over the script, or if you need a little coaching to write your vows, I offer that too!
We also do pre-marital coaching sessions, which is where we discuss all the important topics that couples need to communicate before your wedding!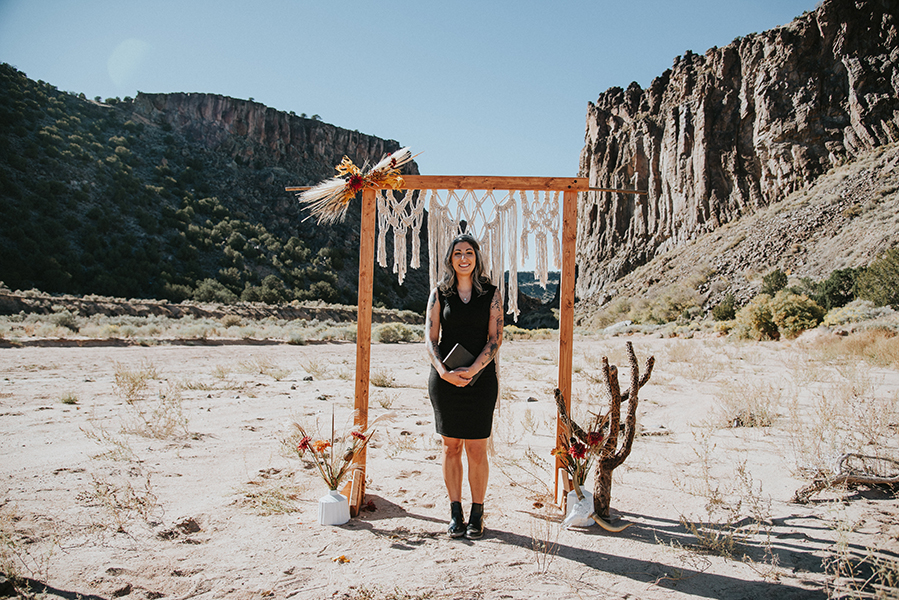 ARE YOU ABLE TO PERSONALIZE YOUR CEREMONIES FOR EACH COUPLE?
One of my most favorite things is to personalize scripts and ceremonies for couples! No ceremony I've done has been the same as another I've performed before, and we can customize your ceremony in so many different ways.
Whether it's incorporating different religious or nonreligious elements – maybe a unity ceremony of some kind, or a musical feature, a pet coming down the aisle with you – there are so many different options!
---
WHAT DOES AN OFFICIANT WEAR?
You can rest assured that I tend to dress pretty conservatively! I am not the focus of your day, although I will end up in some of your photos – so if you feel strongly about a certain color or type of outfit that you'd like your officiant to wear, just let me know ahead of time.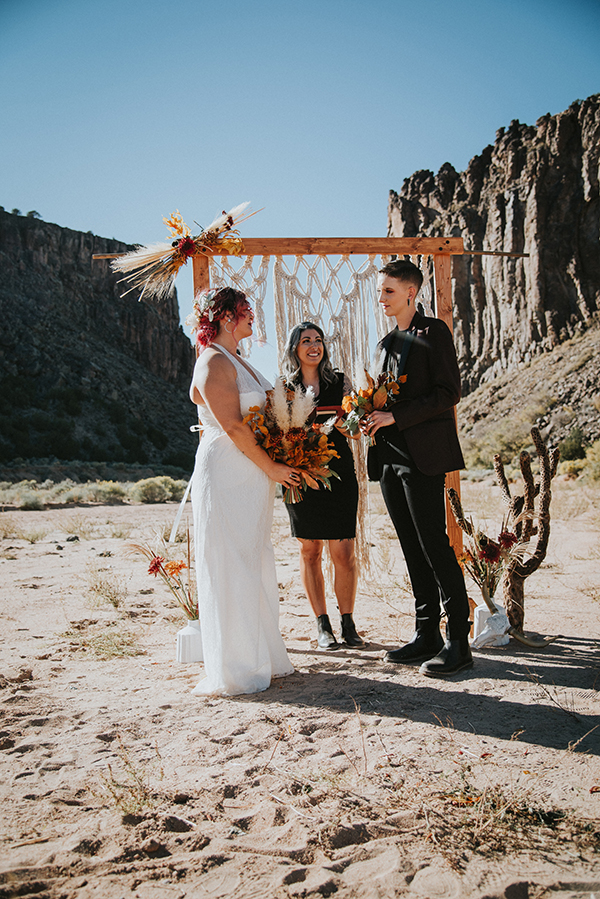 DO I HAVE TO WRITE MY OWN VOWS?
Absolutely not! That's totally optional and up to you. Sharing your own written vows can be something really special and beautiful, but I've also performed many ceremonies where we don't exchange prewritten vows, we just do standard vows that we've selected ahead of time, and it is just as wonderful.
There are other options also, if you do want to share your own thoughts with each other but maybe not in front of everyone at the ceremony – we can do a pre- or post-ceremony reading of vows where you share them together or in the form of a written letter.
So there's a lot of ways that we can get around writing your own vows if that seems like a daunting task for you!
---
WHAT ARE SOME QUESTIONS YOU WISH COUPLES WOULD ASK THEIR OFFICIANT?
I have some advice to share – before you book your officiant, I would encourage you to schedule a meeting to see if the officiant is a good fit for you.
This is a person who is apart of the most intimate and important part of your wedding day – the ceremony is a really big deal! So I highly encourage you to ask your officiant if they are willing to meet with you in person or via zoom. Secondly, I would ask your officiant if they have any religious affiliation, and if so, if they are willing to provide services outside of that for your ceremony.
Another thing that I would highly encourage you to ask your officiant about upfront and right away is pricing! Pricing can vary and can include or not include travel, food, pre-wedding rehearsals, etc.
I would also ask your officiant if they have anyone as a backup, just in case they are unavailable on your wedding day – if an emergency comes up or something – do they have someone they can refer you too?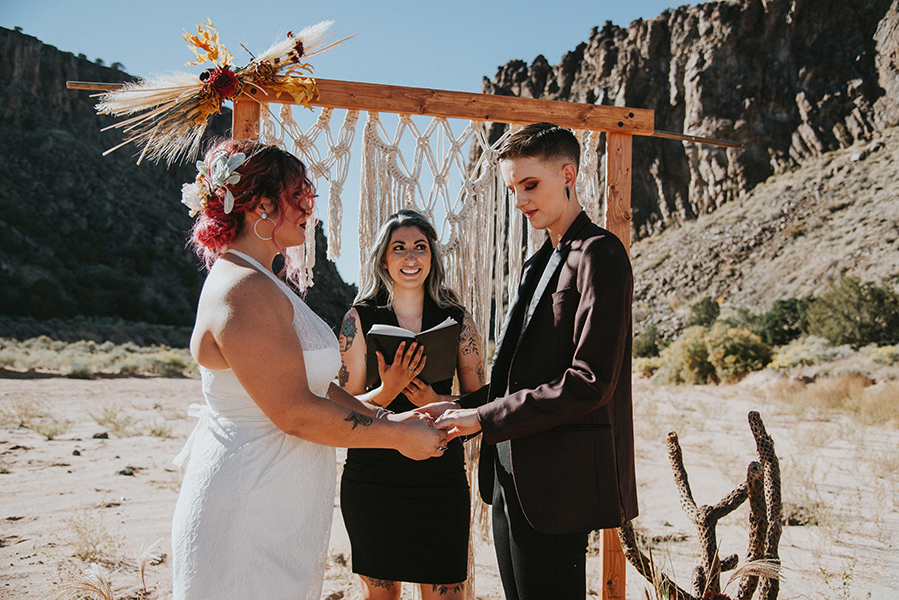 Esther's professionalism and heartfelt words made our special day come true. Our friends and family had nothing but compliments regarding our unique ceremony. She was an integral part of our day as she helped us prepare our own vows. She captured our feelings and helped us put them into words. Not only did she offer emotional support but she made our wedding fun and lighthearted.

Ryan K., 05/17/2020
Photos by Lillabella Photography