One of the things you've probably noticed but us Wedding Collective New Mexico ladies is we love love. Like, a lot. 
We love love stories, celebrations of love, the businesses that make those celebrations of love possible, to love on our community, etc., etc. Because we have so much love to share, we often pack as much of it into each blog post as we can — doing listicles on up and coming wedding photographers, our favorite Colorado wedding pros, tons of tips for small businesses, the whole shebang. 
It's been awhile since we've taken a pause to go deeper with our love, rather than spreading it far and wide. So, today, we're going to spend a little more time in one place – grounding a bit with one local, small business that we love. Like, a lot. 
Beautiful hair and comforting conversation –

Kim is AMAZING at what she does. When she did my hair, she made sure that every detail was perfect. It was just so nice to have a moment on my special day where I could sit back and relax because I knew I was being taken care of.

Kim also is a great conversationalist and made me feel calm and comfortable when I was stressing out. It was like getting my hair done by my BFF.

Riley C., 08/25/2021
Let's start with the most obvious thing about The Beauty Nook Studio — brides, bridesmaids, engaged couples, random people on the street, new clients, clients who have been coming to these stylists for ten years, it doesn't matter. Everyone loves the team at The Beauty Nook Studio. 
(Think we're being hyperbolic? Keep scrolling for more of our favorite reviews from local engaged couples, or you can read alllll the heartwarming words right here.)
Now, the fact they're widely loved doesn't come as s surprise to us. We've had the opportunity to get to know the amazing women who make up their team of creatives, so we're fully aware of their incredible talent and kind, welcoming personalities.
But what did surprise us, and maybe it will to you too, but TBNS just celebrated their first year in business. Crazy, right?!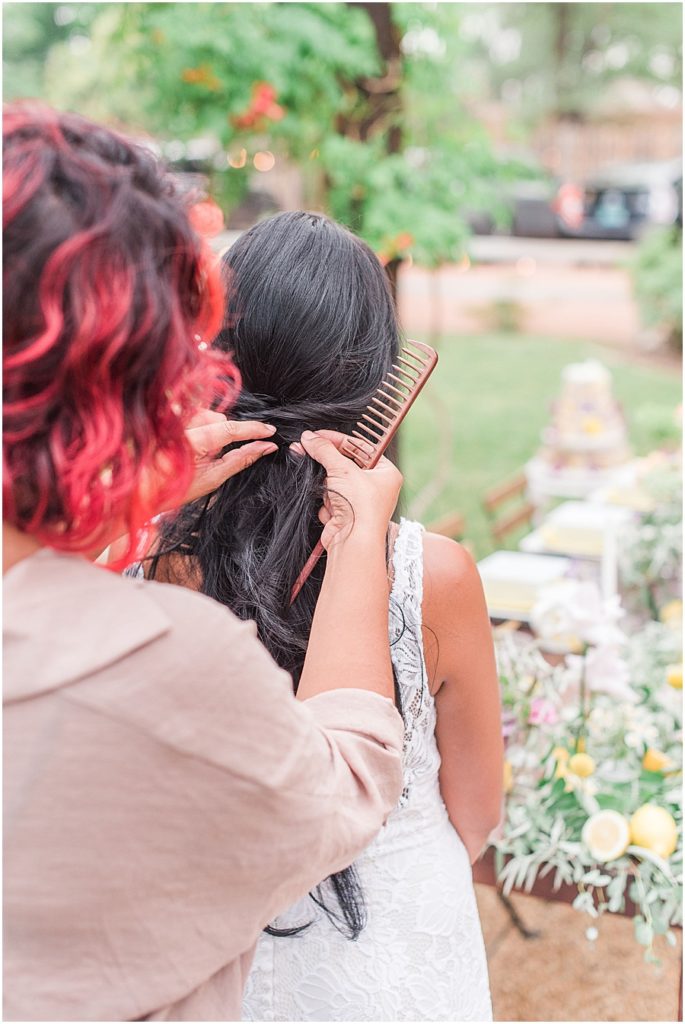 Easy & fun time to be left feeling oh so pretty for that special day –

I just love Marcella – she has been taking care of my hair for over a year now and my hair has never looked healthier. She did my hair / make up for my wedding (Aug 28, 2021) and I honestly couldn't have done it without her.

[…] I was nervous for my wedding date as I didn't want anything too "done up" but "done up" enough as I was the bride. Marcella did a wonderful job at striking that balance and made look/feel super natural yet so pretty. Strongly recommend the Beauty Nook Studio for your bridal needs.

Araceli L., 09/02/2021
If you've been hanging out on this blog for awhile now, then you probably have heard of the WCNM Elite Awards — The Beauty Nook Studio won Best Beauty Expert in New Mexico in their very first year of business. We'd say that this incredible feat is also wonderfully crazy, but again, with that much talent packed into one beautiful team, is anyone really that shocked?!
What makes TBNS special is that, even though the business is still in its triumphant beginnings, the stylists who work one-on-one with wedding parties have been refining their craft for years and years and years. 
Now that they've turned their focus towards weddings, their skills are being utilized to meet one very specific goal: to make every soon-to-be newlywed feel beautiful without the worry.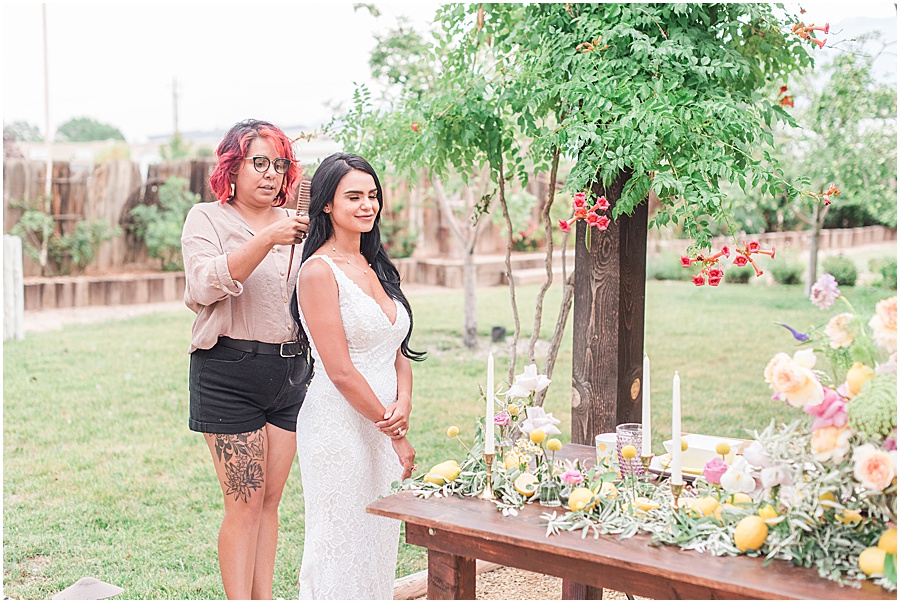 We do genuinely believe that each wedding professional who collaborates on your wedding day is of the utmost importance. 
You can't get married without an officiant, your caterer will keep hangry friends and family focused on your celebration, wedding planners make the day an actual party instead of a stressful event, photographers and videographers give you memories to last a lifetime… We could go on, but you get the gist. 
Here's the thing, though, do any of these things actually factor in if you don't like the way you look or feel uncomfortable in your skin on your wedding day? Not really!
Whether you're a full-glam type of gal, a neutral-chic babe, or just need to have your trim freshened up in order to feel your best, The Beauty Nook Studio has got your back. 
Because their goal is to make you feel beautiful — whatever beautiful means for you, specifically. And we love that.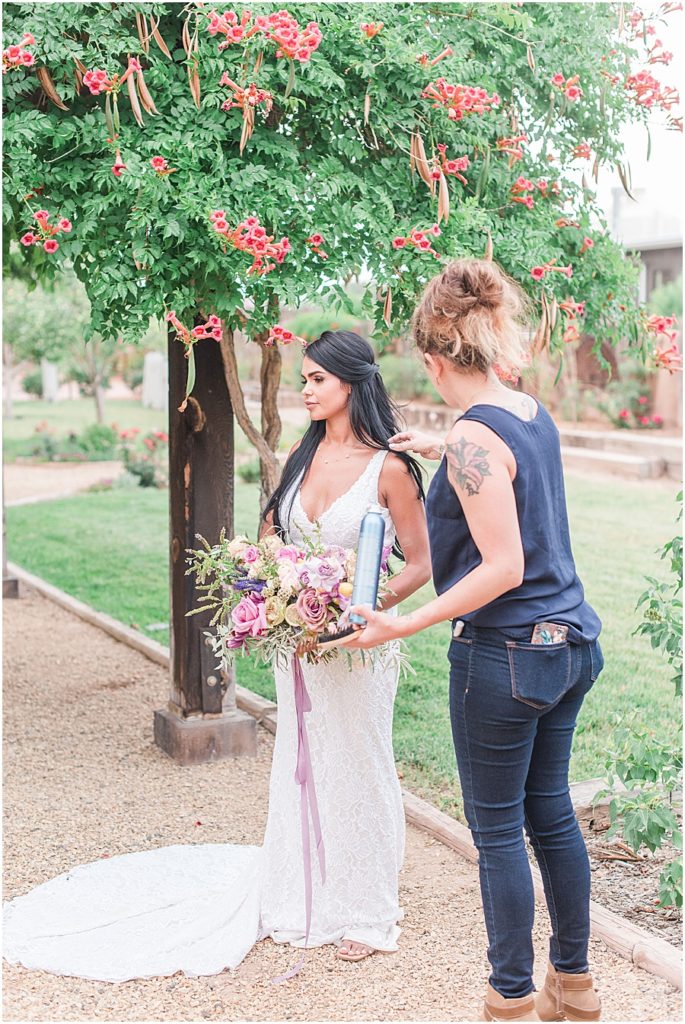 Kimberly has amazing talent! She took the time to known my wishes so she could bring my dream wedding look to life.

I''m self conscious of my thin hair and she used her creative skills to make my hair look better than it ever has. Her unique, caring, and kind personality allowed me to trust her and I knew I was in good hands. I will definitely be calling her for future events.

Lydia S., 08/18/2021