For some readers, the title of this blog might seem a little confusing — like, is it really any question that weddings, with all their grandeur and glamor, are better than elopements? 
And for others, the opposite might be running through your brain. Some of us adore a well-done elopement, and would prefer to focus our creative energy on making the perfect love-story moment, rather than dealing with guest lists, travel details, and day-of craziness…
Okay, you caught me — I'm a proud lover of elopements! But don't worry, we've also got wedding warriors on the Wedding Collective New Mexico team, as you can imagine, and I'm sure they'll forgive me for admitting that I'm a sucker for a gorgeous elopement. 
(Right, guys!?) 
And, as much as I love the intimacy and sacredness of an elopement, I have to admit that it's not an infrequent occurrence for me to cry a few joyful tears at the wedding photos that come across my desk. I love love, can you blame me? 
The point is: you can trust the outlined points below — there are benefits and drawbacks to weddings and elopements both, and I promise not to favor one or the other here. This decision is of the utmost importance, and can only be chosen by you. 
We're just here to share some of the expertise we've gleaned from our community of wedding professionals, and, of course, connect you with the incredible local businesses that can make your wedding or elopement dreams possible!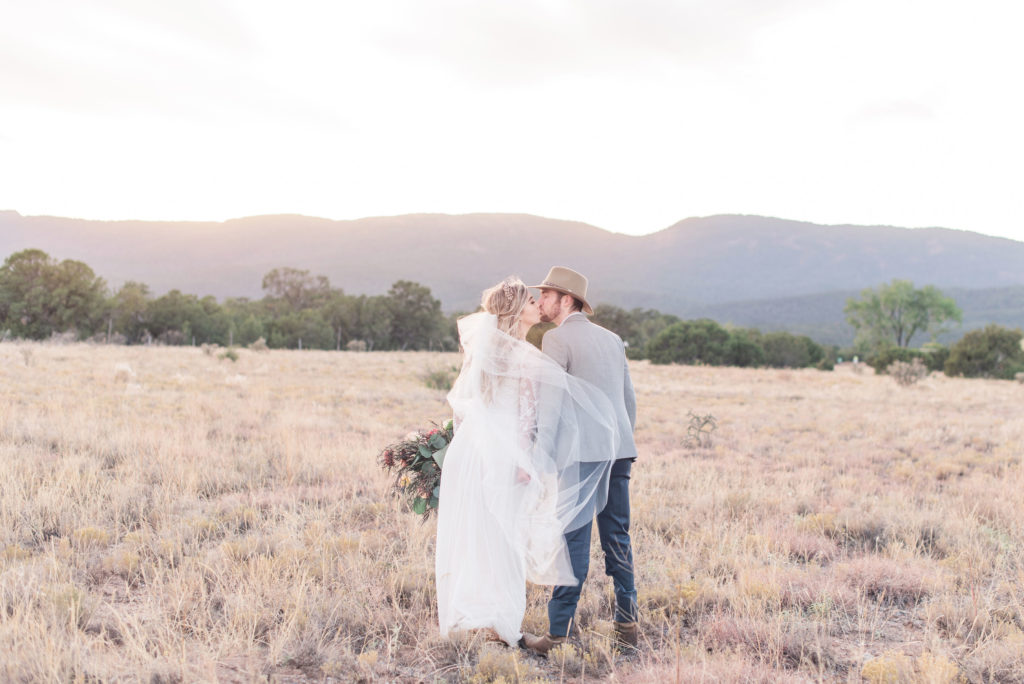 SIZE
Weddings typically involve quite a few more people than elopements — guests and wedding vendors alike. Having extra hands on deck can be a huge benefit for some couples; more guests means more photos, memories, support, kindness, and love around. The drawback, of course, is that with more family members and friends traveling to attend your magnificent day comes a higher cost. Lots of local wedding venues here in New Mexico have different packages available to help you save on your wedding, but remember that each guest adds a little bit more to the food, travel accommodations, gift, and venue budgets!
Elopements are usually much smaller than weddings, which comes as a pretty obvious benefit! The fewer guests, the fewer of the aforementioned costs. You can also get away with just hiring the essentials as far as local wedding professionals go — a photographer/videographer, officiant, and florist alone can make a moment extraordinarily special. But with this obvious benefit comes the obvious consequence: how do you decide who to invite to your elopement? You might hear from your Great Aunt Betty about not getting an invite, and having less support around means that the planning, executing, and day-of stuff is on your shoulders.
(On the bright side, with Zoom becoming more widely available, and wedding planners jumping in on elopements, some might be able to avoid those drawbacks!)
SPACE
The venues available for weddings in our state are truly something incredible, which is a huge bonus for those choosing this route. Depending on which space calls to you, you can expect to be pretty spoiled with things like overnight accommodations for your guests, jaw-dropping views of our southwestern desert, combination indoor-outdoor spaces for ceremonies and receptions, or food/florals included. Thank goodness we have so many beautiful options in Albuquerque, Santa Fe, and even beyond the city limits — one of the downsides of having a wedding is that you definitely need a venue. Unless you're lucky enough to stumble upon a community space or large family home, you'll want to budget in your venue dreams early on in the wedding planning process.
Whereas weddings are relatively rooted to their respective venues, elopements can be surprisingly mobile. With fewer guests and wedding vendors to coordinate, your options for space are wide open — anywhere from the mountains and mesas around us, to a secluded park, or someone's backyard can hold a sacred moment for you and your soon-to-be spouse. And, while you're saving a little dough by opting out of a traditional venue, you still have the option of renting a special space — like an ultra-fancy hotel for the two of you, or a spa for you and your guests (if there are any)!
If you do choose an adventurous location to make your proclamations of love, though, beware that you might be limiting yourself as far as what vendors you'll be able to collaborate with. When you're in elopement-planning mode, remember to look for pros who are open to any trek, like adventure wedding photographers. Another caveat? With our beloved state's fickle weather, you won't have the same backup options you'd get at a traditional wedding venue, should there be a sudden rain out on the Sandia Crest.
STRESS
Well, we shouldn't even have to say it because it's practically a trope in pop culture by now, but planning a wedding can be stressful. There are significantly more details to keep track of, and many of us are already juggling job(s), errands, appointments, family responsibilities, school, and more. Make sure you have the support in your life needed to avoid hitting wedding planning burnout! Which, luckily for wedding-lovers, is pretty easy to find when you're surrounded by your family and loved ones! Enlist some friends or future wedding guests in helping with DIY elements to save a little on your wedding budget, and make some of those tasks into fun social events.
And, of course, you can always hire a wedding planner to make the whole process much, much more seamless! Oftentimes, wedding planners have connections with other local professionals as well, and can potentially help save some costs by connecting you with the perfect pros.
If any of those workarounds aren't available to you, though, you might opt for an elopement just to save yourself some energy and time. With far less to plan and execute, and only the most essential guests and wedding professionals to coordinate with, you can plan an elopement in record time! You'll also be freed up to choose less traditional times of day for your ceremony — morning mimosas and vows anyone? — if you don't have to schedule around venue availability as well.
Keep in mind, though, that with elopements having less people around, you also, you know….have less people around. There's less room for error, and it can be harder to find discounts and deals on ultra-small gatherings. For intimate settings, too, most photographers don't need a second shooter, so you'll want to be 100% sure that your wedding professionals have your back. (Or just ask us, we're happy to give recommendations!)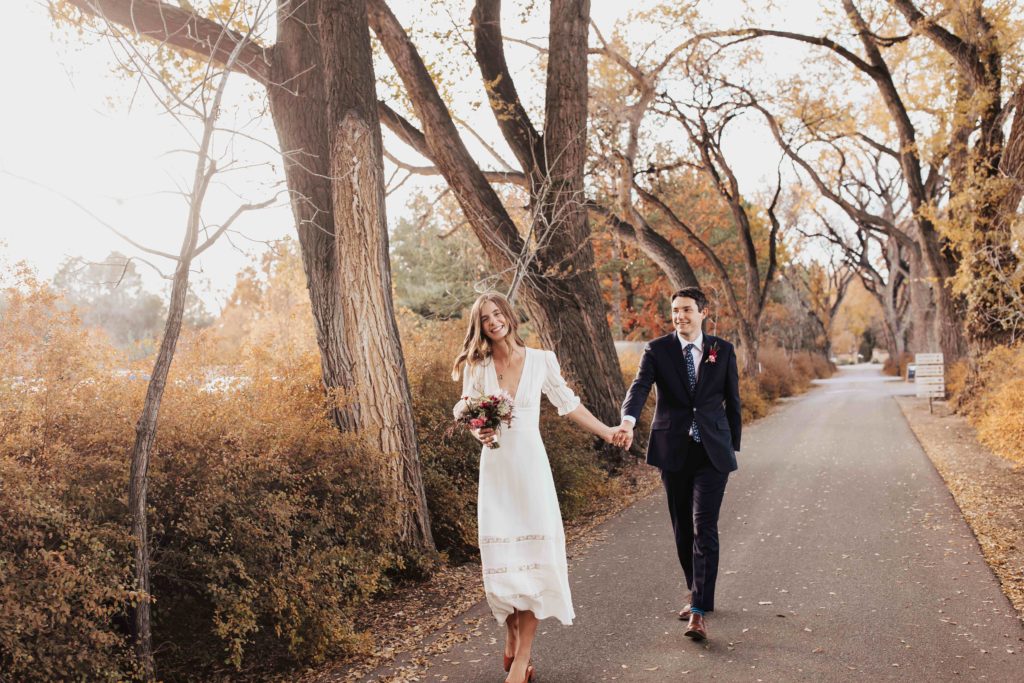 Still not sure which road to take? Have no fear – our WCNM wedding planners are here, always, for free consultations! You can pick their brains and figure out if a wedding or an elopement is right for you by clicking right here.