If you're a wedding lover or recently engaged couple here in New Mexico, then by now you've probably heard all about the magic of wedding shows. All the rumors of door prizes, swag bags, day-of deals and discounts — well, they're true!
Wedding shows really are the perfect way to supplement your online wedding planning. Meeting local wedding professionals in person, all in one place, makes that part of the process easy as cake. (Not to mention, there's usually quite a bit of actual cake to enjoy too!)
But for engaged couples in 2021, the possibility of attending a wedding show probably seems out of reach. Luckily, the team of experts and wedding-obsessed professionals that makes up Wedding Collective New Mexico has you totally covered.
We are SO excited to present the Behind the Curtain Virtual Wedding Show!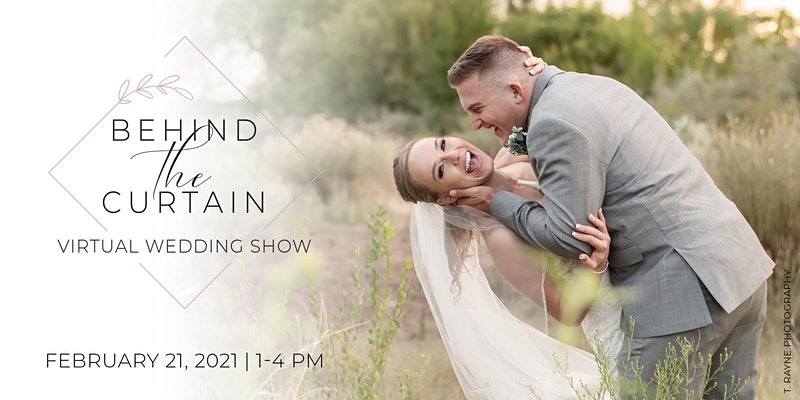 Happening this Sunday, February 21st, from 1-4pm the Behind the Curtain Virtual Wedding Show is the first of it's kind, but we're sure there will be plenty of similar 100%-digital events for engaged couples.
Why, you might ask? Well, despite what your first thought might be, there are some serious perks to an all-online event like this. (And being able to stay in your pajamas the whole time is just one of them!)
We've laid out the top 5 reasons you should be at the Behind the Curtain show below, but if you're already sold, click here to snag your tickets.
1. SHOPPING SPREE
By attending the Behind the Curtain Virtual Wedding Show, you're automatically entered in the running for a $100 gift card to the locally-loved historic farm, Los Poblanos! 5 couples will be chosen for this once-in-a-lifetime shopping spree, and you should definitely be one of them.
2. CURBSIDE SWAG BAGS
It's true! Just because this wedding show is virtual, doesn't mean you don't get to bring home some goodies with you. The first 100 engaged couples who pop by our curbside drive-through will receive a swag bag full of freebies from Wedding Collective New Mexico and some incredible local wedding professionals.
PLUS: one magic swag bag will be holding a golden ticket. Redeemable as a one-night stay at the Four Seasons Resort Santa Fe — including breakfast for two! — and a 14K rose gold bar necklace. (Valued at $400, and courtesy of Ooh! Aah! Jewelry.)
Want more deets? Click here!
3. STAY COZY
This perk is for the introverts! Picture this: since you'll be able to enjoy all this magical stuff from the comfort of your home, you can grab your girlfriends or your fiancé and settle in with some wine, popcorn, hot chocolate, or whatever your treat of choice is! A whole day of checking off tasks on your wedding-planning list and you never have to leave the couch? Sign us up.
(Or you can sign up, right here!)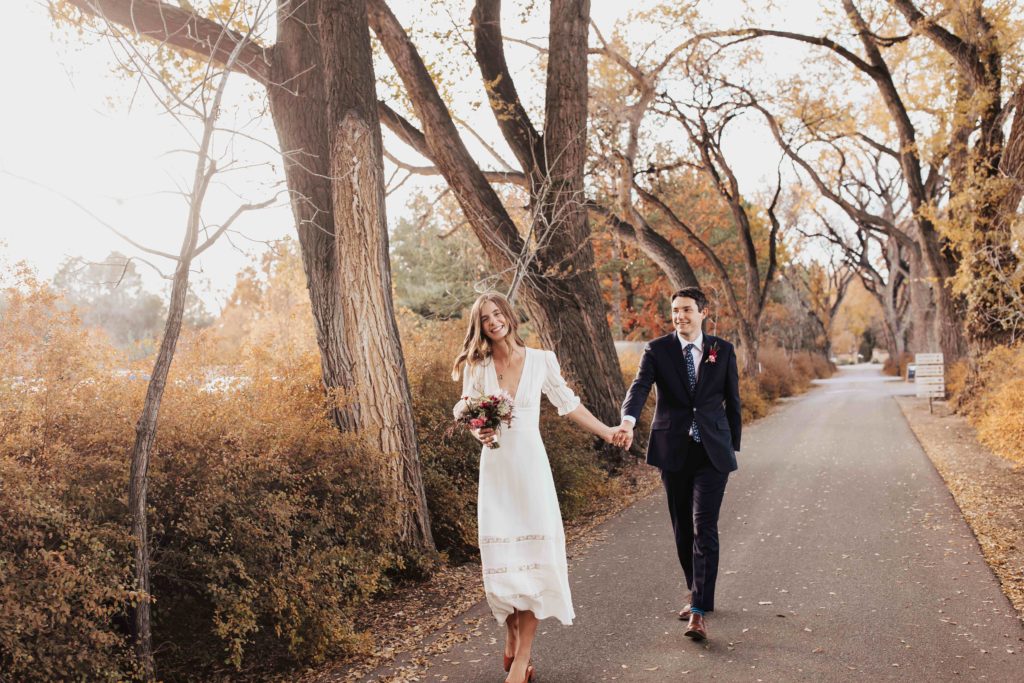 4. EXCLUSIVE CONTENT
The obvious aforementioned benefit of meeting with wedding vendors in person is, of course, that you get the chance to see their personalities shine through their businesses. With the Behind the Curtain Virtual Wedding Show, you still get to do that!
Your ticket grants you access to exclusive video content that showcases the talents and vibes of New Mexico's best wedding professionals. Get insider-info on their services and products, learn helpful tips from industry experts, and get a sneak-peak into what it's like to work in the most love-filled field out there!
Want to take a sneak peak at what's in store for attendees? Click here!
5. DEALS + DISCOUNTS GALORE
We saved the best for last because, well, it should be a given! Wedding Collective New Mexico is kind of known for giving away free things, at least around these parts, and this digital showcase will be no different.
So, on top of the swag bags, chance to win a shopping spree, and all that other fun stuff: all participating wedding professionals will be ready and available for you to redeem special promotions during the entire show. With features like tap-to-text ready for you as well, we've made saving money on your wedding as easy as it possibly can be!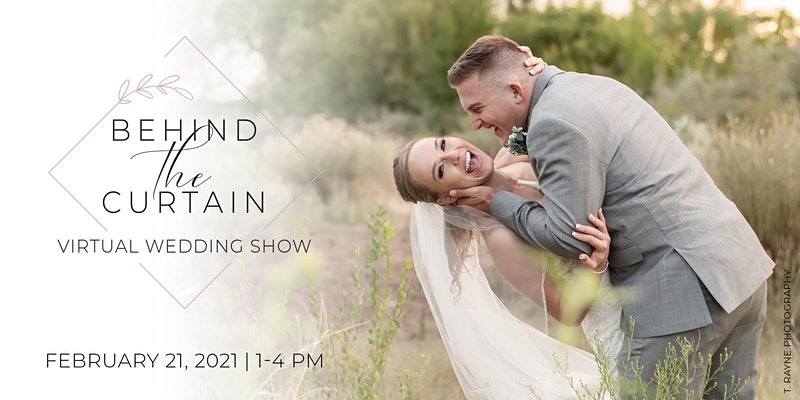 Ready to snag your tickets to the Behind the Curtain Virtual Wedding Show, before they run out? Click here to reserve your spot!
Psst – click here for a super sneak peak into the show, too!