Hey you! We know that you love giveaways, because we do too – especially awesome wedding giveaways. You've worked tirelessly to plan your wedding, or maybe you're just getting started, but either way you're looking for ways to 1) save money 2) get the vendors you want and 3) execute the best wedding possible. Hint: we're about to give you some special giveaway news that you might not know yet and you're in for a treat!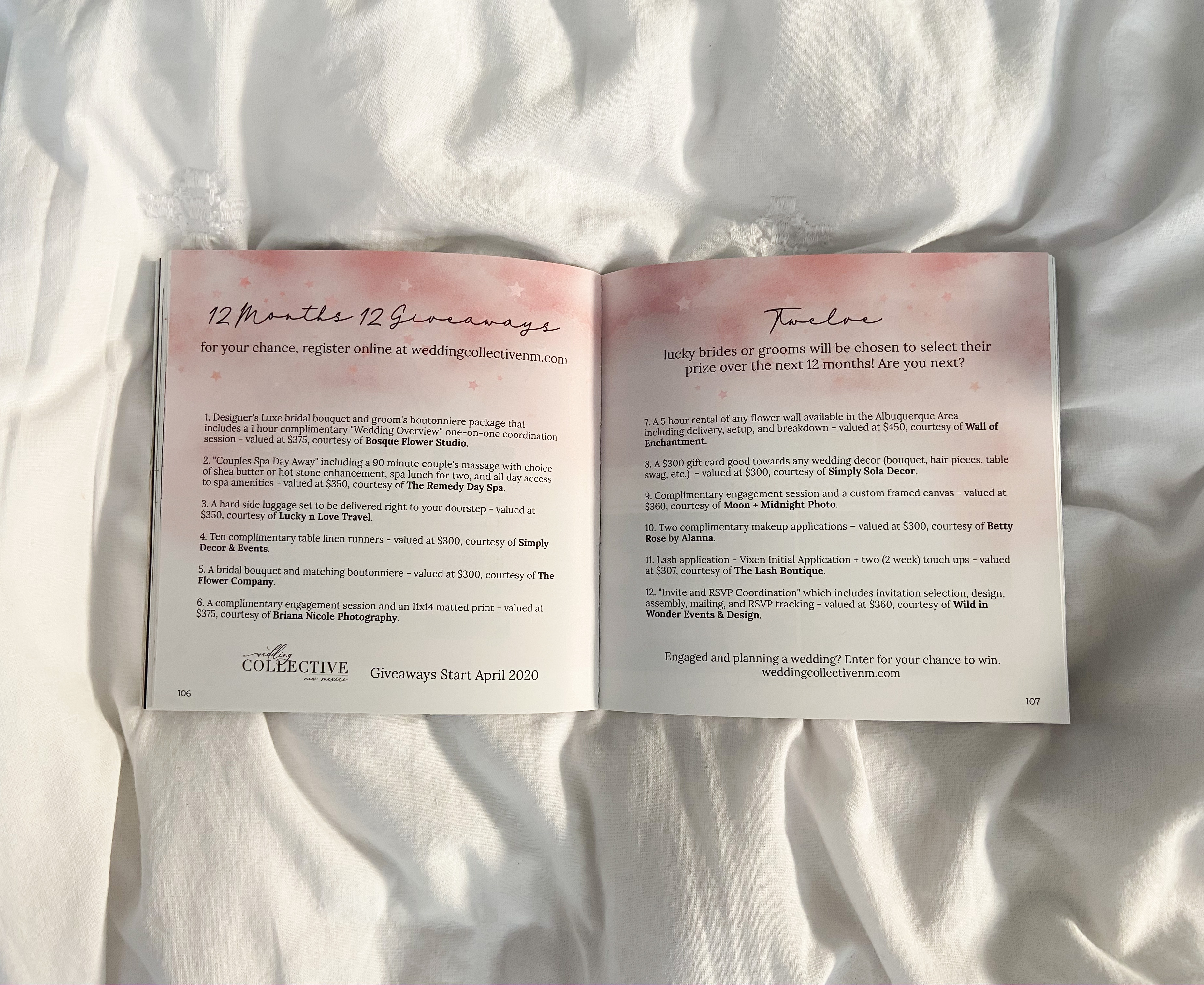 You might have seen a spread in our adorable little guide that looks something like the image above, and you might have wondered, "what is this all about?" The "12 Months of Giveaways" is the wedding community's way of saying thank you for being you and congratulations on your engagement all wrapped up in one pretty package of giveaway goodies! Each participating vendor chose something special that they thought local couples will fall in love with, and to make it even more exciting, each giveaway prize is valued at $300 or more. A lucky couple is chosen each and every month (from April 2020 to April 2021) to select a prize from the list. Yep, it's happening all year long, and you get to choose your prize.
Here is a list of this years amazing giveaway prizes:
1. Designer's Luxe bridal bouquet and groom's boutonniere package that includes a 1 hour complimentary "Wedding Overview" one-on-one coordination session – valued at $375, courtesy of Bosque Flower Studio.
2. "Couples Spa Day Away" including a 90 minute couple's massage with choice of shea butter or hot stone enhancement, spa lunch for two, and all day access to spa amenities – valued at $350, courtesy of The Remedy Day Spa.
3. A hard side luggage set to be delivered right to your doorstep – valued at $350, courtesy of Lucky n Love Travel.
4. Ten complimentary table linen runners – valued at $300, courtesy of Simply Decor & Events.
5. A bridal bouquet and matching boutonniere – valued at $300, courtesy of The Flower Company.
6. A complimentary engagement session and an 11×14 matted print – valued at $375, courtesy of Briana Nicole Photography.
7. A 5 hour rental of any flower wall available in the Albuquerque Area including delivery, setup, and breakdown – valued at $450, courtesy of Wall of Enchantment.
8. A $300 gift card good towards any wedding decor (bouquet, hair pieces, table swag, etc.) – valued at $300, courtesy of Simply Sola Decor.
9. Complimentary engagement session and a custom framed canvas – valued at $360, courtesy of Moon + Midnight Photo.
10. Two complimentary makeup applications – valued at $300, courtesy of Betty Rose by Alanna.
11. Lash application – Vixen Initial Application + two (2 week) touch ups – valued at $307, courtesy of The Lash Boutique.
12. "Invite and RSVP Coordination" which includes invitation selection, design, assembly, mailing, and RSVP tracking – valued at $360, courtesy of Wild in Wonder Events & Design.
Ready to enter to win? Here's how you do it:
Peruse all of your awesome options.
Scroll down to enter to win!
Boom! You're all done!
May the odds be ever in your favor.