Today we're passing the mic over to one of our most beloved wedding travel experts, Renee Cuessy of Rope Drop Travel, for some post-pandemic Disney inspiration – because we could all use some good material for a little romantic daydreaming, right?!
---
Valentines day is here and with it come all the feelings of love!
Disneyland is celebrating until February 18th and has pulled out all the stops with the most adorable Valentines decorations and treats around. This is a first for Disneyland so I am hopeful that this continues in years to come. With all the love in the air let's keep the romance going, shall we?
Not everyone is obsessed with all things Disney, and not everyone would think to propose to their love at Disneyland. Those people are missing out on some major romance. When Walt Disney created Disneyland he wanted a place where kids and adults could enjoy themselves. Within the magic that is throughout the park there is also touches of romance and whimsy.
When my husband proposed to me at Disneyland not only was it incredibly romantic but also touching and sweet and so memorable. Recalling the story of my husband down on bended knee at Disneyland never gets old and it's so fun to visit "our spot" whenever we return to the park.
So if you are thinking of proposing to your love, or if you want to send a not-so-subtle hint to your partner, below is a list of the most romantic spots to propose at Disneyland. Bonus points: they all make for a great photo op so make sure you either grab a cast member before hand or have someone in your party ready with the camera.
1. In front of the castle
This one can be a little obvious but it's a classic for a reason. Plus, there's the bonus of a cast member on hand to take a picture of the moment all the time. Once I had the pleasure of witnessing a proposal in front of the castle, and the young man had everyone in their party wearing matching black shirts that spelled out "Will you marry me?" in red lettering.
It was fantastic and so cool to see something so special. Be sure to check the Disneyland app to be sure the castle will be fully visible. Right now Sleeping Beauty's castle is going through a refurbishment and blocked by barricades so it's not quite the picture perfect background.
2. Main Street, U.S.A.
This one is fun because if you time it right you get all of Main Street, the castle in the background and possibly some adorable Mickey balloons. Just be aware of photo bombers in the background or someone accidentally walking in front of the camera right as you get down on your knee.
Extra points if you propose at night and get the fireworks and music at the same time. Do not attempt this during a parade though. Cast members will ask you to move and no one wants to be the guy that caused a delay with the parade.
Minnie Mouse Gazebo at Disneyland
3. Favorite Disney character
If your partner has a favorite character and you get the chance to do a meet and greet take advantage of that moment and pop the question. The cast members stay in character and get so excited for you. You get a fantastic memory, sweet pictures, and it makes the meet and greet that much better!
4. Photo walls and props
All over Disneyland and Disney California Adventure are some of the cutest and most creative walls and props. DCA has a wall with a balloon scene from Up and Disneyland is full of options. Right now Disneyland has an adorable Valentine prop or if you want to go other times of the year there is always the giant pumpkin on Main Street.
Another option is right outside the exit of Minnie's house. As you exit out the back and round the corner Minnie has an adorable table and gazebo set up. I imagine this is where her and Mickey enjoy an occasional romantic meal. Basically everywhere you turn there are opportunities.
5. On a ride
Cameras will catch the look of surprise and excitement as they see the ring…while going over the falls of splash mountain. How fun!! If you are not a thrill ride person go for the Jungle Cruise. The Skippers are already so fun to listen to. I'm sure they would help make that moment fun. Whatever ride you choose just please, please, please do not drop the ring.
6. Snow Whites Wishing Well
I hesitate to put this one on the list for selfish reasons. This is the spot my husband proposed to me and I would love to keep it a hidden secret. Truth is, I am sure hundreds of others have proposed in the same spot. So in the spirit of love I'll tell you this one. To the side of the castle, across from the Fairy area is a hidden spot – you can follow the little path that leads you right to Snow Whites Wishing Well.
If you make a wish Snow White will sing her song. It's secluded and sweet. If you are the type who prefers a more intimate moment without crowds this is the spot. There are not always cast members around to take your pic, which we now kind of regret, but it's my favorite just the same.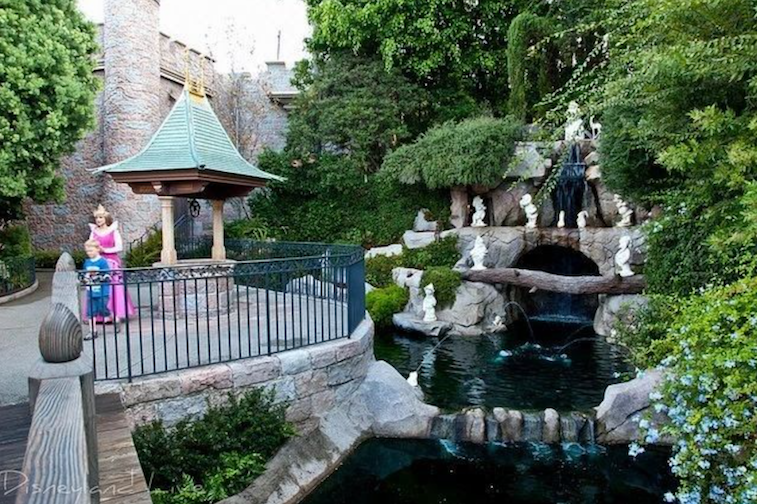 Snow White Wishing Well at Disneyland
7. Pixar-Pal-Around
If you don't have a fear of heights and are looking for a panoramic view to go with your proposal then the Pixar-Pal-Around at Disney's California Adventure is the spot for you. This gigantic ferris wheel has swinging and non-swinging cars and views of the parks all around.
8. Club 33
If you can get in there, may as well make it a momentous occasion and propose while there! Take lots of pictures.
9. Park Entrance
Picture it – you walk in to the park and see the iconic Disneyland train and flowers shaped to Mickeys head. You both are feeling the excitement and magic. You're finally there! Then you drop to one knee. Picture perfect.
10. Pixar Pier
Not only do you get a photographic moment with the new Incredicoaster and Pixar-Pal-Around in the background, you get to propose to the love of your life in a colorful and fun filled park.
Honestly, no matter where you choose to propose around the Disneyland parks you are guaranteed a moment filled with love and magic. I wish you the best of luck and send those pictures my way. I would love to see and hear all your proposal stories!
If you are interested in a free Disneyland vacation quote contact me today at ​Renee@RopeDropTravel.com
Renee Cuessy, Travel Agent Rope Drop Travel, LLC 505-710-0656
Follow me on Facebook and on Instagram!