It's a beautiful Tuesday here in New Mexico – despite the moth apocalypse that's nearly taken over the entire state. However, we're loving the weather and all of the ways that the community continues to come together to create incredible things. We're starting to finally see glimpses of upcoming intimate weddings and we couldn't possibly be more excited.
Wedding Collective is so happy to have welcomed some fantastic new vendors over the past couple of months, including the lovely Ashleigh Olguin of Ashleigh Olguin Ceremonies! If there is one thing that EVERY wedding needs, it's an officiant. If you're in the beginning phases of planning your wedding, look no further, we're about to make you fall in love with Ashleigh's kind soul and bright spirit.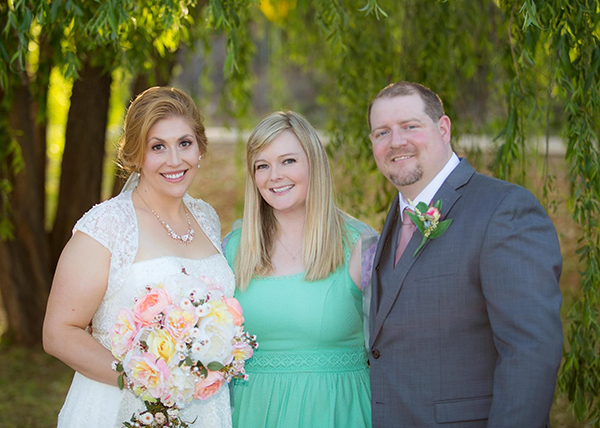 How could you go wrong with an officiant whose slogan is "Ashleigh loves LOVE"? We LOVE that and kind of wish we could steal it for ourselves! With over 9 years of experience in officiating weddings, Ashleigh has all everything you need to have a jaw-dropping, tear-jerking, laughter-filled ceremony surrounded by family and friends.
We always encourage local couples to work with the wedding vendors that listen to their visions and treat you like both client and friend. Wedding vendors should be the guide that walks the wedding planning path alongside you, not ahead of you or shouting from the finish line. Ashleigh Olguin is the perfect example of a wedding vendor who values connection and understanding – ensuring that she is with you every step of the way.
Whether you're planning a religious, non-religious, or non-traditional wedding, Ashleigh has her door open to a variety of services and ceremony types. Especially now, with all of the small, elopement style weddings being planned for the upcoming months, you can count on this officiant to be there to make your greatest memories happen!
If you're looking for a wedding officiant, you've certainly come to the right place. Now is the perfect time to get in contact with your officiant to get to know each other and book for your wedding. If you think Ashleigh Olguin is your match, you can get in contact with her here to learn more and get planning!