The southwest is as diverse as it comes between the melting pot of cultures and geography, but that only means that you can use our gorgeous desert landscape to set the stage for your bright and vibrant color palette. 
It is officially time to say "hasta la vista" to the warm New Mexico weather, and welcome in the thrills and chills of late October. Even though we love a good fall breeze, it's hard not to look back at sunnier days and feel a little bit wistful. Luckily for us, Briana Nicole Photography submitted this absolutely charming styled shoot conceptualized by Just Lovely Weddings so that we may indulge in our summertime cravings. The incredible images are the cherry on top!
The New Mexican desert is home to spectacular wildflowers, abounding sagebrush, and various cacti plants. It's no wonder people gravitate to our state for photo opportunities galore. For this styled shoot, the designers used bright pinks, rich teals, and shimmering golds set against the neutral tones of the desert to create an astonishing performance of color contrast. Talk about photogenic!
Lauren with Just Lovely Weddings rounded up an amazing vendor team to share these pops of color, teal accents, geometric shapes, and desert vibes along with the creative usage of a hexagon arch as your romantic backdrop.
Just when we think we've seen it all, something new pops its head around the corner and surprises us. Our vendors really know how to put on a show, and we want front row tickets. The bespoke invitations from Funky Olive, the combo of colors in the florals, the macarons in the cake (can you spot 'em?), the gorgeous wedding ring from Ooh! Aah! Jewelry, the breathtaking gown from Bridal Elegance by Darlene… we're speechless.
Styled shoots are aways a group effort that showcase the talents of so many wonderful local wedding vendors and it really is a community effort, that's why we love them so very much. We can't seem to get enough of styled shoots, so keep them coming our way all of you beautiful people!
This shoot came to life with the help of Briana Nicole Photography and her magical camera-eye. Check out the gallery below!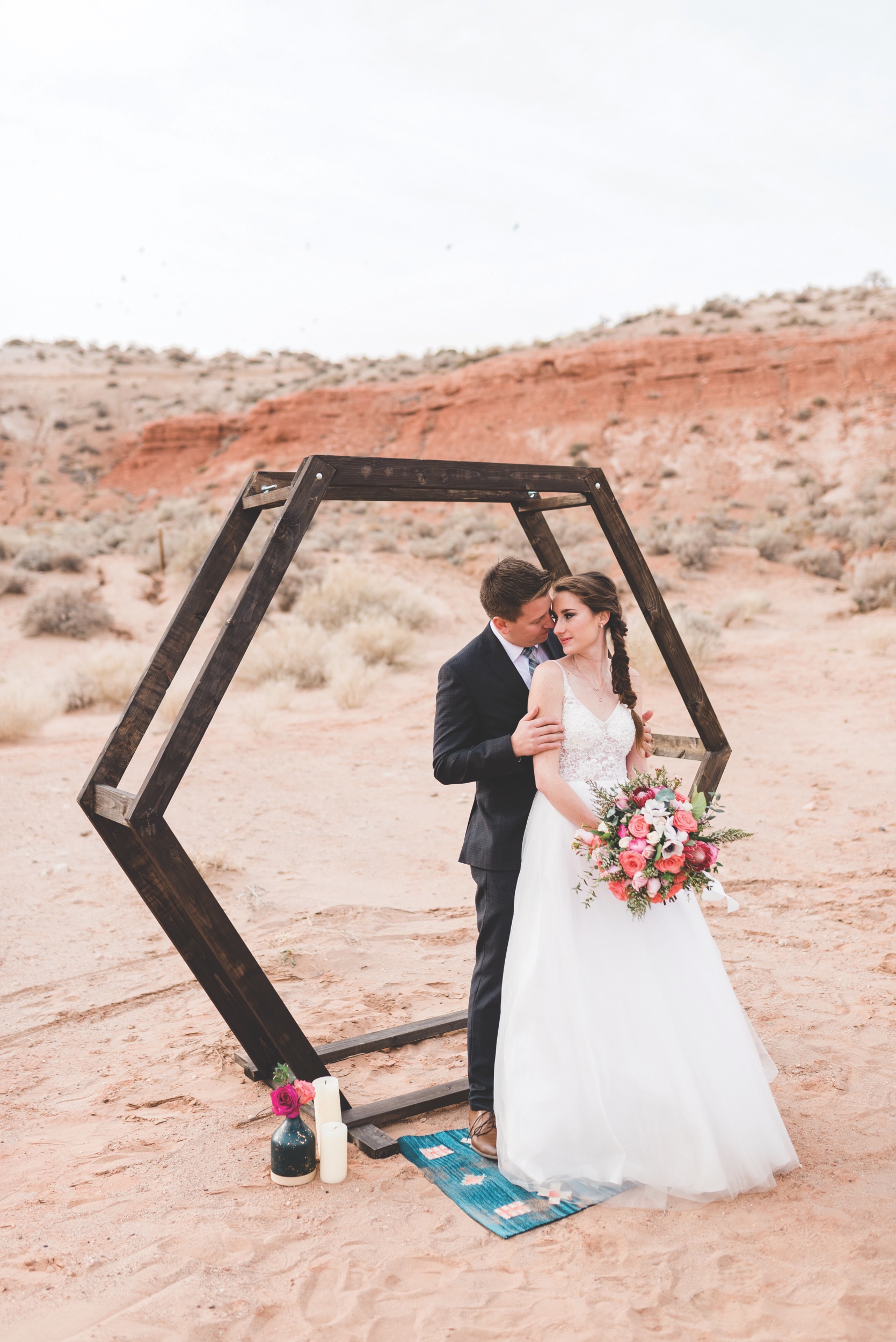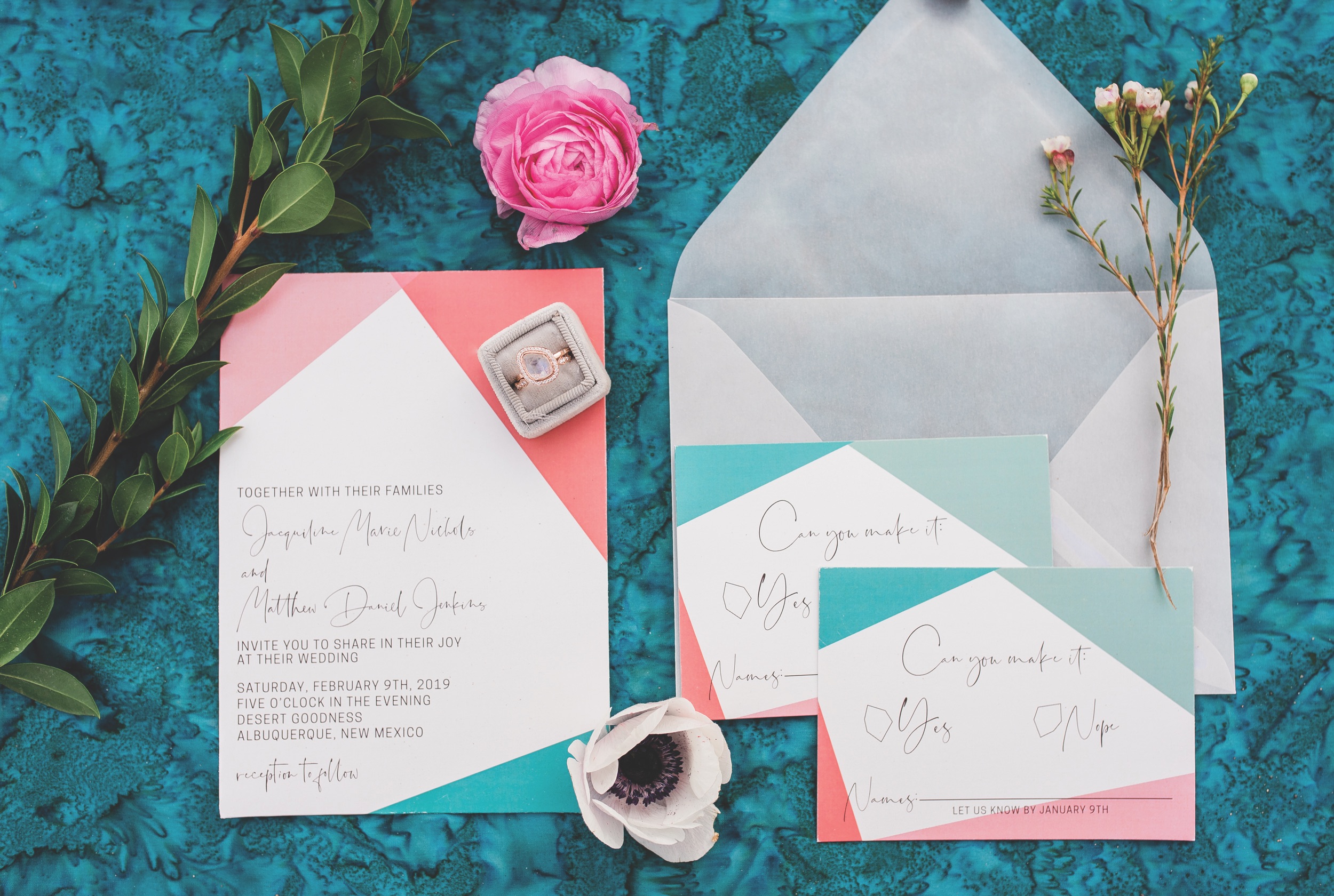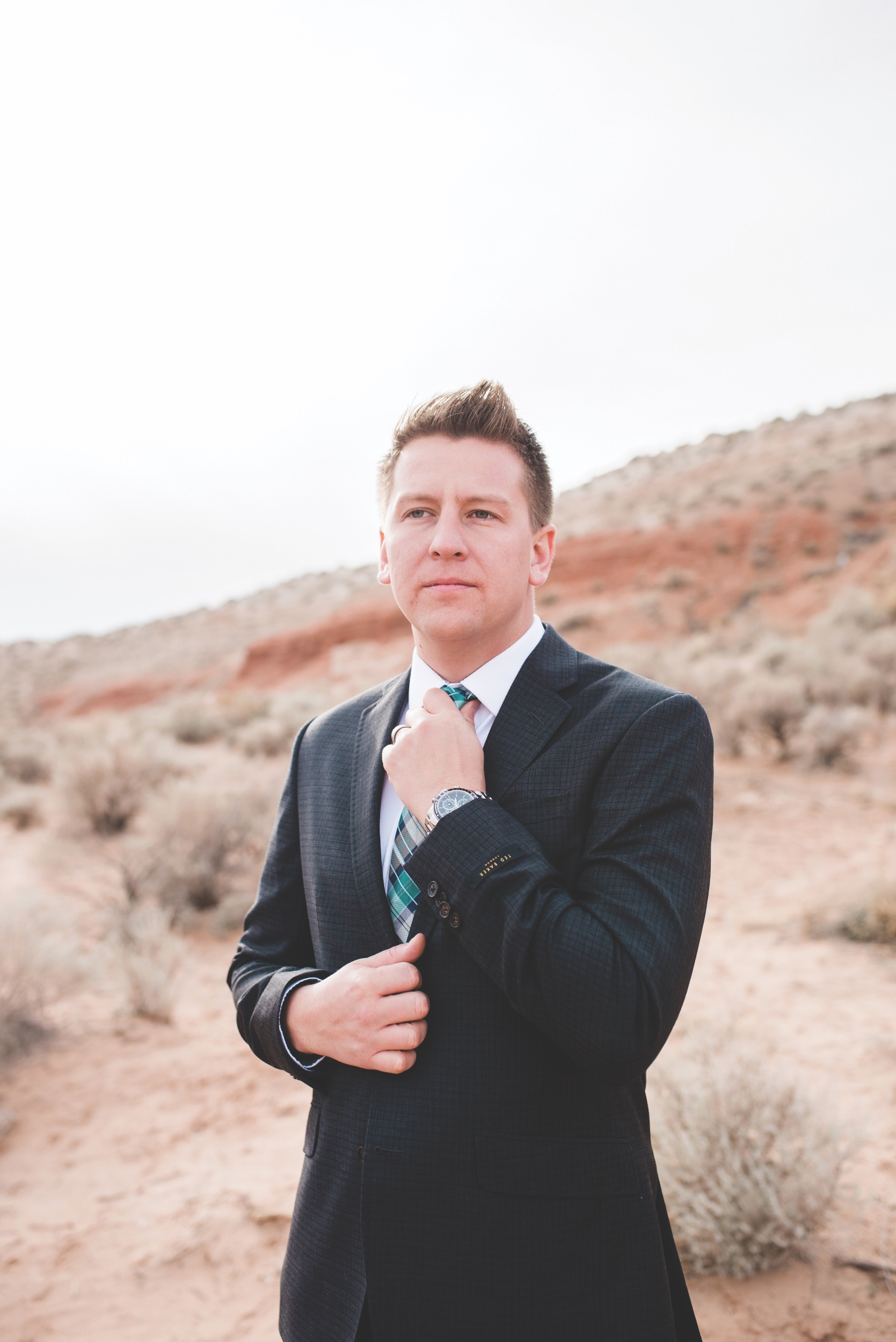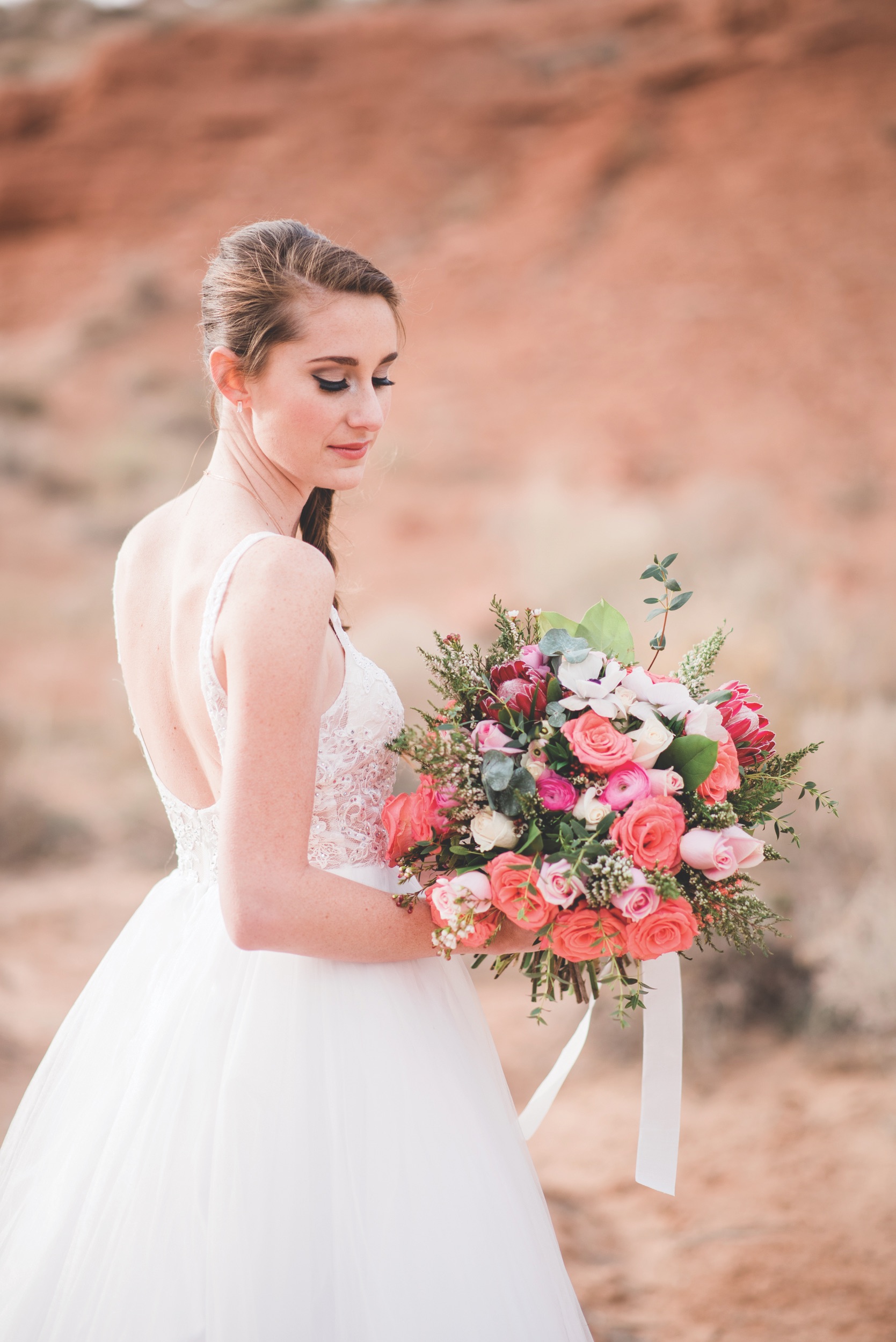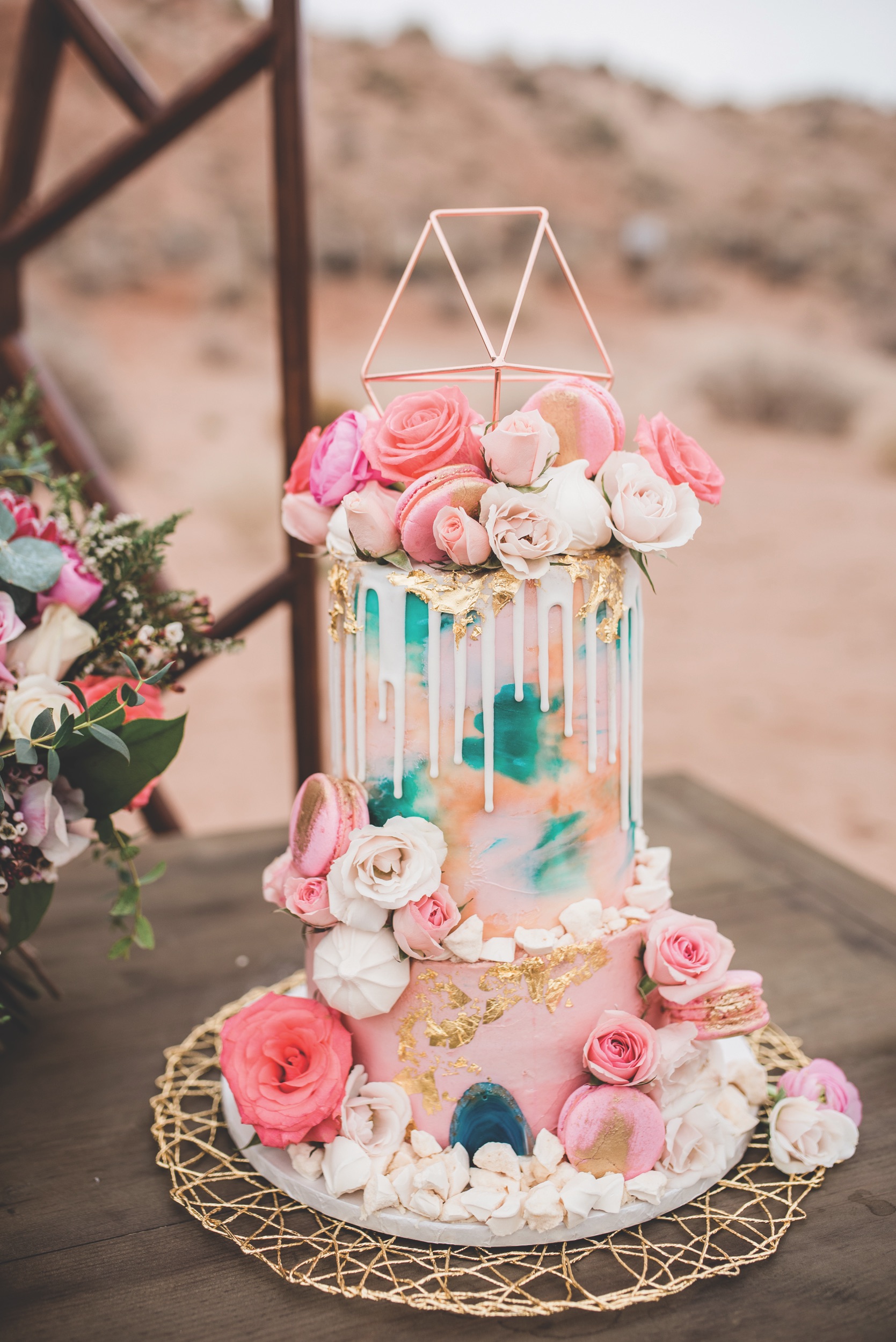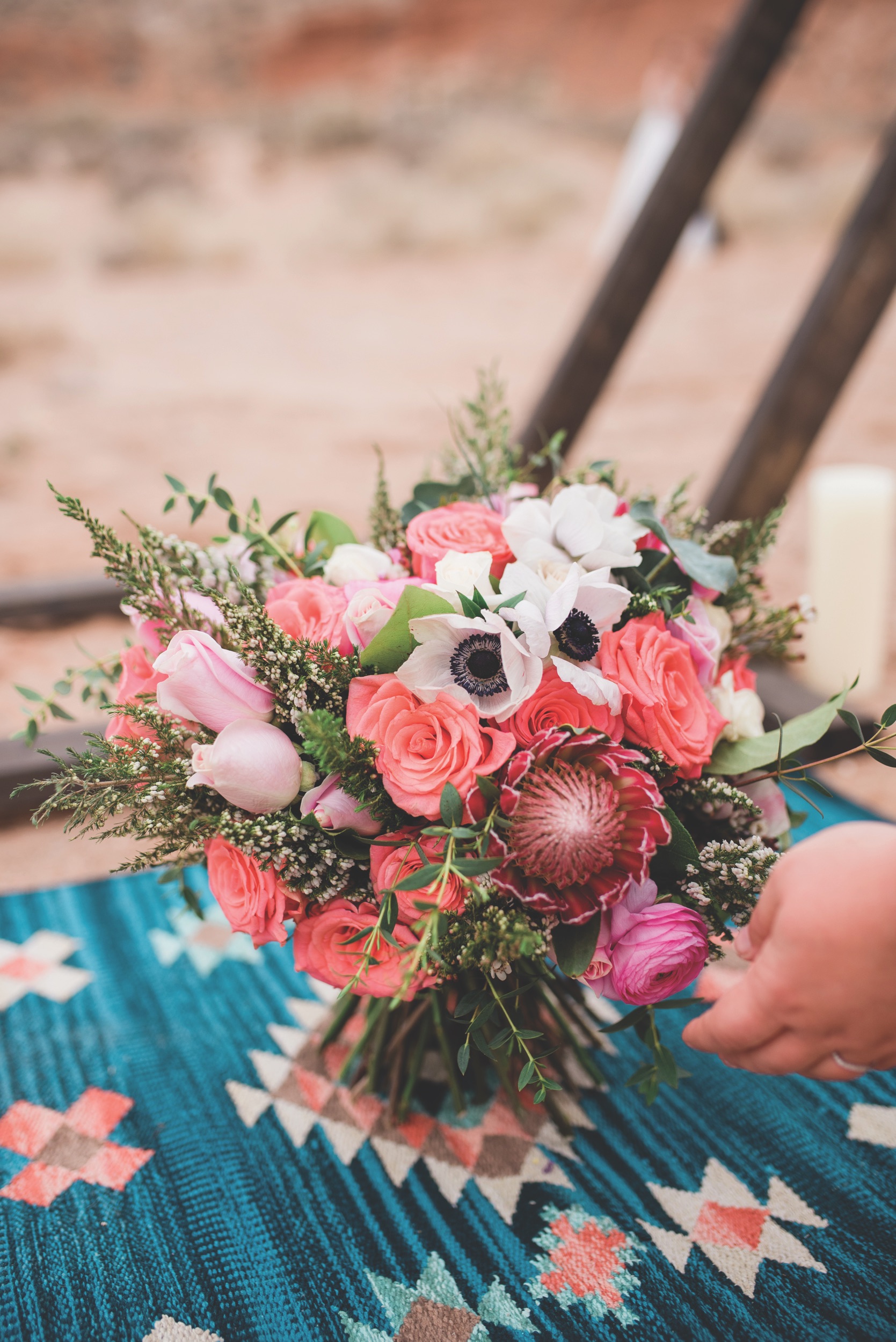 Photography: Briana Nicole Photography
Concept + Planning: Just Lovely Weddings
Décor: Darling Details Rentals
Florals: A Beautiful Theme
Cake: Sweet Grace Cake Co.
Hair & Makeup: Fancy Faces by Gina
Stationery: Funky Olive Invitation + Stationery
Jewelry: Ooh! Ahh! Jewelry
Bridal Gown: Bridal Elegance by Darlene
Menswear: Ted Baker
Models: Jenna Doddridge and JC Ciddio