Get those cozy sweaters out, it's finally Fall! There's nothing quite like the changing colors of the leaves amidst the desert landscape, and we love to see all of the gorgeous weddings that use the scenery to their advantage. This time of the year is one of our personal favorites, although, we might be a little biased since some of our Perfect Wedding Guide team celebrates their birthdays in the fall (*cough cough* our lovely Shauna & Alissia).
No matter what your favorite time of year is, we are sure that you will agree that fall weddings always rise to the occasion, thanks to the local wedding community. That is why we are here to share the top ten fall wedding essentials to make your autumnal wedding dreams come true, whether you want to incorporate spooky Halloween vibes or play with deep reds and burnt oranges for a more sophisticated look. With the help of our vendors, we were able to pull together some of our favorite fall "looks" to inspire you– check them out!
1. A Venue That Does Both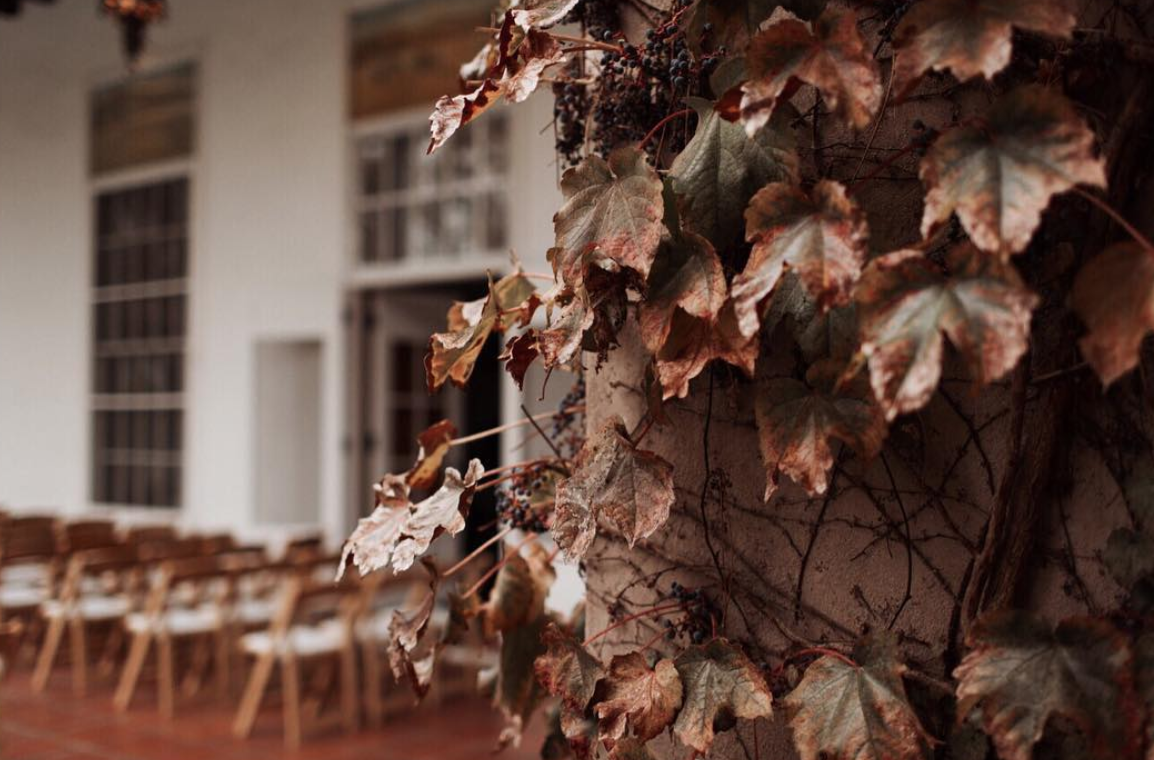 This might seem like a no-brainer, but it is important to find a venue that lets you and your guests enjoy the fall weather from the outside and the inside, because you never know just how chilly the day is going to be! It's a huge plus if the venue gives you a good view of the changing of the leaves, like the courtyard at Los Poblanos Historic Inn + Organic Farm.
2. Cozy Dishes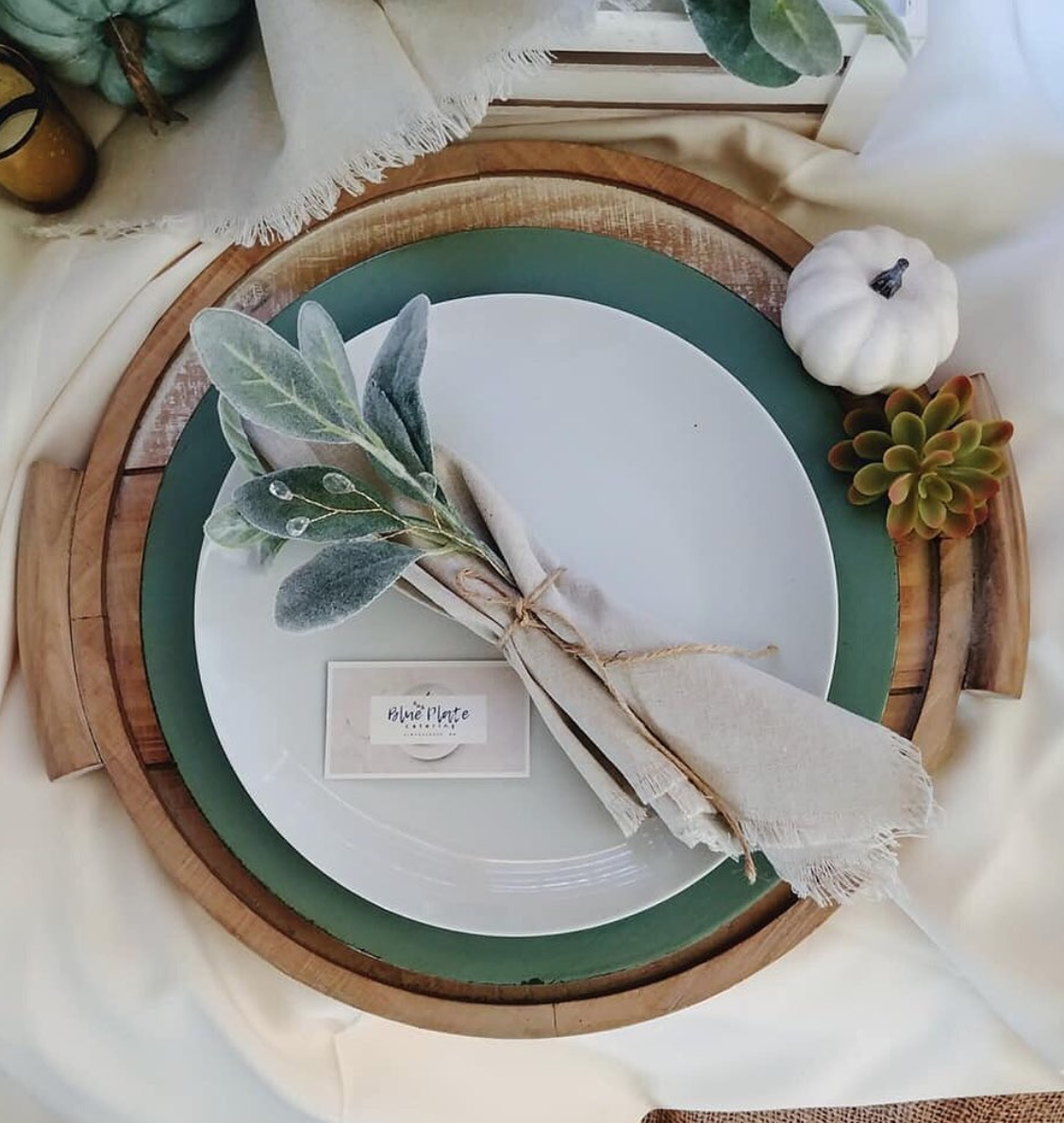 When we think of fall, we think of warm home cooked meals while we are surrounded by family and friends. What better way to make everyone feel at home than to incorporate reusable and eco-friendly tableware and cutlery? With the help of a caterer like Blue Plate Catering, you can create a unique and zero-waste experience for your guests that will incorporate little hints of fall. Can you spot the little pumpkins accompanying the tableware?
3. Warm Color Palettes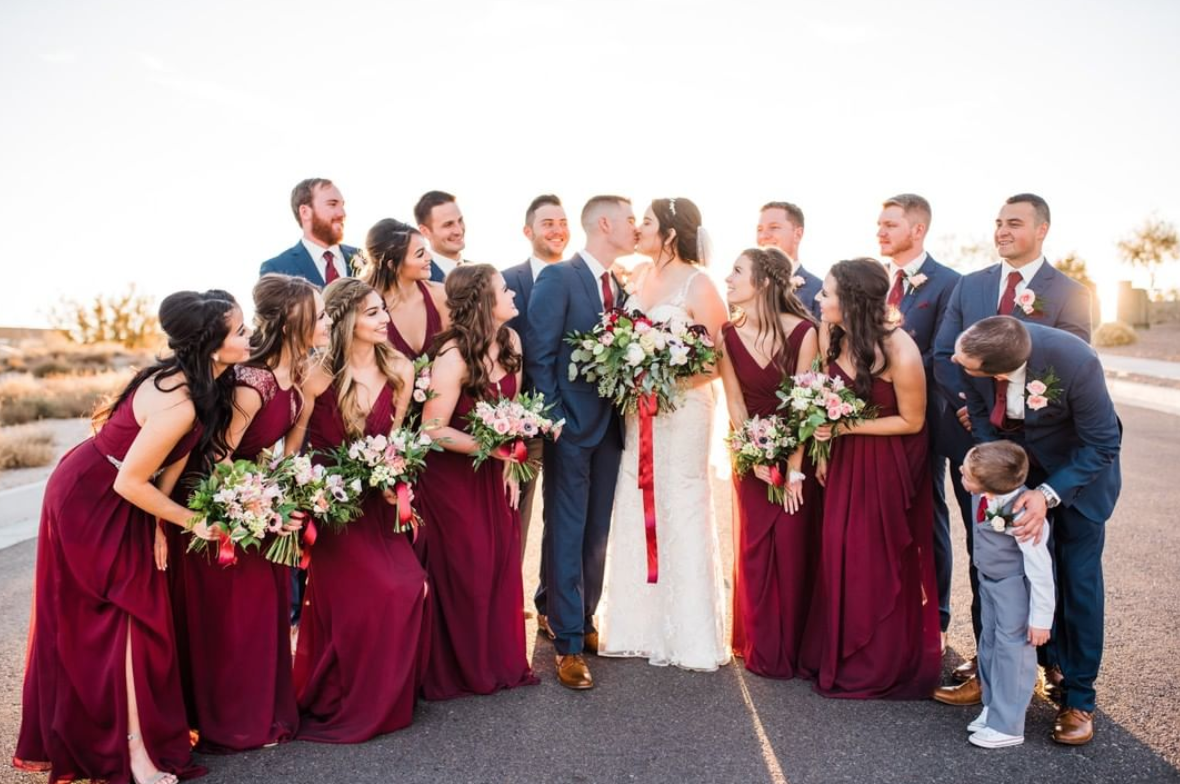 Everybody loves picking out a color palette for their wedding, and we know you've created that perfect Pinterest board full of your favorite complimentary colors. When it comes to fall trends these days, anything goes, but we love a warm color palette– and your photographer does too! Deep reds and oranges paired with navy blue and forest green will help you bring extra intimacy into your wedding day.
4. Moody Styles and Rich Flavors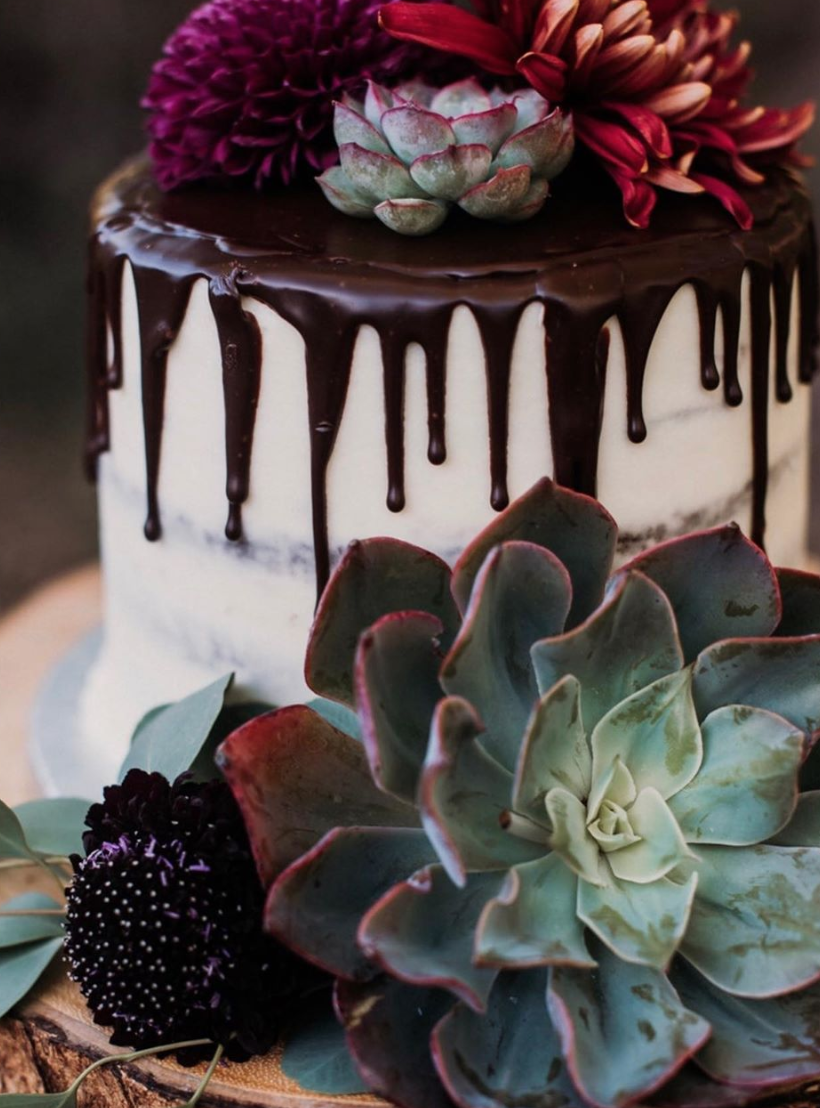 This may sound dramatic, but this cake specially made by Cake Fetish is to die for. It looks beautiful and tasty, with just the right amount of moody! For the perfect fall cake, throw in some deep purple and orange flowers and pair them with an ornate rich chocolate topping– trust me, it won't disappoint. If purples, reds and rich chocolate doesn't suit your fancy, not to worry, you can customize your fall wedding cake with the help of these local wedding cake professionals.
5. Spooky Invites & Goodies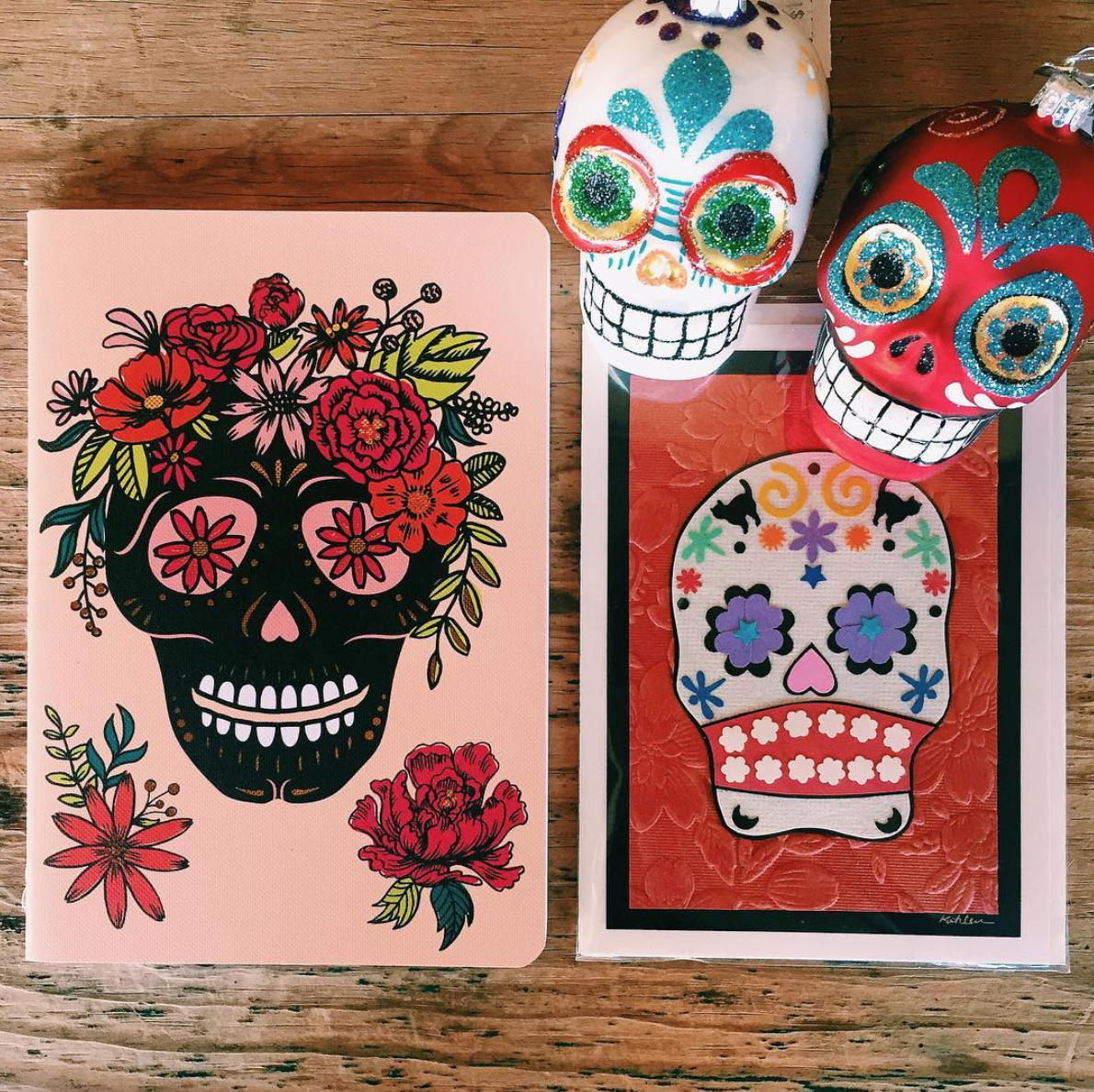 We love seeing every couple's invitations and wedding favors because they all so perfectly encompass their personalities and uniqueness. For an October or November wedding, it's time to get a little more playful and stray away from the conventional to get everyone in the spooky mood! Create invitations and wedding favors that will be a talking point between wedding guests, like these Día de los Muertos themed goodies from Pennysmith's Paper.
6. Be Bold, Go Gold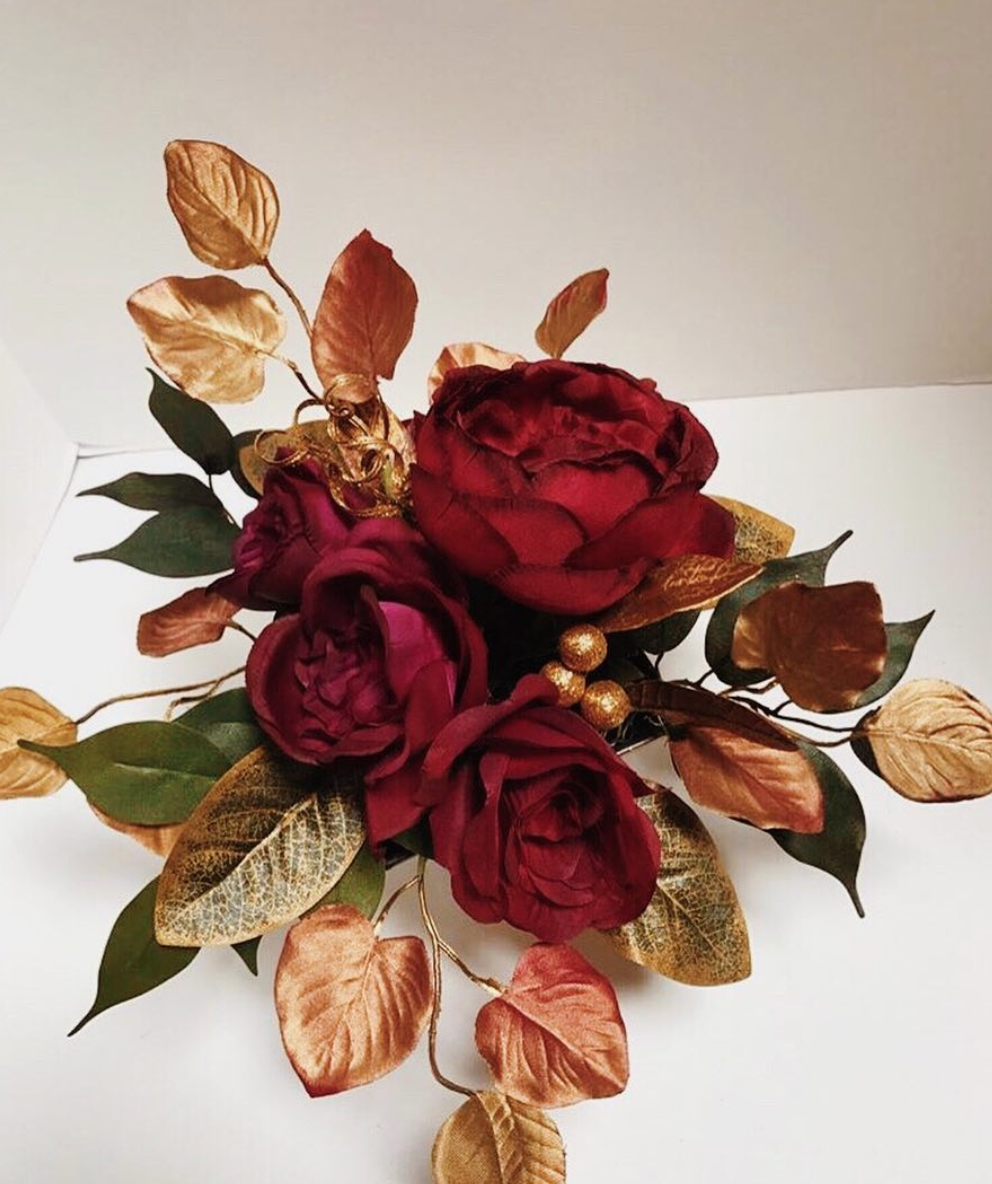 When it comes time to pick out your floral arrangement, ditch the pastels and bring out the bold colors. If you must have those pretty pastels, pair them with a darker color to warm things up. You might want to try something totally new, like this elegant bouquet with golden leaves from Charlotte's Flowers!
7. Dress to Impress & Stay Warm
It's seriously hard to resist that perfect dress, and we get it, you want it to work no matter the season. Well, we have news for you! You can have your cake and eat it too… oh, and you can have that super perfect dress that you were hoping for. You can dress up those summertime gowns with a super cute scarf to keep warm and stay stylish!
8. Present Those Perfectly Plump Pumpkins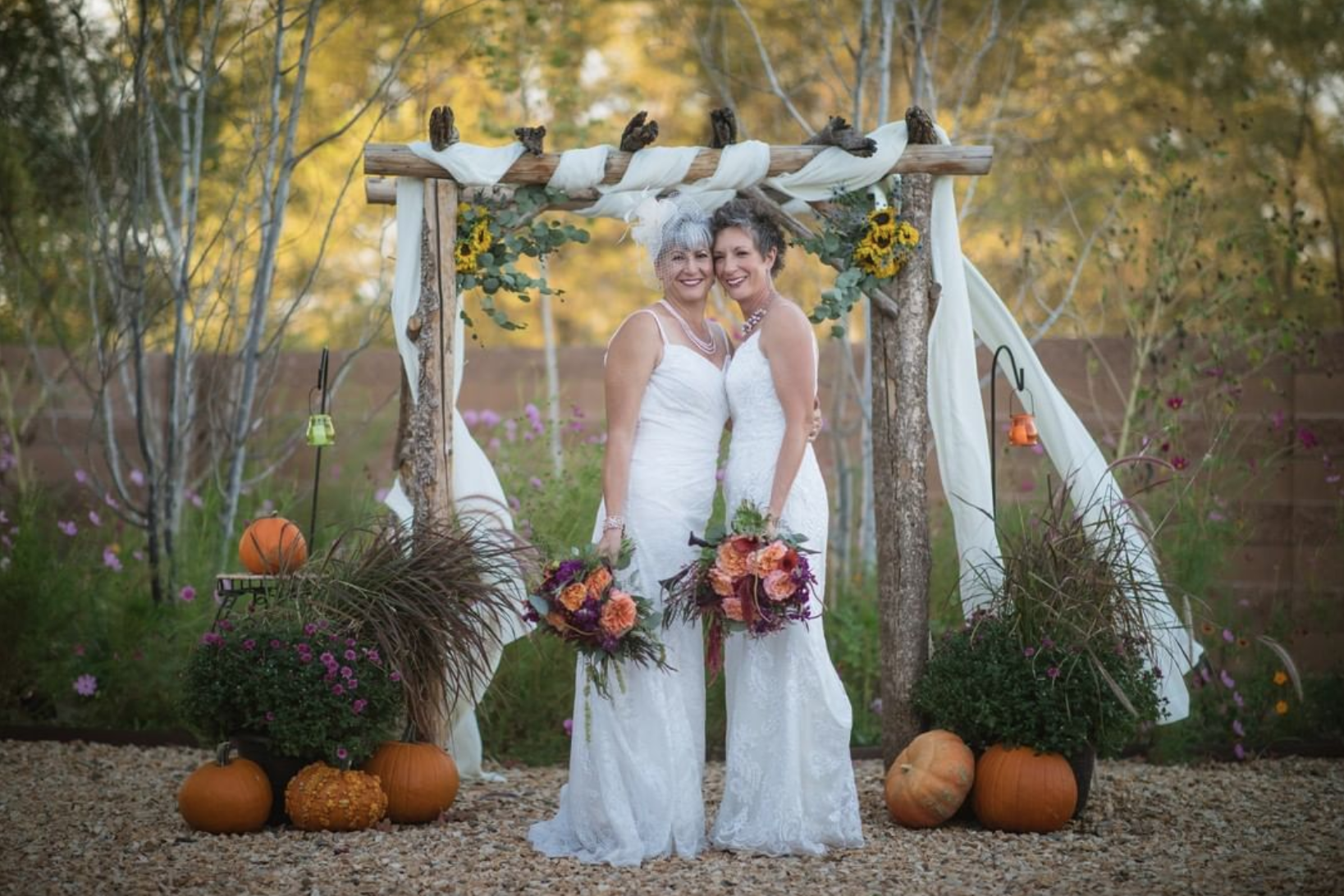 If you love going to the pumpkin patch, then you are going to love this fall wedding decor. That's right– pumpkins everywhere! Not only are pumpkins adorable, but they're also a great way to add some color to your wedding. Plop a pumpkin down on the ground or on the table, and maybe let your guests take one home at the end of the day!
9. In With the Old… and Some of the New, Too.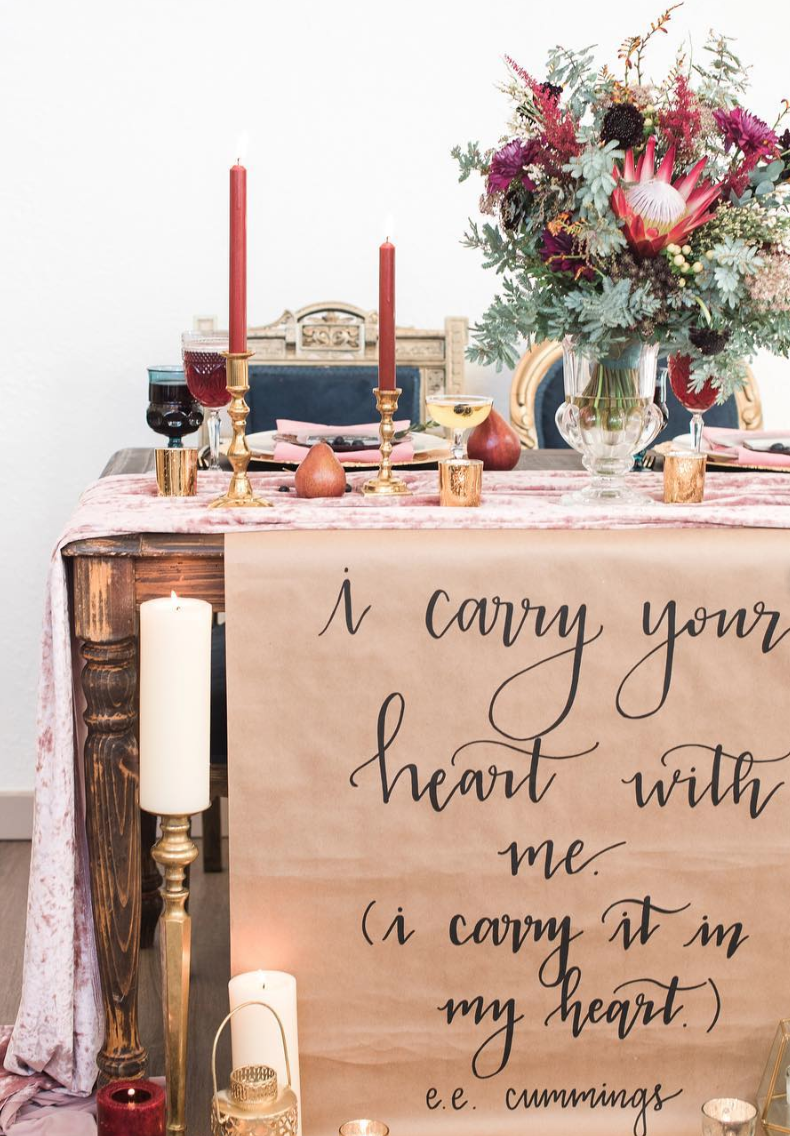 We're not saying you should turn your wedding into a haunted house or anything, but we do think this vintage furniture and gothic candle decor from Darling Details gives off a subtle hint of spooky season and makes for a lovely fall wedding. Like we've said before, adding a little bit of gold makes everything more elegant and more bold! Hey, that rhymed.
10. Play Dress Up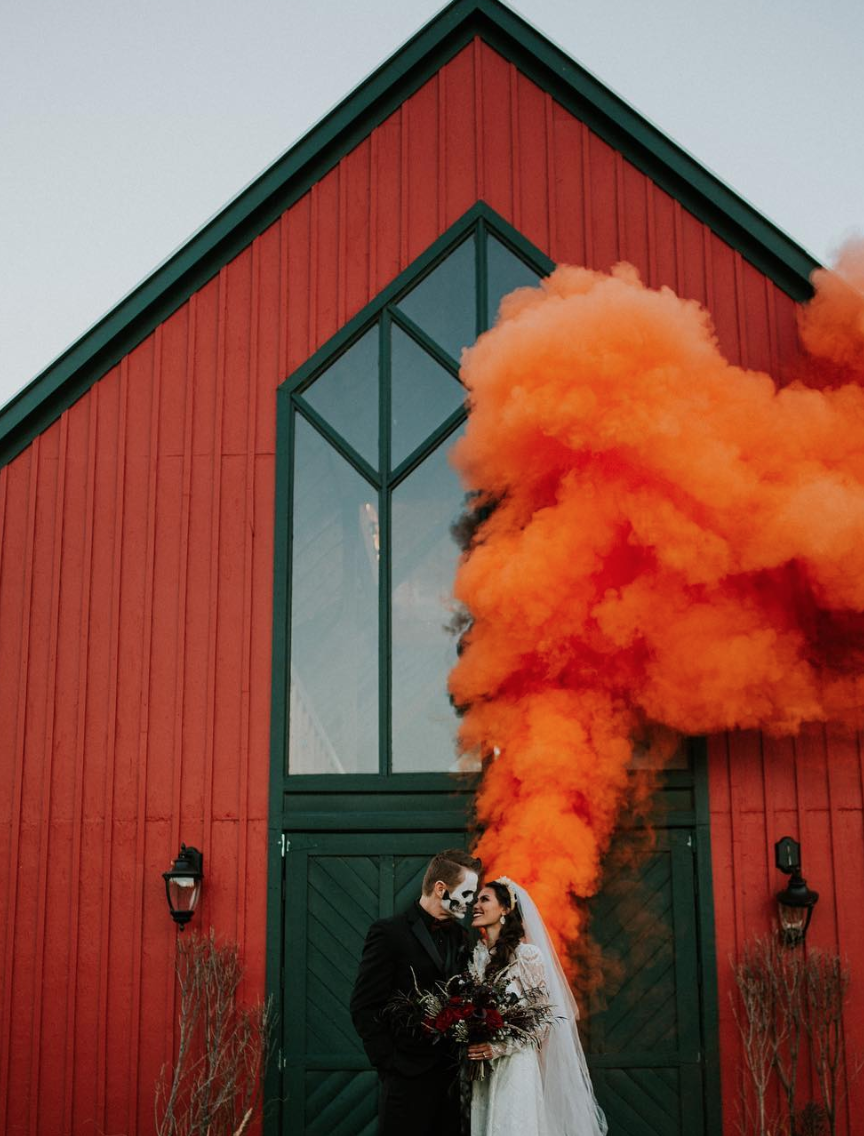 Isn't fall all about that one night where everyone gets to dress up and pretend to be somebody else? Well, technically it's not all about that, but it's a pretty big deal to some folks. Maybe it doesn't just have to be one night at all! Dress up for your fall engagement session or elopement, but fair warning, the fun that this entails isn't for the faint of heart.