It's no secret that when small businesses in New Mexico come together magic happens. We, your dutiful Perfect Wedding Guide team, have seen it with our own eyes time and time again. From local styled shoots straight from heaven, to real weddings that make large-scale celebrations seem effortless, to the all-out fantastical displays resurrected from dust in mere minutes at our wedding shows – you don't have to sell us on New Mexico wedding professionals. We're already straight up fangirls.
So when we caught wind that The Big Fake Wedding would be venturing out to our southwestern state, it came as no surprise. The traveling wedding show has been garnering popularity since they first got their start in 2008, and the landscapes alone make New Mexico an easy sell. Not to mention, The Big Fake Wedding is an alternative to the wedding shows we know and love, which offers our community something new to reinvigorate the wedding planning process.
By arranging their event to mimic an actual wedding, the attendees – who were local engaged couples – got to sit in on The Big Fake Wedding as if they were actual wedding guests. With a stunning stand-in bridal party and every detail planned meticulously, the engaged couples who participated got to sit back and watch the magic happen in real time.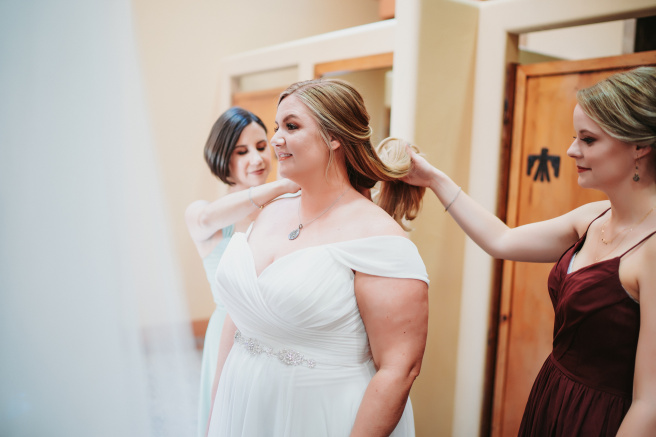 As time drew nearer for the event to take place, it became clear that it was going to be something truly special. Each local business that decided to commit to collaborating on this project had already proved themselves as dedicated and creative wedding professionals. Knowing that businesses like The Cake Boutique –who would be crafting up something spectacular to look at and eat – and For the Love of Flowers with their renowned floral artistry, would be there? And it was going to be at one of our absolute favorite venues, Nature Pointe? Well, we were nearly bursting at the seams with excitement by the time the day arrived.
We'd like to say the day was exactly as wonderful as we'd imagine it would be, but we have to be honest. No matter the prep, no matter the insider knowledge we had about the event, and no matter the counting down the days, nothing could have properly prepared us for how lovely The Big Fake Wedding actually was.
And of course, now that the time has passed, words fail us as well. Only photos from local wedding photographers like Cloak Photography, Bri-lliancy Photography, and Alysha Lee Photography could capture the magic that we knew was coming, but still exceeded our expectations. We are still officially in awe.
Venue: Nature Pointe
Music: Cello for weddings/Ryan Smith Cello Music
Cake: The Cake Boutique
Floral: For the Love of Flowers
Floral Wall: Wall of Enchantment
Balloon Décor: On the Rise Balloon Shop
Hair & Makeup: Genica Lee, MUA
Bridesmaids Dresses: Azazie
Rings: Hitched (Groom) & Ooh! Aah! Jewelry (Bride)
Design: Casi Sueno Weddings & Events, My Beloved Vintage Rentals
Photography: Cloak Photography, Bri-lliancy Photography, Alysha Lee Photography
Photo Booth: Magic Mirror
Event Coordination: Black Bow Events
Décor+Signage: Letters & Such
Bar + Mixology: ABQ Barkeeps
Bridal Gown: Renee's Bridal
Featured header photo is by Cloak Photography
All other lovely vendors can be found here.