No, the New Mexico Perfect Wedding Guide team has not been kidnapped. It's still us, the same love-obsessed locals whose entire lives revolve around weddings! We bet you never thought we'd be advocating against having a wedding, right? We didn't either.
When it comes down to it though, we're not choosing elopements over weddings, and we're not saying either is better than the other. Elopements and weddings are two sides of the same lovey-dovey, romantic coin and plus, we have some introverts on the team who would be happy to avoid the crowd a traditional wedding can draw.
It helped too, that just when our wedding brains were steering toward elopement territory, a gorgeous gallery from T. Rayne Photography happened to come into view. Marisol & Charles, newlyweds and best friends, eloped in Santa Fe this past July, and Taylor, of T. Rayne Photography, was there to catch every smile and scintillation during the wonderfully intimate and incredibly happy occasion.
Their elopement session, full of laughter and love, was just the thing we needed to really get on board the elopement train. It also happens to be the session that's most emblematic of all the benefits of choosing to elope instead of having a full traditional wedding. Wanna know why? Let's jump into the 3 main benefits of eloping, then!
1. Your love is at the forefront
While the beating heart of weddings is love, too, the hustle and bustle of planning a wedding can sometime elbow its way to the forefront of your celebration. With vendors to book, cousins to invite, venues to tour, groomsmen to wrangle, gowns to be fitted, and more, the reality of planning a wedding isn't always as pretty as the aftermath.
If you and your partner are working full-time, having children or dogs, are building a home together, or working through any other sort of life-stuff, you might not have the time to plan a full wedding. So your options then become either hire a wedding planner, or have an elopement. Both options suit different needs and personalities, so it all depends on what your love looks like.
And no one said you had to miss out on the party! More and more, we're seeing local engaged couples opt for elopement ceremonies so that more focus can be put on the reception. Whether your reception is right after your elopement, later in the year, or for your 5 years anniversary, you can always celebrate your union with the people you love. (And avoid hurting your in-laws' feelings if they don't get invited to the elopement!)
2. You get what you really, actually want
Because, maybe you actually do want your in-laws there for the ceremony. Or maybe you want to wear photorealistic dinosaur head masks for part of the ceremony, because it's hilarious and also surprisingly adorable. Or maybe you want to run away to the woods with the love of your life and secretly bind your futures together in the company of Ponderosa pine trees.
Whatever you want, you can have it.
It's an elopement, not a wedding. There are no guests lists to work around, no great-aunts to please, no dresses and suits to coordinate around everyone's aesthetic preferences and personal styles, it's just about you and your soon-to-be spouse.
So yeah, get those dino heads on, it's your day.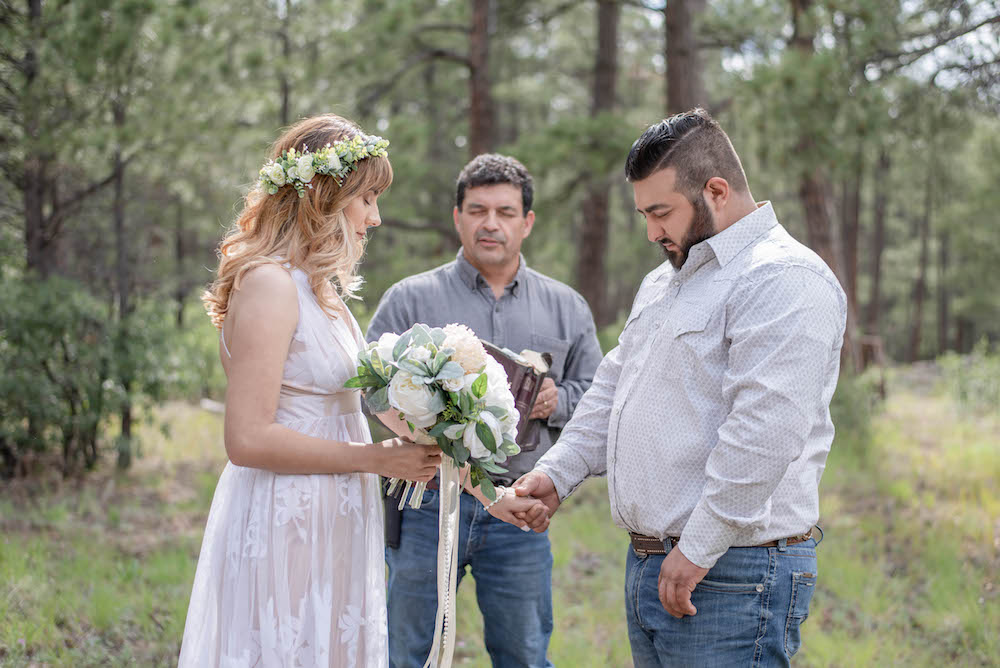 3. You save money
Yeah, yeah, we know. One of the first things people think of when they hear elopement is the money they'd save if they chose to do that instead of having a traditional wedding. And sure, that money can go toward a home, your honeymoon, or a myriad of other things.
Or, you could use the money you save on skirting the venue to focus on what is really important for you and your partner to have while you forge your new life together. For Marisol & Charles, it was important to have gorgeous, intimate photos to revisit for the rest of their lifetime together — that's where T. Rayne Photography came in, of course!
For you and your partner, it might be something different. But with the money you save by eloping, you can choose to have the photographer, dress, location, or florist of your absolute dreams. All the rest of that stuff? Well, you can save it for your vow renewal or killer reception.
There is no wrong decision though. Whether you choose to weather the storm of planning a full, traditional wedding or go for something quieter, smaller, and more intimate like the Santa Fe elopement T. Rayne Photography captured — it's all for the sake of love. (And for our sake too, because you know we live vicariously through the local weddings and elopements around us, so either way we'll be swooning.)