The 2011 wedding trend predictions look to a return to vintage and classic styles, an upswing in backyard receptions and a mishmash of tech-savvy and eco-friendly weddings. The top wedding trends for each year are based on industry research, polling and trend-spotting by top wedding vendors and wedding experts. Here are some of the trends to expect for weddings in the upcoming year.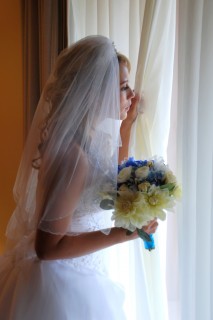 Photo by Sonya Cogan Photography
Personalization First
First off is the movement toward personalization. Instead of the usual patterns followed on wedding ceremonies and receptions, upcoming weddings will center more on the bride, groom, and the wedding gathering. Themes are focusing on the couples' interests, passions and hobbies as part of the celebration. Examples are a favorite travel destination or favorite sport. Another trend is to customize bridesmaids' dresses according to their personalities. The identical gowns and hairdos are now a thing of the past. While a uniform color scheme may be picked, bridesmaids are now given the opportunity to select their own dresses to compliment the other bridesmaids' dresses.
More Than Just White
More in-depth color coordination is also a trend. Brides are still wearing white most of the time but the bridesmaids are wearing bold, bright and vibrant colors. Accenting black with a bright color is also a trending idea. Brides are also combining two and three colors instead of just one complementing color. The classic white and black with accentual accessories and bouquets in vibrant colors are always a standard regardless of wedding trends. The orange wedding theme remains a favorite from 2010.
Eco-Friendly Weddings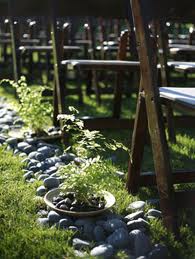 Green, eco-friendly weddings are also more prominent. Couples who are environmental sensitive are planning ecological conscious weddings with vintage, pre-owned dresses, LED lights, recycled paper invites, foods and flowers from local producers and many more.
Vintage Is In
This upcoming year's weddings will be more low-key, largely because the economy demands. And because of this, the vintage wedding theme has become popular. Brides are catching vintage fever and falling head over heels for retro looks like Depression era glass and tea-length dresses. As a benefit, vintage looks are not only classic but eco-friendly and inexpensive so brides can channel old-school glamor with a modern twist while keeping budget worries at bay.
Natural Settings
Another wedding trend spurred on by financial caution is the casual or natural wedding theme. Whether it is your own home, a park, beach, a barn, or any other backyard, the theme creates an idea that makes you feel comfortable and at home. The bride and entourage, even the guests are wearing low heels and casual outfits. Low heels are especially important at backyard and garden weddings where stiletto heels simply do not work.
In replacing a conventional sit down dinner are a mixing and mashing of experiments with a new style on dining and cuisine. The focus is socializing with all guests instead of those who happen to be seated at your table. Longer cocktail hours and comfortable lounge style seating encourages mingling. Family style meals are showing up more to allow guests to socialize more freely.
The Technical Aspect
Weddings are reverting back to more casual and laid-back days while on the other hand technology plays an increasing role in the wedding planning process. Friends and family are regularly updated on the progress of wedding plans through Twitter, Facebook and other social networking sites. While this saves time and money, couples must also make sure they don't overstep wedding etiquette in the process.
The simple fact is that couples today are letting go of the pressure of creating a perfect wedding. Instead, they are focusing more on the perfect wedding in the sense of what is perfect for the both them. Romantic prenuptial photo shoots, videotaped marriage proposals, and on-site video playing capturing every candid and spontaneous memory at the wedding eliminates the rigidity and stiffness caused by the pressure and anxiety.