In September of this year, Meghan and Ryan will be married at the Folk Art Museum in Santa Fe. There will be llamas. Llamas, people!
Quite frankly, these facts and the photos from their engagement session below are all you really need to know in order to make you fall in love with Meghan and Ryan. But of course, the story doesn't end there, and it gets even better with every turn.
We first met Meghan digitally, via email, when she reached out to thank Perfect Wedding Guide for being Perfect Wedding Guide. (So yeah, we liked her right off the bat!) Meghan had been using some PWG-exclusive resources to plan their wedding and engagement session from afar, which would have tickled us either way, but then she told us she was an event planner, too. An expert in our midst!
Which means she was able to, and is proud of, the creative ways she's conserved their wedding budget and found vendors. She lamented over how much of the New Mexico wedding community thrives on just word-of-mouth, and how often styled shoots are beautiful, inspirational, magical, and completely impossible to accomplish for a real wedding, and we totally agreed.
(Except for Perfect Wedding Guide styled shoots, of course, because we only feature local vendors who could, if you want, literally recreate the exact shoot for your wedding with all the other wedding professionals they collaborated with originally.)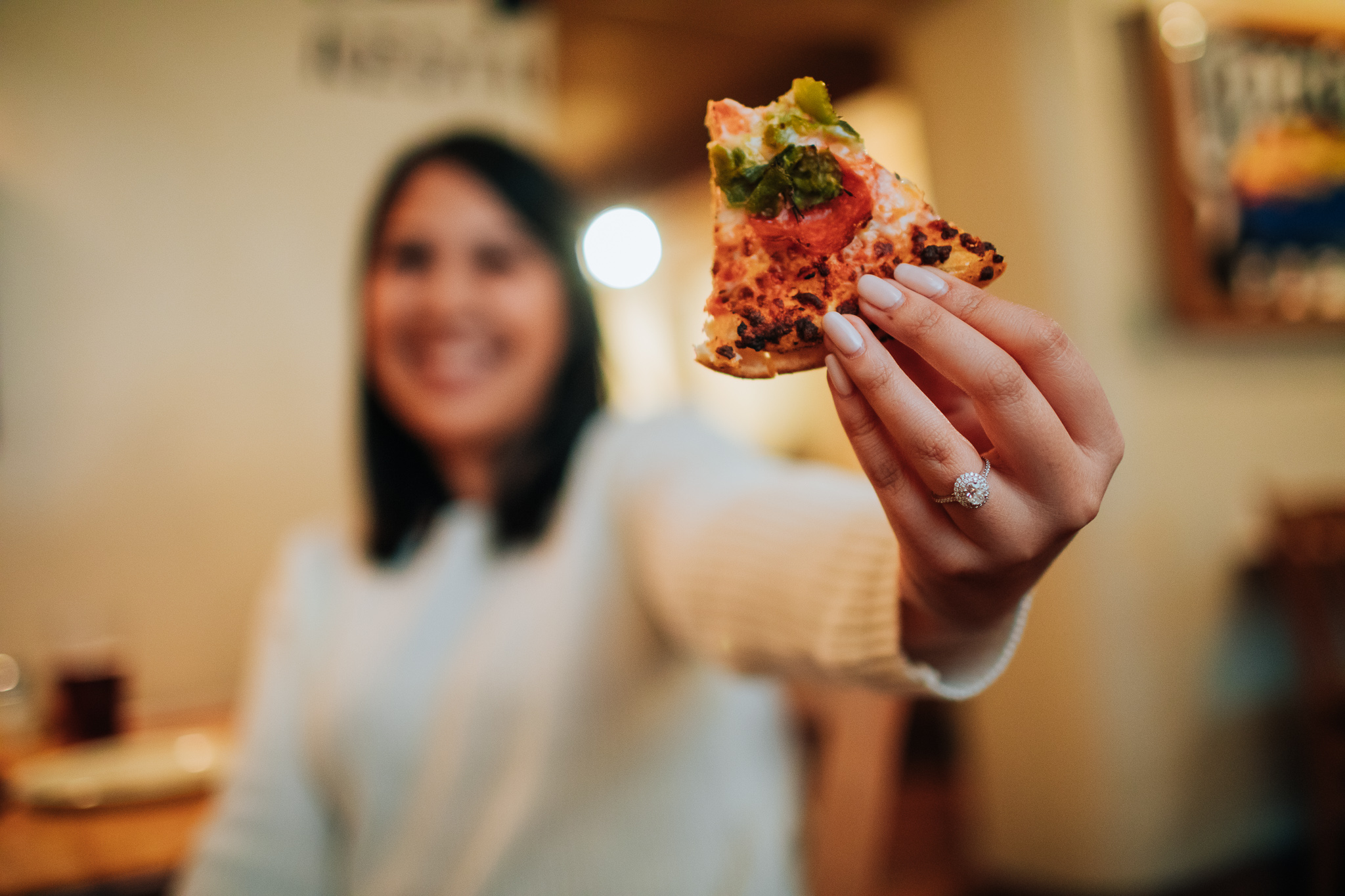 I love when bridal resources feature real weddings — and none of that Martha Stewart Real Weddings because we all know that's not really real!
So, despite the wall of exclusivity created by non-digital, word-of-mouth businesses, despite the fact they were planning a wedding and engagement from afar, and despite the fact Meghan and Ryan have impeccable style and couldn't settle for just any wedding business, they have done it. They have planned a perfect fall wedding in Santa Fe.
Meghan's parents are immigrants from the Philippines, and Ryan's family is old-school New Mexican — back to the Don Victor Ortega days. So, as Meghan says, this September wedding will be an explosion of culture, family, and joy! Plus, remember the llamas? There are going to be llamas. Not to mention, most of the couple's wedding vendors are non-profits, or give back to the local wedding community in some way, too.
An engagement session full of pizza, impenetrable love, and laughter, paired with a wedding rich in color and culture and kindness and llamas, booked solely with wedding businesses who work to make our state better…Well, we warned you that you'd fall in love with these two!