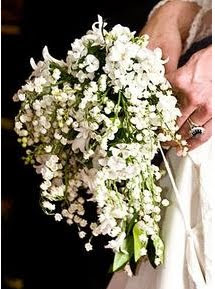 When it comes to the royal wedding, no detail is too small. From the big things, like Kate Middleton's magnificent dress, down to the littlest ones, every aspect of the royal wedding was planned out perfectly – and that includes the bouquet.
Kate's beautiful bouquet featured four white flowers, each imbued with their own special meaning. Lily-of-the-valley, a delicately-scented flower that is common in nuptial ceremonies, signifies sweetness and renewed happiness, while white hyacinth, another fragrant flower, symbolizes constancy and loyalty – all values that are important to young newlyweds.
The bouquet also included a sprig of myrtle, which has been a royal tradition ever since Queen Victoria carried in down the aisle. The organic gardening section of About.com reports that myrtle has a long and regal history: "The myrtle comes from a tree which grew from a cutting of Queen Victoria's own bridal bouquet myrtle. Since then, each royal bride has included a sprig from the original plant in her bouquet, and they then plant their sprigs in Queen Victoria's garden as well."
The fourth flower in Kate's bouquet? A little beauty known as Sweet William – after her beloved, of course.